Tigst Assefa Shatters Marathon World Record with 2:11:53 in Berlin

Posted by:
Watch Athletics
Sunday, 24 September 2023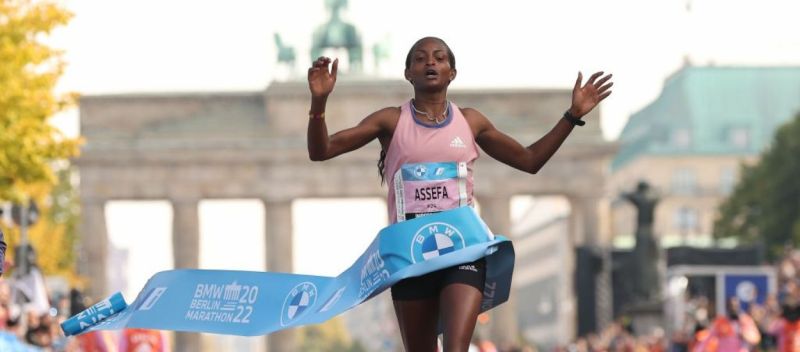 In a breathtaking feat, Tigst Assefa of Ethiopia has shattered the women's marathon world record with a stunning 2:11:53 finish at the Berlin Marathon this Sunday.
Tigst Assefa's victory at the BMW BERLIN-MARATHON is nothing short of a storybook triumph. The Ethiopian maintained a relentless pace, culminating her race with a triumphant pass through the Brandenburg Gate, finishing with an extraordinary time of 2:11:53. This stunning feat shattered the previous world record set by Kenya's Brigid Kosgei, who clocked 2:14:04 in the 2019 Chicago Marathon. Assefa's groundbreaking improvement of 2 minutes and 11 seconds marks a historic milestone in marathon running. Not since 40 years ago has there been such a monumental advancement in the women's world record when American Joan Benoit reduced the time from 2:25:29 to 2:22:43 in 1988.
THE RACE:
The elite women set off at a cracking pace. By 10km, the leading group comprised 13 runners, going through in 31:45 and on world record schedule. Tigst Assefa appeared so relaxed that when she reached the drinks station at 15km, she reached for a cup, drank, then handed it to one of her male pacemakers. A short while later she tore the leading group apart with a massive increase in pace. She and her fellow Ethiopian Workenesh Edesa covered the kilometre from 15km in 2:59 and Assefa went through halfway in 66:20, a time good enough to win many international races at this shorter distance.
She proceeded to cover the second half even faster, clocking 65:33. "In the first half I held something back in reserve for the second half," explained Tigst Assefa, whose winning time of 2:11:53 would have secured victory at a number of men's titles in Berlin in the 1980s. In 1983, Karel Lismont of Belgium won in 2:13:37, the following year Denmark's John Skovbjerg triumphed in 2:13:35. "I've trained six months for this race. I think this should ensure I am selected for the Olympic Games."
Sheila Chepkirui ran an outstanding 2:17:49 for second place while Magdalena Shaun on her marathon debut caused a major surprise by taking third place in 2:18:41 for Tanzania. Eight women went under 2:20:00.
Domenika Mayer produced the most notable performance by a German woman, going through halfway 71:50 to finish in a personal best of 2:23:47, an improvement of just over three minutes. This made her the second fastest German woman ever though some way still behind the current record holder, Irina Mikitenko, who won Berlin with 2:19:19 in 2008. This performance should earn Domenika Mayer a place on the German marathon team for next year's Olympics in Paris.
Remarkably, a record number of eight women completed the race under 2:20.
A record total of 47,912 runners from 156 countries registered for the 49th edition of the BMW BERLIN-MARATHON. The event is part of the Abbott World Marathon Majors (AWMM) and is also a Platinum Label Road Race of World Athletics.
-->