Eliud Kipchoge Clinches Record Breaking 5th Berlin Marathon Victory

Posted by:
Watch Athletics
Sunday, 24 September 2023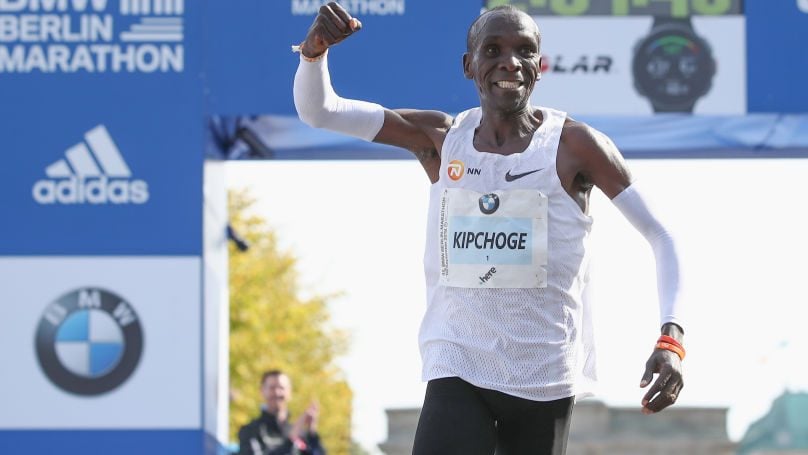 The two time Olympic champion and world record holder Eliud Kiochoge won his 5th Berlin Marathon title on Sunday, September 24.
Launching at an astonishing speed, Eliud Kipchoge, guided by three pacemakers, set the stage ablaze. The double Olympic champion, with a history of shattering world records in Berlin — first with a 2:01:39 in 2018 and then a 2:01:09 the previous year — seemed poised for another record-breaking feat as he tore through the first half in a swift 60:21.
Amid the whirlwind pace, an unexpected competitor, Derseh Kindie from Ethiopia, surprisingly kept up. Despite his prior best being a more modest 2:08:23, Kindie held strong until roughly 10km from the finish when his race prematurely ended. By this juncture, Kipchoge's blistering speed had lessened, taking a potential new world record off the table.
Despite a decreasing pace, the scenario behind Kipchoge was shifting. Marathon newcomer Vincent Kipkemboi was rapidly closing the gap. Undeterred, Kipchoge rallied, surging ahead to claim a decisive victory with a time of 2:02:42. Following him, Kipkemboi made a commendable marathon debut, finishing second in 2:03:13, while another first-timer, Tadese Takele of Ethiopia, secured third place with a time of 2:03:24.
Although the world record eluded him, Kipchoge embraced his unique achievement in Berlin, stating, "I missed the world record, but I now have the record for the number of wins in Berlin, that's also something special."
Further showcasing the marathon's competitive depth, nine men triumphantly finished under 2:05:00. Among them, in ninth place, Amanal Petros made a significant dent in his personal best. Despite initially aiming for a 2:04 finish, Petros couldn't sustain his ambitious pace to the end, but nevertheless slashed his previous best time from 2:06:27 to 2:04:58 — marking the most substantial improvement among German men since Waldemar Cierpinski's 1976 Olympic victory with a time of 2:09:55.
Overwhelmed with joy, Petros relished the race atmosphere, stating, "The last two kilometres were fantastic although I was very tired. This race was something special. I had this kind of time in my sights but, of course, in a marathon anything can happen."
-->