Eliud Kipchoge Takes Center Stage in Elite Line-Up at Berlin Marathon

Posted by:
Watch Athletics
Monday, 18 September 2023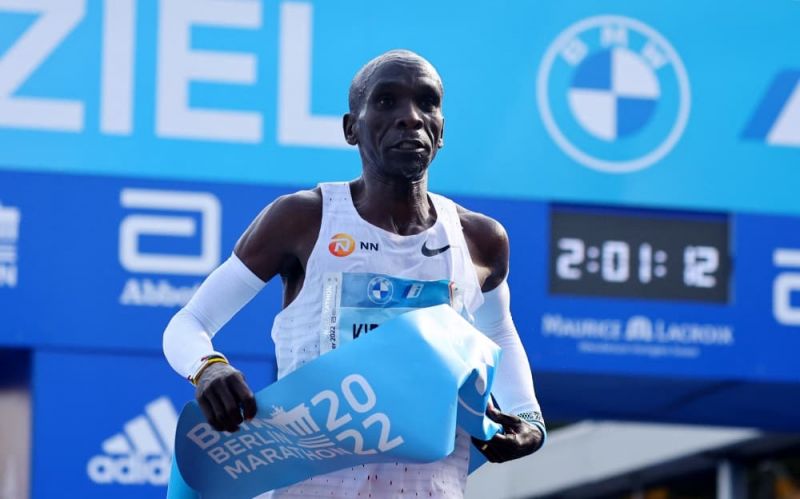 Eliud Kipchoge is set to make another appearance at the BMW Berlin Marathon on Sunday, September 24. The Kenyan double Olympic champion has a history of excellence at this venue, twice setting world records, most recently with a time of 2:01:09. Anticipation is high as Kipchoge hints at aiming for another swift time. However, the spotlight isn't just on him. Tigst Assefa, the women's titleholder from the previous year and Ethiopia's pride, recorded a remarkable time of 2:15:37. On the home front, Germany will be closely watching Amanal Petros, their national record holder. Numerous elite runners will also be racing with hopes of achieving the qualifying time for the upcoming Paris Olympic Marathon.
The 49th BMW BERLIN-MARATHON is expected to host over 45,000 participants. It's not just a race; it's a monumental event being a part of the Abbott World Marathon Majors (AWMM), which includes renowned marathons from Boston, Chicago, London, New York, and Tokyo. This distinguished marathon also holds the Platinum Label from World Athletics, the governing body for international athletics.
Reflecting on his preparation, Kipchoge expressed, "Together with my team, we've dedicated ourselves to training, trusting our regimen. I eagerly anticipate returning to Berlin, my special arena, to embrace the challenge." He's undeniably eyeing to capitalize on Berlin's even terrain and deliver another remarkable run, potentially securing his spot for the Olympics.
Kenya's Amos Kipruto, with a personal best of 2:03:13, stands as the second fastest entrant. He's familiar with competing against Kipchoge, having come second to him in Tokyo 2022. Germany's Amanal Petros, on the other hand, will be aiming to outdo his record of 2:06:27.
Last year, Tigst Assefa's performance was the talk of the town. Improving her time by a jaw-dropping 18 minutes, she set a new course record of 2:15:37. As the reigning champion, she's the one to watch, although Kenya's Sheila Chepkirui, boasting a personal best of 2:17:29, might bring a strong challenge. Both contenders will be running with their eyes on the Paris Olympic Marathon qualification.
MEN ELITE
Men's elite runners with personal bests
Eliud Kipchoge KEN 2:01:09
not record eligible:1:59:40,2
Amos KiprutoKEN2:03:13
Jonathan MaiyoKEN2:04:56
Eliud Kiptanui KEN 2:05:21
Ghirmay Ghebreslassie ERI 2:05:34
Ronald KorirKEN2:05:37
Tadu Abate ETH 2:05:38
Philemon KiplimoKEN2:05:44
Enock Onchari KEN 2:05:47
Mark Korir KEN 2:05:49
Andualem ShiferawETH2:05:52
Haftu TekluETH2:05:53
Amanal PetrosGER2:06:27
Josphat BoitKEN2:06:34
Tadesse Abraham SUI 2:06:38
Okubay Tsegay ERI2:06:46
Abel KipchumbaKEN2:06:49
Yusuke Ogura JPN2:06:51
Denis ChirchirKEN2:07:17
Eyob Faniel ITA 2:07:19
Justus KangogoKEN2:07:40
Titus Kipkosgei KEN2:07:46
Godadaw BelachewISR2:07:54
Dominic Nyairo KEN2:08:13
Derseh Kindie ETH 2:08:23
Guojian Dong CHN2:08:28
Liam Adams AUS 2:08:39
Scott FaubleUSA2:08:52
Hendrik Pfeiffer GER 2:10:18
Samuel Fitwi GER 2:12:14
Konstantin Wedel GER 2:13:02
WOMEN ELITE
Tigst Assefa ETH2:15:37
Sheila Chepkirui KEN 2:17:29
Tigist AbayechewETH2:18:03
Workenesh EdesaETH2:18:51
Hiwot Gebrekidan ETH2:19:10
Hitomi NiiyaJPN2:19:24
Zeineba YimerETH2:19:28
Etagegn WolduETH2:20:03
Gutemi ImanaETH2:20:11
Delvine MeringorROU2:20:49
Helen TolaETH2:21:01
Dera DidaETH2:21:11
Fikrte Wereta ETH 2:22:50
Charlotte PurdueGBR2:23:26
Margaret Muriuki KEN 2:23:52
Senbere Teferi ETH 2:24:11
Malindi ElmoreCAN2:24:50
Deborah Schöneborn GER 2:25:52
Fabienne Schlumpf SUI 2:26:14
Annie FrisbieUSA2:26:18
Domenika MayerGER2:26:50
Rabea SchönebornGER2:27:03
Kristina Hendel GER 2:27:29
Laura Hottenrott GER 2:28:02
Yevheniya ProkofyevaUKR2:28:06
Ursula SanchezMEX2:29:11
Angie Orjuela COL 2:29:12
Tabea ThemannGER2:31:54
Jana SoethoutGER2:34:28
Melina Wolf GER Debüt
-->