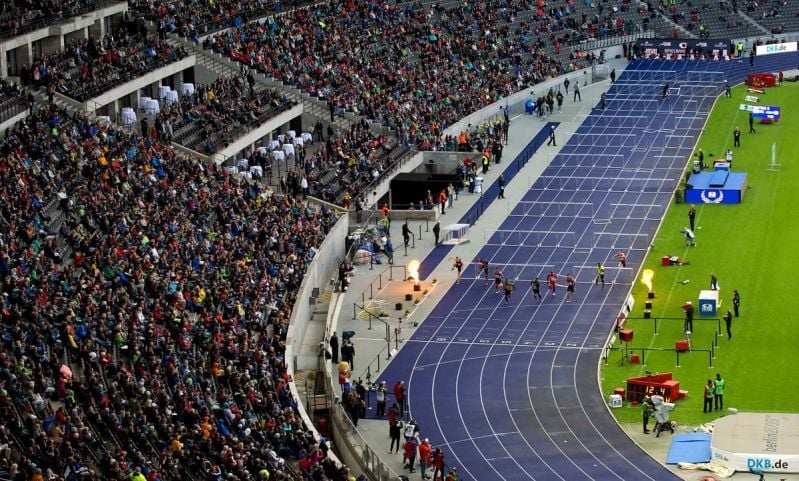 In the iconic backdrop of Berlin's Olympic Stadium, an electrifying atmosphere is anticipated this Sunday with approximately 30,000 fans eagerly awaiting the annual ISTAF meeting. The revered track and field event promises a splendid showcase of talent, with an elite line-up that reads like a who's who of athletics royalty. Headlining the event is Ethiopia's sensational long-distance maestro, Letesenbet Gidey, set to captivate audiences in the 5,000m. Alongside her, the spotlight will gleam on world sprint hurdles champion Danielle Williams, the indomitable Shaunae Miller-Uibo, and America's discus dynamo, Valerie Allman. Germany, the home nation, isn't without its heavy hitters – with European javelin king Julian Weber, discus prodigy Kristin Pudenz, and the up-and-coming high jump sensation Tobias Potye ready to make their mark.
"We want to celebrate athletics together with the devoted ISTAF fans in Berlin. 158 athletes are competing, that's 158 reasons to be in Berlin's Olympic stadium to see ISTAF for yourself," said the meeting director Martin Seeber. Tickets are still available at: tickets.istaf.de
Women's Preview
One of the world's exceptional athletes will be in action in Letesenbet Gidey. The 25-year-old Ethiopian is the current world record holder at 10,000m with 29:01.03 and also for the half marathon with her time of 62:52. She is also the former world record holder at 5,000m with 14:06.62, a performance overtaken, albeit by a fraction, by Kenya's double World champion Faith Kipyegon with her time of 14:05.20 in June. Gidey took the silver medal in the 10,000m at the recent World Championships in Budapest. She did not run the 5,000m there but has chosen to compete at this distance in Berlin. "I'm delighted to bring my track season to an end at the ISTAF meeting in Berlin," said Letesenbet Gidey, whose support team have installed the now commonly used "Wavelights" around the track as a pace guide.
Danielle Williams arrives in Berlin as the recently crowned World champion in the 100m hurdles after she ran 12.43 to win the title for the second time and eight years after her first triumph. On ISTAF's renowned fast blue track she will encounter world-class opposition including Mia Jones of the USA whose personal best is 12.39 and the Jamaican Megan Tapper (12.44 pb).
136 days after the birth of her son, Shaunae Miller-Uibo will make her ISTAF debut. The double Olympic gold medallist and last year's World champion runs her premier distance of 400m where the opposition includes Norway's Henriette Jaeger (51.06 pb). Shaunae Miller-Uibo has already been in action since giving birth, competing in the recent World Championships though she, understandably, did not reach the final, going out in the qualifying round with 52.65, but an achievement nonetheless, given the circumstances.
Another Olympic champion competing is the American Valarie Allman, who took the silver medal at the World Championships with 69.23m. She'll renew her rivalry with Jorinde van Klinken of the Netherlands, who finished fourth in Budapest. Allman has twice competed at ISTAF, throwing beyond the tantalising 70m mark on both occasions with her best of 71.16m in 2021 remaining an ISTAF and North American record. Last year she won with 70.06m. Jorinde van Klinken also knows the feeling of throwing far, having a personal best of 70.22m. The line-up presents a strong challenge for the German talents of Kristin Pudenz, the Olympic silver medallist and her compatriot Shanice Craft.
Men's Preview
Five days after his 29th birthday, Berlin resident Julian Weber has the chance to add to his pile of presents. The European javelin champion, fourth at the World Championships, is aiming for his second ISTAF victory following his success last year. At the same time, a win on home ground would go at least some way to make up for narrowly missing a medal in Budapest. He has a season's best of 88.72m and has thrown beyond 85m on seven occasions this year, making him the most consistent thrower in Sunday's event.
Timothy Herman has enjoyed a sudden surge in performance at the age of 32 this year. The Belgian broke the national record in mid-May with 87.35m, an improvement of almost six metres. Yet following this breakthrough, he has failed to reproduce similar form, finishing 12th at the World Championships. More consistent has been Edis Matusevicius of Lithuania. The 27-year-old followed up his win at the World Student Games with eighth place in Budapest. His personal best of 89.71m makes him a strong contender. Germany's Thomas Röhler won Olympic gold in 2016 but has struggled in recent years and the 31-year-old has yet to recapture the form which made him an 80m-thrower.
The ISTAF fans should be witnessing some high-flying pole vaulters in a strong competition: five men have achieved six metres in their careers. In the last ten years, only eleven have made that mark. Among the Berlin line-up are the World silver medallist Ernest John Obiena from the Philippines (6.00m pb), the bronze medallist in Budapest, Chris Nilsen of the USA (6.05 pb), his fellow American and double World champion Sam Kendricks, now returning to form (6.06m pb), the North American record holder KC Lightfoot (6.07m pb) and the Norwegian record holder Sondre Guttormsen (6.00m pb).
A rising star, literally, among the home talent is Tobias Potye. The high jumper has produced his best two performances ever in recent weeks. Firstly the European silver medallist cleared 2.34m at Chorzow in Poland, then 2.33m at the World Championships, narrowly missing a bronze medal and finishing fifth. He has yet to win in the Olympic stadium but his current form suggests he might well achieve that goal.
Further information can be obtained at www.istaf.de
-->