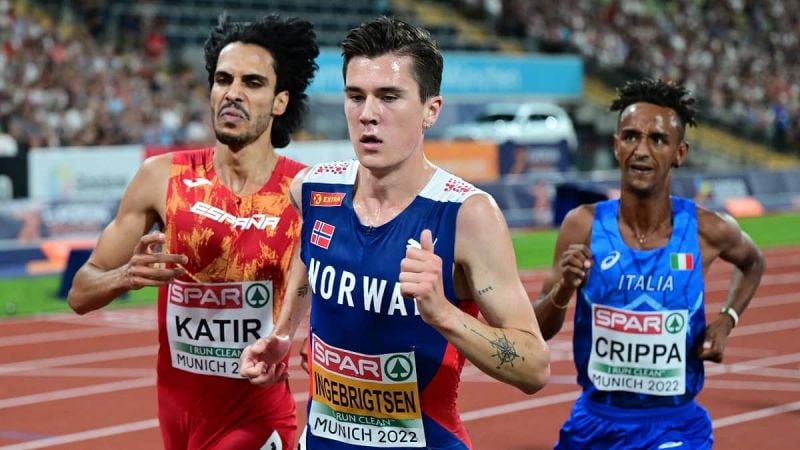 Final entry lists for the 2023 Silesia Diamond League, Kamila Skolimowska Memorial, have been published.
Some of the brightest track and field stars will feature at the Silesia Kamila Skolimowska Memorial, a Wanda Diamond League meeting on Sunday, July 16.
A number of Olympic and global Champions and World record holders are preparing to light up the Silesian stadium. These include Olympic champions Armand Duplantis and Jakob Ingebrigtsen.
At the Diamond League in Oslo earlier this month, Ingebrigtsen set a European record in the 1500 meters. Silesia will be his last race before the World Championships in Budapest. Among his rivals is the Spaniard Mohamed Katir, the second fastest European ever.
Armand 'Mondo' Duplantis will meet KC Lightfoot, who cleared 6.07 recently, in the men's pole vault. Nobody else has soared this high since Mondo's dominance.
The competition on the fast track will be intense, with several world champions confirmed for the event. The men's 100m race will feature two medalists from the 2022 World Championships - Fred Kerley and Marvin Bracy. Local favourite Ewa Swoboda faces off with Sha'Carri Richardson, the five-time Olympic medalist Shericka Jackson (who ran 10.65 last weekend) and Marie-Josee Ta Lou in the women's 100m race.
WOMEN'S ENTRY LISTS
Women's 100m
| Name | NAT | SB | PB |
| --- | --- | --- | --- |
| HOBBS, Aleia | USA | 10.86 | 10.81 |
| HOBBS, Zoe | NZL | 10.96 | 10.96 |
| JACKSON, Shericka | JAM | 10.65 | 10.65 |
| LÜCKENKEMPER, Gina | GER | 11.00 | 10.95 |
| NEITA, Daryll | GBR | 10.97 | 10.90 |
| RICHARDSON, Sha'Carri | USA | 10.71 | 10.71 |
| STRACHAN, Anthonique | BAH | 10.92 | 10.92 |
| SWOBODA, Ewa | POL | 11.03 | 11.03 |
| TERRY, Twanisha | USA | 11.05 | 10.82 |
Women's 400m
| Name | NAT | SB | PB |
| --- | --- | --- | --- |
| IRBY-JACKSON, Lynna | USA | 50.11 | 49.80 |
| KACZMAREK, Natalia | POL | 50.02 | 49.86 |
| KLAVER, Lieke | NED | 50.32 | 50.18 |
| MCLEOD, Candice | JAM | 50.80 | 49.51 |
| OHURUOGU, Victoria | GBR | 50.89 | 50.50 |
| PAULINO, Marileidy | DOM | 48.98 | 48.98 |
| WILLIAMS, Sada | BAR | 51.00 | 49.75 |
| YOUNG, Charokee | JAM | 50.45 | 49.87 |
Women's 800m
| Name | NAT | SB | PB |
| --- | --- | --- | --- |
| BELLÒ, Elena | ITA | 2:00.76 | 1:58.97 |
| BISSET, Catriona | AUS | 1:58.32 | 1:58.09 |
| ENNAOUI, Sofia | POL | | 1:58.98 |
| GOULE-TOPPIN, Natoya | JAM | 1:58.23 | 1:56.15 |
| HORVAT, Anita | SLO | 1:58.73 | 1:58.73 |
| HURTA-KLECKER, Sage | USA | 1:59.01 | 1:57.85 |
| KOCZANOWA, Margarita | POL | 2:01.98 | 2:01.38 |
| LAMOTE, Rénelle | FRA | | 1:57.84 |
| LAUS, Camille | BEL | 2:01.99 | 2:01.99 |
| LEMIESZ, Aneta | POL | | 1:59.93 |
| MORAA, Mary | KEN | 1:57.43 | 1:56.71 |
| NAKAAYI, Halimah | UGA | 1:58.81 | 1:58.03 |
| YARIGO, Noélie | BEN | 1:58.65 | 1:58.65 |
Women's 1500m
| Name | NAT | SB | PB |
| --- | --- | --- | --- |
| BOBOCEA, Claudia Mihaela | ROU | 4:06.55 | 4:01.10 |
| CHEMUSTO, Janat | UGA | 4:01.79 | 4:01.79 |
| COURTNEY-BRYANT, Melissa | GBR | 4:00.45 | 4:00.45 |
| GUILLEMOT, Agathe | FRA | 4:04.96 | 4:04.96 |
| HALL, Linden | AUS | 4:02.34 | 3:59.01 |
| HAYLOM, Birke | ETH | 3:57.66 | 3:57.66 |
| LAGAT, Lydia Jeruto | KEN | 4:07.02 | 4:07.02 |
| LIZAKOWSKA, Weronika | POL | 4:07.97 | 4:07.97 |
| MÄKI, Kristiina | CZE | 4:05.08 | 4:01.23 |
| MEGGER, Eliza | POL | 4:06.08 | 4:03.04 |
| MESELE, Worknesh | ETH | 4:01.81 | 4:01.81 |
| MESHESHA, Hirut | ETH | 3:57.87 | 3:57.30 |
| REEKIE, Jemma | GBR | 4:01.40 | 4:01.40 |
| SABBATINI, Gaia | ITA | 4:03.84 | 4:01.93 |
| TROST, Katharina | GER | 4:05.80 | 4:03.53 |
| WALLACE, Erin | GBR | 4:07.31 | 4:07.31 |
| WELTEJI, Diribe | ETH | 3:57.38 | 3:56.91 |
Women's 3000m
| Name | NAT | SB | PB |
| --- | --- | --- | --- |
| AKIDOR, Margaret | KEN | 8:46.77 | 8:32.53 |
| ALEMSHET, Mekides | ETH | | |
| BREA, Joselyn Daniely | VEN | | 9:23.72 |
| CAUNE, Agate | LAT | 9:03.99 | 9:03.99 |
| CHELANGAT, Sarah | UGA | 8:32.53 | 8:32.53 |
| GATERI, Teresiah Muthoni | KEN | 8:43.81 | 8:43.77 |
| GEZAHAGN, Tigist | ETH | | |
| HAILU, Freweyni | ETH | | |
| HAILU, Lemlem | ETH | | 8:34.03 |
| HENES, Elly | USA | 8:36.86 | 8:36.86 |
| KRÓLIK, Kinga | POL | | 9:18.53 |
| LUKAN, Klara | SLO | 8:47.17 | 8:47.17 |
| MACHADO, Mariana | POR | | 8:58.61 |
| NIBRET, Lemlem | ETH | 9:03.77 | 9:03.77 |
| PRATT, Aimee | GBR | | 8:59.57 |
| RENGERUK, Lilian Kasait | KEN | 8:25.90 | 8:25.90 |
| RYAN, Lauren | AUS | 9:03.00 | 8:54.54 |
| TSEGAY, Gudaf | ETH | | 8:25.23 |
| WAGNER-GYÜRKÉS, Viktória | HUN | | 8:48.83 |
Women's 100m Hurdles
| Name | NAT | SB | PB |
| --- | --- | --- | --- |
| ALI, Nia | USA | 12.37 | 12.34 |
| AMUSAN, Tobi | NGR | 12.47 | 12.12 |
| FOURIE, Marione | RSA | 12.55 | 12.55 |
| HARRISON, Kendra | USA | 12.35 | 12.20 |
| JOHNSON, Alaysha | USA | 12.37 | 12.35 |
| JONES, Tia | USA | 12.44 | 12.38 |
| SKRZYSZOWSKA, Pia | POL | 12.77 | 12.51 |
| TAPPER, Megan | JAM | 12.44 | 12.44 |
| WILLIAMS, Danielle | JAM | 12.59 | 12.32 |
Women's Javelin Throw
| Name | NAT | SB | PB |
| --- | --- | --- | --- |
| BARBER, Kelsey-Lee | AUS | 62.54 | 67.70 |
| BORGE, Sigrid | NOR | 66.50 | 66.50 |
| JASIŪNAITĖ, Liveta | LTU | 61.57 | 63.98 |
| KITAGUCHI, Haruka | JPN | 65.09 | 66.00 |
| LITTLE, Mackenzie | AUS | 65.70 | 65.70 |
| OGRODNÍKOVÁ, Nikola | CZE | 61.75 | 67.40 |
| PEETERS, Tori | NZL | 63.26 | 63.26 |
| VILAGOŠ, Adriana | SRB | 61.87 | 63.52 |
Women's High Jump
| Name | NAT | SB | PB |
| --- | --- | --- | --- |
| DISTIN, Lamara | JAM | 1.95 | 1.97 |
| DUBOVITSKAYA, Nadezhda | KAZ | 1.94 | 2.00 |
| GERASHCHENKO, Iryna | UKR | 2.00 | 2.00 |
| LAKE, Morgan | GBR | 1.97 | 1.97 |
| LEVCHENKO, Yuliia | UKR | 1.94 | 2.02 |
| MAHUCHIKH, Yaroslava | UKR | 2.01 | 2.05 |
| OLYSLAGERS, Nicola | AUS | 2.02 | 2.02 |
| PATTERSON, Eleanor | AUS | | 2.02 |
| TABASHNYK, Kateryna | UKR | 1.86 | 1.96 |
| TOPIĆ, Angelina | SRB | 1.97 | 1.97 |
Women's Triple Jump
| Name | NAT | SB | PB |
| --- | --- | --- | --- |
| BEKH-ROMANCHUK, Maryna | UKR | 14.75 | 15.02 |
| FRANKLIN, Tori | USA | 14.44 | 14.86 |
| LAFOND, Thea | DMA | 14.47 | 14.60 |
| ORJI, Keturah | USA | 14.43 | 14.92 |
| PÉREZ HERNÁNDEZ, Leyanis | CUB | 14.98 | 14.98 |
| POVEA, Liadagmis | CUB | 14.85 | 14.93 |
| RICKETTS, Shanieka | JAM | 14.53 | 14.98 |
| ROJAS, Yulimar | VEN | 15.16 | 15.67 |
Women's Hammer Throw
| Name | NAT | SB | PB |
| --- | --- | --- | --- |
| ANDERSEN, Brooke | USA | 80.17 | 80.17 |
| FANTINI, Sara | ITA | 73.26 | 75.77 |
| GHELBER, Bianca Florentina | ROU | 73.09 | 74.18 |
| KASSANAVOID, Janee' | USA | 76.60 | 78.00 |
| KOPRON, Malwina | POL | 71.23 | 76.85 |
MEN'S ENTRY LISTS
Men's 100m
| Name | NAT | SB | PB |
| --- | --- | --- | --- |
| AUSTIN, Pjai | USA | 9.89 | 9.89 |
| BLAKE, Ackeem | JAM | 9.89 | 9.89 |
| BLAKE, Yohan | JAM | 10.05 | 9.69 |
| BRACY-WILLIAMS, Marvin | USA | 9.93 | 9.85 |
| CHARLESTON, Cravont | USA | 9.90 | 9.90 |
| ESEME, Emmanuel | CMR | 9.96 | 9.96 |
| KERLEY, Fred | USA | 9.88 | 9.76 |
| SIMBINE, Akani | RSA | 9.92 | 9.84 |
| THOMPSON, Kishane | JAM | 9.91 | 9.91 |
Men's 400m
| Name | NAT | SB | PB |
| --- | --- | --- | --- |
| DEADMON, Bryce | USA | 44.22 | 44.22 |
| DOS SANTOS, Alison | BRA | | 44.54 |
| NDORI, Bayapo | BOT | 44.61 | 44.61 |
| NENE, Zakithi | RSA | 45.17 | 44.74 |
| NORWOOD, Vernon | USA | 44.39 | 44.35 |
| SAMUKONGA, Muzala | ZAM | 43.91 | 43.91 |
| VAN NIEKERK, Wayde | RSA | 44.17 | 43.03 |
| WILLIE, Ryan | USA | 44.25 | 44.25 |
| ZALEWSKI, Karol | POL | 45.81 | 45.11 |
Men's 1500m
| Name | NAT | SB | PB |
| --- | --- | --- | --- |
| AKBACHE, Mounir | FRA | | 3:39.81 |
| BEN, Adrián | ESP | 3:34.35 | 3:34.35 |
| CHERUIYOT, Reynold Kipkorir | KEN | 3:31.60 | 3:31.60 |
| COSCORAN, Andrew | IRL | 3:32.68 | 3:32.68 |
| GILES, Elliot | GBR | 3:31.56 | 3:31.56 |
| HABZ, Azeddine | FRA | 3:29.26 | 3:29.26 |
| INGEBRIGTSEN, Jakob | NOR | 3:27.95 | 3:27.95 |
| KETER, Vincent Kibet | KEN | 3:33.16 | 3:33.16 |
| KIPSANG, Abel | KEN | 3:31.76 | 3:29.56 |
| MCSWEYN, Stewart | AUS | 3:32.85 | 3:29.51 |
| MILLS, George | GBR | 3:33.16 | 3:33.16 |
| MYERS, Cameron | AUS | 3:35.01 | 3:35.01 |
| NADER, Isaac | POR | 3:31.67 | 3:31.67 |
| PHILIBERT-THIBOUTOT, Charles | CAN | 3:32.94 | 3:32.94 |
| PRAKEL, Samuel | USA | 3:34.63 | 3:34.63 |
| SOWINSKI, Erik | USA | | 3:44.82 |
| TANNER, Samuel | NZL | 3:32.27 | 3:31.34 |
Men's 110m Hurdles
| Name | NAT | SB | PB |
| --- | --- | --- | --- |
| ALKANA, Antonio | RSA | 13.32 | 13.11 |
| CRITTENDEN, Freddie | USA | 13.19 | 13.00 |
| CUNNINGHAM, Trey | USA | 13.23 | 13.00 |
| CZYKIER, Damian | POL | 13.64 | 13.25 |
| DICKSON, Michael | USA | 13.26 | 13.23 |
| DUNNING, Robert | USA | 13.09 | 13.09 |
| EDWARDS, Eric | USA | 13.23 | 13.15 |
| ISHIKAWA, Shuhei | JPN | 13.36 | 13.36 |
| KWAOU-MATHEY, Just | FRA | 13.09 | 13.09 |
| MANGA, Aurel | FRA | 13.55 | 13.24 |
| MARTINOT-LAGARDE, Pascal | FRA | 13.45 | 12.95 |
| MASON, Tyler | JAM | 13.12 | 13.12 |
| PEREIRA, Rafael | BRA | 13.34 | 13.17 |
| ROBERTS, Daniel | USA | 13.01 | 13.00 |
| THOMAS, Damion | JAM | 13.40 | 13.11 |
| TRAJKOVIC, Milan | CYP | 13.38 | 13.25 |
| ZELLER, Joshua | GBR | 13.40 | 13.19 |
Men's 3000m Steeplechase
| Name | NAT | SB | PB |
| --- | --- | --- | --- |
| AMARE, Hailemariyam | ETH | 8:25.25 | 8:06.29 |
| BETT, Leonard Kipkemoi | KEN | 8:14.42 | 8:08.61 |
| BOUASSEL, Abderrafia | MAR | | 8:27.00 |
| BUCHHOLZ, Niklas | GER | 8:27.06 | 8:27.06 |
| CARRO, Fernando | ESP | 8:17.06 | 8:05.69 |
| EL BAKKALI, Soufiane | MAR | 7:56.68 | 7:56.68 |
| JHINAOUI, Mohamed Amin | TUN | 8:12.19 | 8:12.19 |
| KIBIWOT, Abraham | KEN | 8:05.51 | 8:05.51 |
| KIGEN, Benjamin | KEN | 8:13.49 | 8:05.12 |
| KIRUI, Amos | KEN | 8:18.45 | 8:08.37 |
| MSAAD, Mohammed | MAR | 8:16.18 | 8:16.18 |
| SABLE, Avinash Mukund | IND | 8:17.18 | 8:11.20 |
| SEREM, Amos | KEN | 8:16.94 | 8:09.93 |
| SIME, Abrham | ETH | 8:10.73 | 8:10.73 |
| TINDOUFT, Mohamed | MAR | 8:20.85 | 8:11.65 |
| UPDIKE, Isaac | USA | 8:17.47 | 8:17.47 |
| WALE, Getnet | ETH | 8:05.15 | 8:05.15 |
Men's Shot Put
| Name | NAT | SB | PB |
| --- | --- | --- | --- |
| AWOTUNDE, Josh | USA | 22.10 | 22.29 |
| CROUSER, Ryan | USA | 23.56 | 23.56 |
| FABBRI, Leonardo | ITA | 21.81 | 21.99 |
| GILL, Jacko | NZL | 22.12 | 22.12 |
| HARATYK, Michał | POL | 20.92 | 22.32 |
| KOVACS, Joe | USA | 22.69 | 23.23 |
| MIHALJEVIĆ, Filip | CRO | 21.50 | 21.94 |
| OTTERDAHL, Payton | USA | 22.09 | 22.09 |
| STANĚK, Tomáš | CZE | 21.71 | 22.01 |
| WALSH, Tom | NZL | 22.22 | 22.90 |
Men's Hammer Throw
| Name | NAT | SB | PB |
| --- | --- | --- | --- |
| FAJDEK, Paweł | POL | 76.50 | 83.93 |
| FRANTZESKAKIS, Christos | GRE | 76.68 | 78.20 |
| HENRIKSEN, Eivind | NOR | 76.52 | 81.58 |
| NOWICKI, Wojciech | POL | 81.92 | 82.52 |
| WINKLER, Rudy | USA | 80.88 | 82.71 |
Men's Pole Vault
| Name | NAT | SB | PB |
| --- | --- | --- | --- |
| BRAZ, Thiago | BRA | 5.62 | 6.03 |
| DUPLANTIS, Armand | SWE | 6.12 | 6.21 |
| GUTTORMSEN, Sondre | NOR | 5.90 | 5.90 |
| KENDRICKS, Sam | USA | 5.91 | 6.06 |
| LIGHTFOOT, KC | USA | 6.07 | 6.07 |
| LISEK, Piotr | POL | 5.82 | 6.02 |
| LITA BAEHRE, Bo Kanda | GER | 5.82 | 5.90 |
| MARSCHALL, Kurtis | AUS | 5.95 | 5.95 |
| NILSEN, Christopher | USA | 5.92 | 6.00 |
| VLOON, Menno | NED | 5.85 | 5.88 |
Men's High Jump
| Name | NAT | SB | PB |
| --- | --- | --- | --- |
| BARSHIM, Mutaz Essa | QAT | 2.24 | 2.43 |
| CARMOY, Thomas | BEL | 2.29 | 2.29 |
| KERR, Hamish | NZL | 2.31 | 2.31 |
| KOBIELSKI, Norbert | POL | 2.27 | 2.28 |
| POTYE, Tobias | GER | 2.27 | 2.30 |
| PROTSENKO, Andrii | UKR | 2.21 | 2.40 |
| STARC, Brandon | AUS | 2.29 | 2.36 |
| TAMBERI, Gianmarco | ITA | 2.29 | 2.39 |
| THOMAS, Donald | BAH | 2.28 | 2.37 |
| ZAYAS, Luis Enrique | CUB | 2.31 | 2.31 |
-->