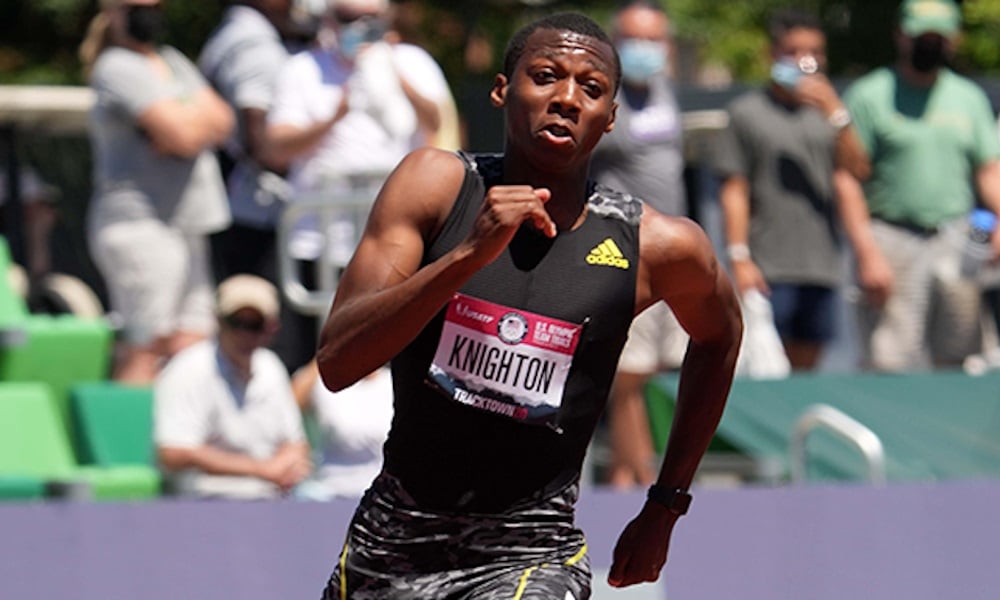 Hammer throw and sprint events are in the spotlight on Tuesday 6 June at the Irena Szewinska Memorial in Bydgoszcz, dedicated to late Polish athletics legend Irena Szewinska, Olympic champion in the 200 metres in Mexico City 1968 and in the 400 metres in Montreal 1976 and the only athlete in history, male or female, to have held the world record in the 100m, 200m and 400m.
Watch Irena Szewinska Memorial
Men's 200 metres:
World bronze medallist Erryion Knighton will be seeking his second consecutive win in the 200 metres following his victory at the Diamond League meeting in Florence in 19.89, the fourth fastest time in the world this year. Knighton finished fourth at the Olympic Games in Tokyo in 19.93 and third at the World Championships in Eugene in 19.80 and holds the fourth fastest time in history with 19.49.
Knighton will face Alexander Ogando from Dominican Republic, fifth at the World Championships in Eugene in 19.93, Luxolo Adams from South Africa, winner at the Paris Diamond League meeting in 19.82 in 2022, and Liberia's Emmanuel Matadi, who holds PBs of 9.98 in the 100 metres and 20.07 in the 200 metres.
Women's 100 metres hurdles:
Last week's NACAC champion Alaysha Johnson will be seeking her second consecutive win on Polish soil after sharing the win with Olympic champion Jasmine Camacho Quinn with the same time of 12.42 in Chorzow last Sunday. They could not be separated on the photo-finish. Johnson won the US Indoor title in the 60 metres hurdles in 7.83 last February.
The US hurdler will face last year's world indoor silver medallist Devynne Charlton from the Bahamas, 2018 US indoor champion Sharika Nelvis, world indoor finalist Sarah Lavin from Ireland and Polish combined events specialist Adrianna Sulek, who won the European silver medal in the heptathlon in Munich and recently finished third at the Hypo meeting in Goetzis with 6480 points.
Women's hammer throw:
Four of the top seven women on the world all-time list will line-up in the women's hammer throw.
World champion Brooke Andersen will be the favourite after winning four of her five competitions this year. Andersen threw 80.17m at the USATF Throws Festival in Tucson becoming the third best hammer thrower in history to surpass the 80 metres barrier. She also won in Charlottesville with 79.80m, at the Drake Relays with 78.69 and in Bergen with 76.08m and finished second to Canada's Camryn Rogers in Los Angeles with 76.06m.
Rogers, world silver medallist in Eugene last year, improved her own Commonwealth record to 78.62m in Los Angeles. The Canadian thrower threw over the 77 metres barrier in three more meetings in Berkeley with 77.30m, in Walnut with 77.84m and at the Memorial Janusz Kusocinski in Chorzow last Sunday with 77.34m beating Kassanavoid (75.34m).
Kassanavoid moved to seventh on the all-time list with her PB of 78.00m in May 2022 and finished second to Andersen in Tucson with 76.60m two weeks ago.
World record holder Anita Wlodarczyk made her comeback at the Continental Tour Gold meeting in Nairobi, finishing third with 70.27m in a competition won by world bronze medallist Janee Kassanavoid. Wlodarczyk won three Olympic gold medals, four world titles and holds the world record of 82.98m set in Warsaw in 2016. The Polish thrower finished fourth with 70.67m in Chorzow last weekend in her first two competition in 2023 after missing much of the 2022 season due to an injury.
It is the first time that Kassanavoid, Rogers, Wlodarczyk and Andersen will all clash in the same competition.
The line-up will also feature Bianca Ghelber from Romania and Ewa Rozanska from Poland, who won gold and silver medals respectively at the European Championships in Munich 2022, Malwina Kopron from Poland, Olympic bronze medallist in Tokyo 2021, and USA's Annette Echikunwoke, who finished third with 75.00m in Tucson this year.
Men's hammer throw:
Olympic and European champion Wojciech Nowicki will clash against world championships sixth placer Rudy Winkler. They are the only throwers to have surpassed the 80 metres barrier this year.
Winkler set a seasonal best of 80.88m to win in Tucson last May. He set the North American record with 82.71m at the US Olympic Trials in Eugene 2021.
Nowicki threw 80.00m to beat Winkler (78.29m) at the Memorial Kusocinski in Chorzow last Sunday. The Polish thrower won four world medals (three-time bronze in 2015, 2017 and 2019 and one silver in 2022), the Olympic gold in Tokyo 2021 and the European title in Munich 2022.
The line-up also features five-time world champion Pawel Fajdek from Poland and 2019 world bronze medallist Bence Halasz from Hungary. Fajdek set a seasonal best of 76.42m in Forbach on 28 May and finished fourth with 74.01 in Chorzow last weekend.
Nowicki won at last year's edition of the Memorial Szewinska beating Fajdek with 80.28m.
Men's shot put:
Former world champion Tom Walsh from New Zealand will renew his rivalry against two-time world gold medallist Joe Kovacs from the USA and last week's Florence Diamond League winner Leonardo Fabbri from Italy.
Kovacs leads 31-27 in his head-to-head clashes against Walsh. The New Zealander beat Kovacs by four cm with 21.80m in last year's edition of the Memorial Szewinska and in their two most recent clashes in Florence with 21.69m and in Chorzow with 21.48m.
Kovacs set the second best performance in the world all-time list with 23.23m to win the Diamond League final in Zurich last year. The US shot put star set a seasonal best of 22.69m in Nashville last April.
Fabbri won his first Diamond League competition with a seasonal best of 21.73m in his home city in Florence last week.
The line-up also features USA's Josh Awotunde, world bronze medallist in Eugene with his PB of 22.29m, and 2018 European outdoor champion Mychal Haratyk.
Men's pole vault:
Olympic and world silver medallist Chris Nilsen will chase his third consecutive win in Bydgoszcz after clearing 5.92m in 2021 and 5.80m in 2022. Nilsen will go head-to-head against five-time world medallist Piotr Lisek, two-time world champion Sam Kendricks and Ernest John Obiena from the Philippines, who won the world bronze medal in Eugene with the Asian record of 5.94m
Lisek, national record holder with 6.02m in Monaco in 2019, beat Nilsen with 5.82 on countback in Chorzow last Sunday.
Kendricks finished second to Armand Duplantis with 5.91m on countback at the Los Angeles Grand Prix on 27 May and third in Chorzow with 5.71m last weekend.
The other pole vaulter to watch is Italy's Claudio Stecchi, who equalled Giuseppe Gibilisco's Italian indoor record with 5.82m in Liévin and finished sixth at the European Indoor Championships in Istanbul last March.
Women's 100 metres:
World and Olympic medallist Morolake Akinosun will be seeking her third sub-11 seconds time in the women's 100 metres after clocking 10.95 in Fresno and 10.97 in Los Angeles. Akinosun finished fourth at the Florence Diamond League meeting in 11.20 last weekend. The US sprinter will face Imani Lansiquot from Great Britain, who showed her good form when she finished third in in Florence in 11.16.
Women's 200 metres:
Lansiquot will double up in the 200 metres, where she faces her compatriot Darryil Neita, who won her first two 100 metres races this season in Savona in 10.97 and in Hengelo in 11.05. The line-up also features Cambrea Sturgis, NCAA champion in the 100 and the 200 metres in 2021, and Anavia Battle, who finished third at the NCAA Championships last year.
Men's 110 metres hurdles:
Daniel Roberts is looking to continue his good season after improving his PB in the 60 metres hurdles with 7.39 last winter. Roberts will go head-to-head against last year's NACAC Championships silver medallist Jamal Britt, who finished fourth at the US Championships in Eugene and won at the Bermuda Grand Prix in a wind-assisted 12.99, and 20-year-old European Indoor silver medallist Jakub Szymanski from Poland and Roger Iribarne from Cuba, who set the national indoor record in the 60 metres hurdles clocking 7.48 in Madrid last February.
Men's 1500 metres:
Irish indoor record holder Andrew Coscoran will return to the track just two days after his win in the 1500m in the Continental Tour meeting in Hengelo. Coscoran will face Tshepo Tshite from South Africa, who set a PB of 3:33.02 last April, Italy's Pietro Arese, who finished fourth at the European Championships in Munich 2022 and set the second fastest time in Italian 1500m history with a PB of 3:34.37 in Montreuil last Wednesday, and Matthew Ramsden from Australia, who set his PB of 3:34.08 in Heusden Zolder in 2021.
Women's 1500 metres:
Spain's Marta Perez will run against world under 20 1500 metres fourth placer Mebrit Mekonen and Edinah Jebitok from Kenya, who placed eighth at the World Cross Country Championships in Bathurst.
Men's 800 metres:
Kenya's Elias Ngeny will go head-to-head against his compatriot Collins Kipruto, 2018 European silver medallist Andreas Kramer from Sweden and Mateusz Borkowski from Poland, silver medallist at the European Indoor Championships in Torun 2021.
-->