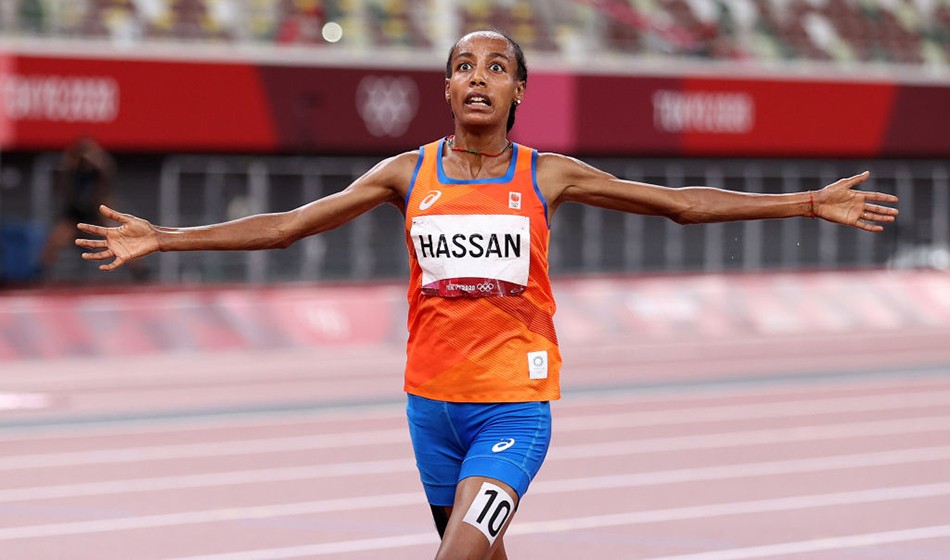 Olympic and world champion Armand Mondo Duplantis improved his own meeting record by one cm to 6.11m in his first attempt. Duplantis had a clean sheet clearing all previous heights at 5.61m, 5.71m and 5.81m at the first time asking. The Swede ended the competition with three unsuccessful attempts at the world record of 6.23m.
Armand Duplantis: "I would say this result is really close to what I expected today. I know that I am in good shape. I feel good on the runway, the rhythm and timing. We had some trouble with the wind, but I managed to get enough wind to jump 6.11m. The crowd here makes me feel part Dutch for sure. It is one of my favourite places to jump, since the crowd is always cheering me on to try and jump something high. Hengelo is just one of these places where I jump well. If we can expect a world record this season ? Yes, why not ?"
Two-time Commonwealth Games champion Kurtis Marshall from Australia cleared 5.81m in his first attempt to take the second place on countback over Menno Vlonn from the Netherlands, who needed three attempts to clear this height. Jacob Wooten equalled his seasonal best of 5.71m to finish fourth.
Women's high jump:
Yaroslava Mahuchik from the Ukraine cleared 1.90m, 1.95 and 2.00m on the first attempt to win her third competition this outdoor season following Nairobi (2.00m) and Rabat (2.01m). Her compatriot Iryna Gerashchenko had a clean sheet until 1.93m before failing three attempts at 1.95m. Johanna Goering took third place with 1.90m beating Yuliya Levchenko on countback.
Yaroslava Mahuchik: "I am happy that I jumped 2.00m in the first attempt. It is really good for experience. I hoped to jump over 2.00m soon. My season's openers were Nairobi and Rabat. This is my third meet. The next steps are the European Games and then the Diamond League meetings. The circumstances are difficult for me. It is very sad. I can't train in a safety place in Ukraine, because every day Russia do the rocket attack and when I jumped in Rabat, there was a rocket attack 10 metres from the house of my parents. It was so near and for me it was terrible. Please remember that the war in my country is not finished. Soldiers are writing on me on direct messages, they say thank you that I continue jumping. They say that it is good news from me. In war it is every time shooting and in free time they look us for good news. I am thankful that they are following and protecting us".
Men's 110 metres hurdles:
Double world champion Grant Holloway set the meeting record with 13.03 to win his second consecutive 110 metres race this week after his victory at the Golden Gala in Florence. Devon Allen took second place in a seasonal best of 13.12 ahead of last year's NCAA Championships second placer Eric Edwards (13.29) and Freddie Crittenden (13.33).
Grant Holloway: "My race plan was to continue the execute, and I am staying consistent with the time I want to aim at. I am just looking forward to have a little bit of fun. To come here in Hengelo and run this time is always amazing. I am always planning to come back to Hengelo. I am pleased with what I need to do, and I continue just to work at it. We can expect the world record to be broken this year, and if not this year, next year."
Women's 1500 metres:
This year's London Marathon winner Sifan Hassan followed her win in the 10000 metres on Saturday with a victory in 3:58.12 on her seasonal debut over the 1500 metres. Nelly Chepchirchir from Kenya dipped under the 3:59 barrier with a PB of 3:58.98 one week after setting the world seasonal best in the 800 metres with 1:58.23 in Grosseto. Janat Chemusto from Uganda took third place in 4:01.98 ahead of Kenya's Judith Kiyeng (4:02.09).
Sifan Hassan: "My legs are hurting after yesterday. I have not slept well, and I feel like I am having a jetlag. The last 200m I have sprinted, which is good to have some sprinting again after the London Marathon. I was scared for the last part of the race, since I have not run a 1500m race in two years time. I have the limit for the World Championships. I have not decided which distances I will run in Budapest. I am thankful for today. Even in training I have not run at this speed, so I had to get used to it again."
Men's 100 metres:
Reece Prescod won his second 100 metres race this season in 9.99 with a tailwind of +0.4 m/s following his victory in Savona with a windy 9.94. Former 100 metres Yohan Blake improved his seasonal best to 10.05. Raphael Bouju from the Netherlands took third place with his PB of 10.09 edging world silver medallist Marvin Bracy Williams (10.10),
Reece Prescod: "I hoped for a time under 10 seconds. Qualifying for the World Championships is done now, so I have just got to keep working, so far so good. In the last part I really got into my running, and my posture was all good, so I am happy about it. The goal for the rest of the season is to be consistent and be under 10 seconds".
Women's 400 metres:
World indoor record holder Femke Bol from Netherlands won the women's 400 metres in a meeting record of 50.11 on her outdoor debut this season in front of her home fans.
Femke Bol: "I am extremely happy with the race. I was excited to running here today. The crowd was amazing. The supporters really helped me to go faster, especially in the last hundred metres. It gives an extra boost in the last meters of the race. I did not have a time in mind, since I was focused on mind. For the coming outdoor season I am focused on the hurdles. These are going great. That is the most important thing"
Men's long jump:
European under 18 long jump and high jump champion Mattia Furlani improved the Italian Under 20 record held by Andrew Howe to 8.24m in the first round into a headwind of -0.7 m/s to win the first Continental Tour Gold competition of his career in the men's long jump. Furlani also leapt to 8.14m into a headwind of -0.6 m/s in the second round and 7.91m in the fourth round. The Italian jumper set his previous PB with 8.04m when he won the gold medal at the European Under 18 Championships in Jerusalem.
Mattia Furlani: "It was a crazy result. It was a really competition in an incredible stadium. It makes me proud to win at such a high level meeting. I was very focused when I started the competition. I usually produce my best jumps in the early rounds. I am getting confident with my run-up. I saw that Andrew Howe congratulated with me on Instagram. I really thank him. I have always been a big fan of Andrew. It's an honour that he is supporting me".
Cheswill Johnson from South Africa leapt to 8.08m to take second place beating Ju'Vaughn Harrison by one cm. Harrison won the high jump at the Diamond League in Florence with 2.32m last Thursday.
Women's 100 metres:
European and Commonwealth Games bronze medallist Darryil Neita from Great Britain won the women's 100 metres in 11.05 in Hengelo for the second consecutive year into a slight headwind of -0.1 m/s beating Egyptian record holder Bassant Hemida (11.16), Vitoria Cristina Rosa (11.18) and former NCAA champion Cambrea Sturgis (11"20).
Darriyl Neita: "I came here to win today. I would have loved to get the meeting record today, maybe next time, but is still nice to come here and get the gold. Hengelo is always an amazing meet. I won it twice in a row so it is good to come here, and I love to come here again to get it three in a row".
Women's 100 metres hurdles:
Former world champion Nia Ali came back from a slow start to edge double European indoor champion Nadine Visser from the Netherlands in the final hurdle in 12.61. Ali came close to her seasonal best of 12.53 set in Gainesville. Visser took second place in 12.71 on her seasonal debut beating European outdoor and Indoor bronze medallist Ditaji Kamundji, who set a seasonal best of 12.78.
Nia Ali: "I love coming here in Hengelo. I am excited that I was able to win today and improve on my last race. I wanted to focus on not wiping out on the first hurdle, since I have been hitting it really bad. I was able to keep my composure, and I could run faster near the end of the race. I have also to improve on, which I am excited about. There is always a cool season ahead of me, if I continue on this path".
Men's javelin throw:
European champion Julian Weber from Germany took the lead with a mark of 86.78m in the second round and improved to 87.14m to win the men's javelin throw. Keshorn Walcott from Trinidad and Tobago placed second with a seasonal best of 83.56m beating Finnish throwers Oliver Helander (80.50m) and Lassi Etelatalo (79.93m).
Women's shot put:
USA's Maggie Ewen won the women's shot put with 19.61m in her third round. Ewen produced a second best throw of 19.39m which would have been enough to win the competition. Danniel Thomas Dodd from Jamaica was the only other shot putter to throw over the 19 metres with 19.21m. Auriol Dongmo from Portugal finished third with 18.89m ahead of European outdoor gold medallist Jessica Schilder from the Netherlands (18.83m).
Maggie Ewen: "You take what you get, when the other girls are not quite on their game. I am really happy with how I threw. I threw a huge PB last week, so I was really trying to come into this meet to throw something that I could be proud of. The crowd was awesome. I love this stadium and the energy was fantastic. I feel like I would come back at any time. I think today means I am on the right track, and good things will come".
Men's 400 metres:
Collen Busang Kebinatshipi from Botswana took a close win in the men's 400 metres in 45.01 edging out Olympic 4x400 champion Vernon Norwood (45.05). Zakhiti Nene from South Africa took third in 45.17.
Men's 400 metres hurdles:
US hurdler CJ Allen won his second consecutive race in the men's 400 metres hurdles in 48.24 following his victory at last week's Los Angeles Grand Prix in 47.91. Nick Smidt finished second in 49.17 beating Joshua Abuaku (49.23).
Women's 200 metres:
Egypt's Bassant Hemida improved her national record to 22.41 to win the 200 metres ahead of Lieke Klaver from the Netherlands, who set her PB with 22.51. Kayla White placed third in 22.56.
Bassant Hemida: "I am feeling great with this PB and national record. I felt that it was possible today. The people here are really friendly. I love Hengelo".
-->