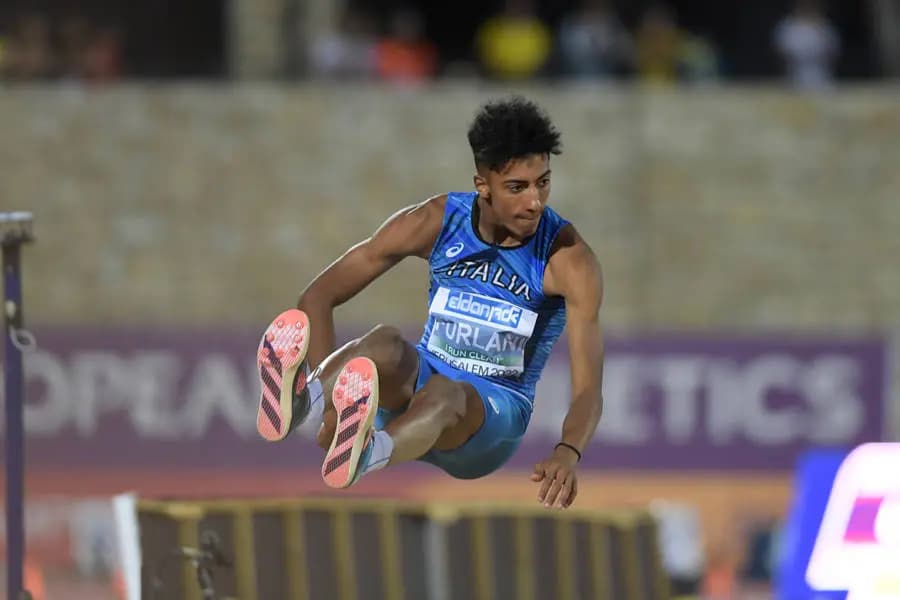 Reyner Mena, Darryl Neita, Zane Weir, Reetta Hurske and Abderrahmane Samba set meeting records at the 12th edition of the Memorial Giulio Ottolia in Savona, a World Athletics Continental Tour Challenger meeting, but the biggest highlight was Mattia Furlani's wind-assisted mark of 8.44m in the men's long jump.
European under 18 high jump and long jump champion Furlani produced the big jump in the second round to take the win. The wind over the limit denied the Italian jumper the chance to break the world under 20 record held by Sergey Morgunov with 8.35m since 2012. The Italian "Mr. Jump" set the world best under 20 performance in any wind conditions doing better than Kareem Street Thompson (8.40m with +3.2 m/s) and Carl Lewis (8.35m with +2.2 m/s in 1980). Furlani also jumped a legal 8.00m (+1.7 m/s) in the fourth round missing his PB by just 4 cm. Rushval Samaai from South Africa placed second with 7.96m
Mattia Furlani: "I have to sink in what I did. It was a good competition. I worked very well this winter to prepare the outdoor season. I have improved my run-up. I jumped very far in the first attempt but it was foul. The European Under 20 Championships in Jerusalem are my biggest goal for this summer but I am also planning the World Championships in Budapest. I thank my sister Erika and my brother Luca, who are very important for me and give me great support. I am planning my next competition in Hengelo on 4 June".
Last year's European and Commonwealth bronze medallist Darryl Neita from Great Britain improved the meeting record in the women's 100 metres twice clocking 11.06 in the heat and 10.97 in the final. Neita narrowly missed her PB by 0.07.
Patrizia Van Der Weken from Luxembourg improved the national record in second place with 11.18 after clocking a wind-assisted 11.08 in the heats.
Reyner Mena from Cuba ran the first sub-20 seconds time in the history of the Savona meeting in the men's 200 metres clocking 19.95 (+1.6 m/s). Mena set the second fastest time in his career after his PB of 19.63 in La Chaux de Fonds last year. Yancarlos Martinez finished second in 20.44.
Reece Prescod from Great Britain won the 100 metres in a wind-assisted 9.94 (+2-7 m/s) beating Sri Lanka's Yupun Abeykoon (10.01), Ivory Coast's Arthur Cissé (10.03), Lorenzo Patta (10.08), Benjamin Azamati (10.11) and Filippo Tortu (10.17). One hour earlier Azamati clocked the fastest time in the heats with a wind-assisted 9.99 (+2.7 m/s) beating Abeykoon (10.04) and Patta (10.09). Prescod claimed the win in the second heat with 10.06 edging Cissé by 0.01.
Reece Prescod: "It was a good start to my season. The conditions were 100% perfect. I enjoy living and training in Padua. I am now planning to compete in Rabat and Hengelo".
European Indoor champion Zane Weir from Italy improved the meeting record twice in the men's shot put with 21.58m in the fourth round and 21.60m in the fifth round after starting the competition with 21.14m in the opening round. Weir showed his consistency a few days after winning at the Throwing meeting in Halle with 21.74m. Weir's training partner Leonardo Fabbri, who set the previous meeting record with 21.15 in 2020, threw over the 21 metres barrier with 21.09m beating Scott Lincoln from Great Britain (20.50m), Roman Kokoshko from the Ukraine (20.31m) and South Africa's Kyle Blignaut (20.29m).
Zane Weir: "Everything has happened very fast since my European Indoor title, but my focus has remained the same. I train with Leonardo Fabbri. He is a great training partner. I started the season very well and I am very happy".
Dina Asher Smith won for the second time in her career in Savona in the women's 200 metres in a wind-assisted 22.61 (+2.3 m/s). The former 200 metres world champion set the meeting record of 22.56 in 2021. European under 23 Dalia Kaddari from Italy finished second in 22.95.
Dina Asher Smith:"Training is going well. I expected a faster time. I am really looking forward to the 100m at the Diamond League meeting in Florence".
Thea Lafond from Dominica took her second consecutive win in the women's triple jump with a wind-assisted 14.68m (+2.9 m/s). Lafond also produced a legal leap of 14.46m. Ottavia Cestonaro placed second with a wind-assisted 13.99m (+2.5 m/s).
Thea Lafond: "I opened up with a big jump. I was a bit sad when I saw that it was windy. The competition was a good preparation for Rabat. I always find great conditions in Savona. I am excited to come here every year".
Abderrahmane Samba, world bronze medallist in Doha 2019, made a successful come-back by winning the men's 400 metres hurdles in a meeting record of 48.56. Olympic finalist Alessandro Sibilio clocked 48.72 to finish second in his first 400m hurdles race since the Olympic final in Tokyo after a 2022 season ruined by an injury problem.
European indoor gold medallist Reetta Hurske from Finland improved Luca Kozak's meeting record by 0.01 clocking 12.80 in the women's 100 metres hurdles. Mette Graversgaard from Denmark placed second with a national record of 12.83.
African record holder Antonio Alkana from South Africa won the men's 110 metres hurdles in a wind-assisted 13.32 beating Italian hurdlers Lorenzo Simonelli (13.45) and Hassane Fofana (13.46).
Olympic 4x100 relay champion Eseosa Desalu from Italy won the men's 400 metres in a PB of 46.15 ahead of Edoardo Scotti (46.27).
Laviai Nielsen from Great Britain won the women's 400 metres in 51.60 ahead of 2018 European champion Justyna Swiety Ersetic from Poland (52.18) and Alice Mangione from Italy (52.25).
Olga Lyakhova from the Ukraine won the women's 800 metres in a meeting record of 2:01.79.
-->