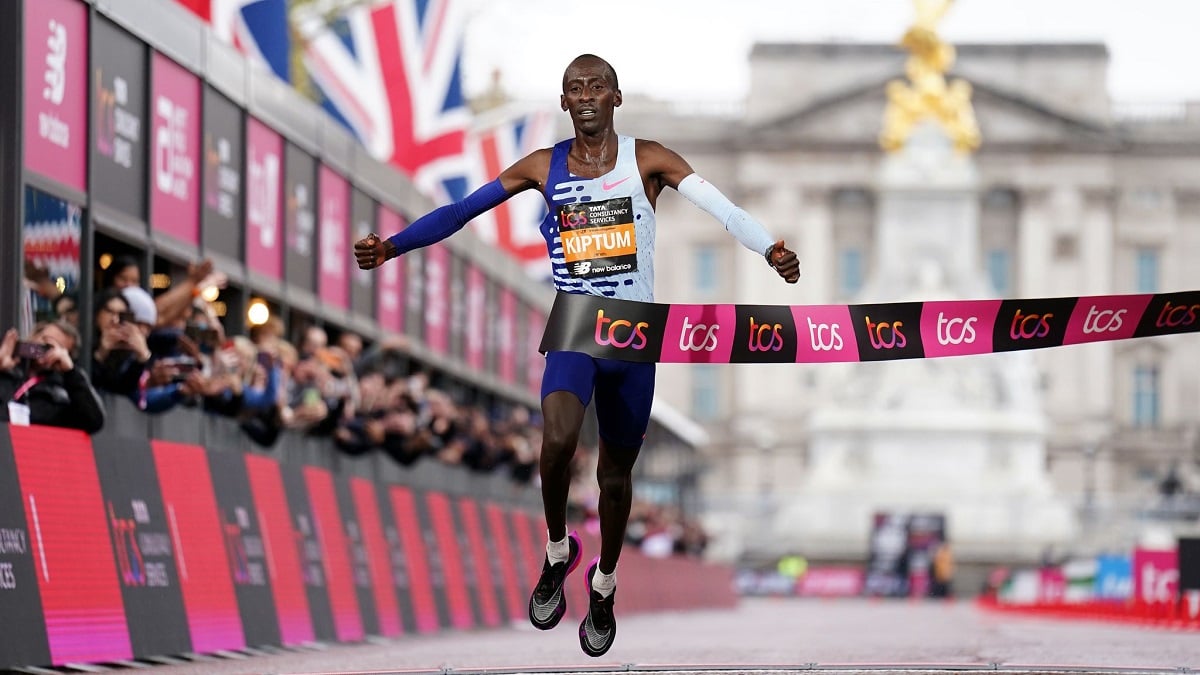 Kelvin Kiptum won the men's race at the London Marathon setting the second fastest time in history in 2:01:25. Kiptum missed Eliud Kipchoge's world record by 16 seconds.
Kiptum won the second top marathon race of his career after claiming the victory in 2:01:53 in Valencia last December on his debut over the distance becoming the third fastest runner in history at the time. In the Spanish race Kiptum ran the fastest second half in history with 1:00.15. Today he ran even faster from 21 km to 42 km in 59:45 after clocking 1:01:40 in the first half of the race and improved his PB by 28 seconds.
With his performance Kiptum moved ahead of Kenenisa Bekele as the second marathon runner of all time.
Only Kipchoge ran faster than Kiptum with his world record of 2:01:09 set in Berlin last September.
Kiptum knocked 1 minute and 12 seconds off the previous London Marathon course record held by Kipchoge with 2:02:37 since 2019.
Kiptum was running alongside defending London Marathon champion Amos Kipruto and two-time Tokyo Marathon champion Birhanu Legese, as they reached the first downhill 5 km section of the course in 14:30. They were joined in the leading group by Kenenisa Bekele, two-time New York champion Geoffrey Kamworor, former Chicago Marathon Seifu Tura and Ethiopian top performers Laul Gebrsesilase and Kinde Atanaw.
The nine-men leading pack went through the 10 km in 29:12, the 15 km in 43:51. This indicated a finish-time outside 2:03. Kiptum was in the lead, as the 20 km was reached in 58.31.
A lead pack of eight runners went through the halfway mark in 1:01:40. Kenenisa Bekele was running six seconds behind in 1h01'46". The pace picked up as the 30 km was reached in 1:27:23. When the last pacemaker dropped out at the 30 km mark the leading pack was whittled down to just five runners.
Kiptum made his decisive move at 30 km and never looked back. He stepped the pace running a sensational 13:49 split from 30 km to 35 km before clocking 14:01 from 35 and 40 km. He clocked 4:33 in the 19 mile, 4:23 in the 20 mile, 4:27 in the 21 mile, 4:31 in the 22 mile, 4:32 in the 23 mile and 4:24 in 24 mile. Kiptum went through the 35 km in 1:41.12 building up a gap of 28 seconds over Geoffrey Kamworor. The Kenyan runner reached the 40 km in 1:55:13 and was two minutes ahead of Kamworor. He kept pushing and clocked 6:12 in the final 2.195 km.
Kelvin Kiptum: "I don't know what to say. I am so grateful. My plan was to run 2:03, maybe 2:02, but I was not thinking about the world record. I was just focused on running a fast time. I will go back home, have a little rest, and talk with my team. Maybe we will think of the world record".
Kenenisa Bekele ran with the leading group in the first half before dropping out the race between the 25 and 30 km.
Multiple world half marathon and cross country champion Geoffrey Kamworor finished runner-up improving his PB by exactly one minute to 2:04:23. World marathon cahmpion Tamirat Tola from Ethiopia crossed the finish-line in third place in 2:04:59 ahead of his compatriot Leul Gebrsesilase (2:05:45), Seifu Tura (2:06:38). Last year's European Cross Country silver medallist Emily Cairess ran his debut marathon in 2:08:07 to finish ahead of Oceanian record holder Brett Robinson (2:10:19).
Mo Farah, who won the 5000m and the 10000m at the Olympic Games in London 2012 and Rio de Janeiro 2016, finished ninth in 2:10:28 in the final marathon race of his career.
Mo Farah: "London has been so great to me over the years and I wanted to be here to say thank you to the crowd and the support that was just amazing. Part of me was wanting to cry. People were amazing, even in the rain to line the streets, and that's what is about. That's what has kept going for so long throughout my career".
Hassan wins the women's race on her marathon debut
Marathon debutant Sifan Hassan beat Olympic champion Peres Jepchirchir from Kenya and Alemu Megertu from Ethiopia to win the women's race in a thrilling sprint finish in 2h18'33'".
A leading pack featuring Peres Jepchirchir, Genzebe Dibaba, Judith Jeptum Korir, Yalemzef Yehualaw, Shelia Chepkirui and Sifan Hassan went through the 5 km in 16:13, the 10 km in 32:37 and the 15 km in 48:43.
Hassan pulled up with a leg injury and looked like she was going to drop out of the race. She had to stop to stretch a hip flexor, but she overcame the problem before clawing her way back.
The front group was still running on pace to break Mary Keitany's women-only world record and went through the 20 km mark in 1:04:58, as Hassan was 12 seconds back. They reached the halfway mark in 1:08:29.
The leading group picked up the pace and went through the 25 km mark in 1:20:52. Hassan was running alone 28 seconds behind the leaders, but she started closing the gap.
Hassan was 14 seconds behind, as Jepchirchir took the leaders through the 35 km mark in 1:53.40.
With 4 km to go Hassan caught up with the leading quartet, which included London Marathon's last year winner Yalemzerf Yehualaw, Alemu Megertu, Sheila Chepkirui and Peres Jepchirchir.
Jepchirchir and Megertu were running side by side, but Hassan was chasing them down on their heels.
Hassan launched her kick pulling away from Megertu and Jepchirchir in the the final straight down the Mall to win over Megertu by four seconds in 2:18:33.
Megertu crossed the finish-line in 2:18:37 holding off Jepchirchir by one second. Megertu narrowly missed her PB by five seconds. Jepchirchir lost her first marathon after five consecutive wins over this distance in Saitama in 2019, Valencia in 2020, at the Olympic Games in Tokyo in 2021, New York in 2021 and Boston in 2022.
Shelia Chepkirui and Yehualaw also ran under the 2:19 barrier clocking 2:18:51 and 2:18:53 respectively. Last year's Paris Marathon winner and world silver medallist Judith Jeptum Korir took sixth place in 2:20:41 beating former 10000m world record holder Almaz Ayana by three seconds. Tadu Teshome crossed the finish-line in eighth place in 2:21:31. Sofya Yaremchuk from Italy was the best European runner in ninth place improving her lifetime best to 2:24:02.
Sam Harrison was the first British runner, crossing the finish-line in 11th place in 2:25:59.
World marathon record holder Brigid Kosgei dropped out of the race after less than a mile with a harmstring injury.
Hassan won two gold medals in the 5000m and 10000m and the bronze medal in the 1500m at the Olympic Games in Tokyo 2021 and two world titles in the 1500m and 10000m at the World Championships in Doha 2019. She set the world record in the mile with 4:12.33 in Monaco in 2019 and European records in the 1500m with 3:51.95 in Doha 2019, in the 3000m with 8:18.49 in Stanford in 2019, in the 5000 metres with 14:22.12 in London 2019, in the 10000 metres with 29:06.82 in Hengelo 2021 and in the half marathon with 1:05:15 in Copenhagen in 2018.
Sifan Hassan: "I was born for drama. It's amazing. I never thought I would finish a marathon. I had a problem with my hip, which made me stop, but I started to feel a little bit better. Then I missed one of the drinks. I did not practice that part of the race because I have been fasting during Ramadan and so that was difficult. At 20 km I knew that I could kick on because I did not feel so tired and I did not care how I would finish. I just wanted to get there. London has been my dream Now here I am, I was doubting that I could even finish. This is just amazing. I will never forget this in my whole life. To even watch London is one of my dreams. So to finish the race and also win it, I am so grateful. I can never forget it. They told me it would really hurt after 35 km. However I felt better at 35 km. When I saw the finish-line I thought : 'Is this really the finish-line ?'. My priority for the summer season is the track. The World Championships in Budapest are my dream and I did not do much marathon training because of this. I advise to the other first-time marathon runners to be patient and run your own race. If you keep going, you might surprise yourself".
Marcel Hug from Switzerland improved his own course record to win his third consecutive London Marathon wheelchair race and fifth in total in 1:23:48.
Madison de Rosario from Australia beat Manuela Schaer from Switzerland in a sprint finish to win the women's wheelchair in 1:38:52.
-->