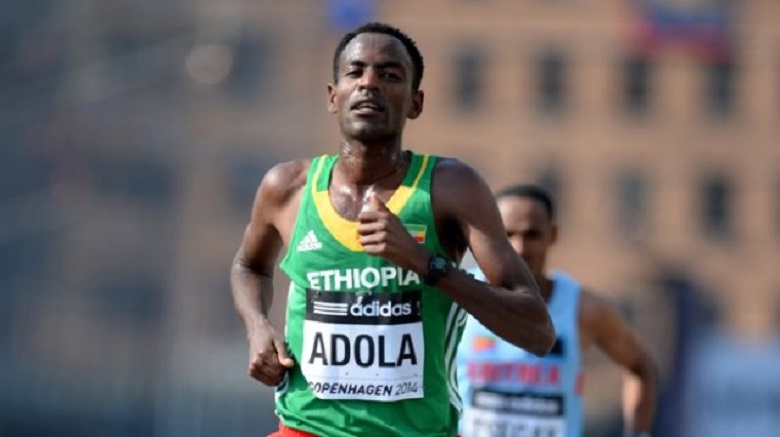 Kenya's Helah Kiprop and Ethiopia's Guye Adola are the stand-out names at the 2023 edition of the Schneider Electric Paris Marathon.
Kiprop set her lifetime best of 2:21:27 at the 2016 Tokyo Marathon and won the silver medal at the 2015 Beijing Marathon. The 37-year-old Kenyan athlete finished third at the 2007 Paris Marathon.
Ethiopia's Etagengne Woldu has the best time among the entrants, with 2:20:03 set at the Valencia Marathon last December. The other two athletes who entered with a sub-2:22 time are Ethiopia's Yeshi Chekole, who finished third at the Seville Marathon with her PB of 2:21:17 in 2022, and Kenya's Ruth Chebitok, second at the Vienna Marathon in 2:21:03 in 2022.
Moldova's Lilia Fisikovi is the best European runner in the field, with her lifetime best of 2:27:25 set at the London Marathon in 2017.
Guye Adola starts as the favorite in the men's race. The 31-year-old Ethiopian runner set his PB of 2:03:46 at the 2017 Berlin Marathon when he finished second behind world record holder Eliud Kipchoge. Adola won the 2021 Berlin with 2:05:45 and set his half marathon PB of 59:05 in New Dehli in 2014.
The other athletes to watch are Elisha Rotich and Hillary Kipsambu, who finished first and third at the 2021 Paris Marathon, clocking 2:04:21 and 2:04:44, respectively, 23-year-old Ethiopian runner Adedelew Mamo, who finished second at the Seville Marathon in 2022 with 2:05:12, Abele Ayana, who set his half marathon PB of 59:39 in Poznan in 2021 and will make his marathon debut in the French capital, and 24-year-old Moroccan runner Mohcin Oulahla, who won the Doha Marathon in 2:06:49 last January.
The best French athletes in the field are Morhad Amdouni, who set the national record with his PB of 2:05:22 in Paris in 2021 and won the European gold medal in the 10000m in Berlin in 2018, Yoann Kowal, European champion in the 3000 meters steeplechase in Berlin 2018 and Mehdi Frère, who set his PB of 2:08:55 in Valencia in 2020.
Women's Elite Field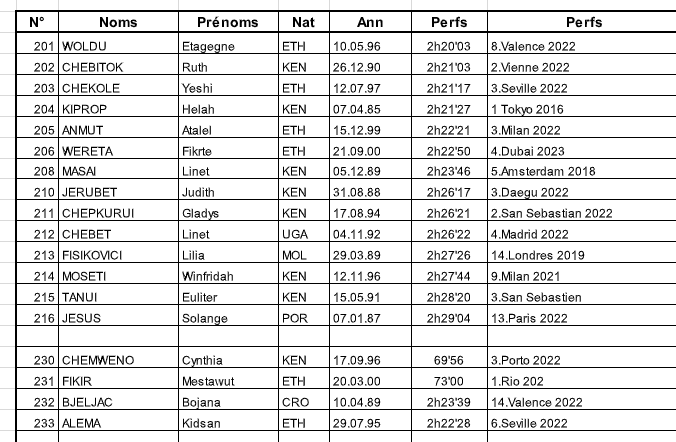 Men's Elite Field
-->