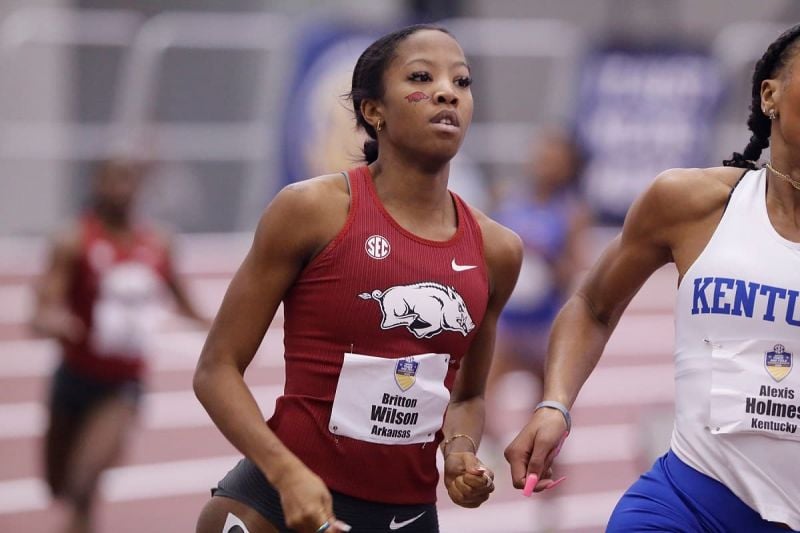 Britton Wilson from Arkansas shocked everyone with her unbelievable 400m time at the NCAA Division 1 Indoor Track and Field Championships in Albuquerque on Saturday (11).
Wilson won the NCAA 400m title with a blazing 49.48 seconds, becoming the first sub-50 collegian indoors and moved to No. 2 on the all-time world list as she also smashed an American record.
Wilson returned back to anchor the Razorbacks to a 4×400 relay victory in 3:21.75 in smashing the championships record of 3:24.09 from last year.
Alfred wins 60m and 200m
Julien Alfred from Texas improved her collegiate record in the 60 meters for the fifth time this year. After clocking 6.96 in Friday's semi-finals, Alfred improved her mark to 6.94 in the final on Saturday to move to No. 2 on the all-time world list. The world record stands at 6.92 seconds.
Less than an hour later, Alfred claimed the NCAA indoor 200m title in 22.01, beating the Collegiate Record of 22.09 seconds set last year by Abby Steiner of Kentucky.
Women's Triple Jump
Jasmine Moore of Florida after setting long jump NCAA record on Friday with a leap of 7.03m (23-0¾), on Saturday she twice improved on her own Collegiate Record in the triple jump, first at 15.08m (49-5¾) in round 2, then a final-round effort of 15.12m (49-7¼). Both triple jump marks also bettered the American record.
Second place in the triple jump went to Tennessee's Charisma Taylor. Her best of 14.88m (48-10) was also better than Moore's CR when the meet started.
Women's 800m Final
Stanford freshmen Roisin Willis and Juliette Whittaker finished first and second in the women's 800 meters final.
Having teamed to win the distance medley relay the night before, Willis, in 1:59.93, and Whittaker, in 2:00.03, ran the second- and fourth-fastest times in collegiate indoor history.
Women's 60m hurdles final
Ackera Nugent of Arkansas, as expected, won the 60-meter hurdles title. In Friaday's semi-finals, she lowered the NCAA and Jamaican national record to 7.72 and took the final on Saturday in 7.73. Both times were faster than Kentucky's Masai Russell's previous CR of 7.75 in January. Russell equaled that time in the final by taking second place.
-->