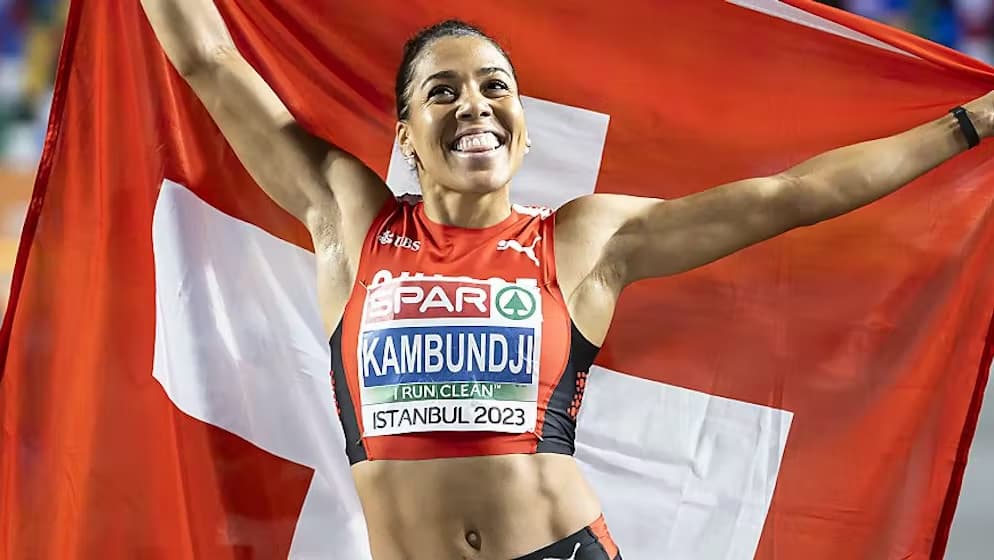 Mujinga Kambundji and Jakob Ingebrigsetn were among the top highlights on a spectacular night of the European Indoor Championships in Istanbul on Friday, March 3.
Women's 60m final:
Mujinga Kambundji added the European indoor 60 metres gold medal in Istanbul on Friday night to the world indoor title she won in Belgrade last year. The 30-year-old Swiss star equaled Nelli Cooman's championships record clocking 7.00. She set the second fastest time of her career, missing her PB of 6.96 by just 0.04.
Ewa Swoboda won silver medal with 7.09 ahead of Daryll Neita, who took bronze in 7.12.
Mujinga Kambundji: "It was good, maybe not my best race ever. The equalled championship record is an honour for me. There have been many European Championships and now I can be even happier for this result".
Men's 1500 metres final:
Jakob Ingebrigtsen set the Championships record with 3:33.95 with his front-running tactic to win his second consecutive European Indoor gold medal in the 1500m holding off fresh British indoor 1500m record holder Neil Gourley (3:34.23) in a close final sprint. Frenchman Azeddine Habz won the bronze medal in 3:35.39 finishing ahead of Spain's Jesus Gomez (3:38.11) and Italy's Pietro Arese (3:38.91).
Ingebrigtsen won the fourth gold senior medal in his career at the European Indoor Championships and the tenth overall continental title, that includes his four European outdoor titles in the 1500 and 5000 metres at the European Championships in Berlin 2018 and Munich 2022, and his two European cross country gold medals in 2021 and 2022.
Ingebrigtsen went through the 400m in 57.58, the 800m in 1:55.47 and 1200m in 2:52.78. Gourley attacked in the final bend, bu Ingebrigtsen, but Ingebrigtsen fended him off and held on to win the gold medal. Ingebrigtsen ran the final 200 metres in 27.84.
Jakob Ingebrigtsen: "Every race has its own life. It is all about putting yourself in a good position. I had a good fight with Gourley. I really appreciate him. I know he was preparing good for this. I love to compete and to collect medals. That what drives me and other athletes. It is not only about winning. It's about winning time after time. My main goal is to become the best athlete that ever existed".
Men's shot put final:
Zane Weir won the first major international gold medal of his career improving his own Italian indoor record twice to 22.06m in the men's shot put. Weir becomes the first Italian shot putter in history to throw over the 22 metres at indoor level.
Weir took the lead with his first Italian record of 21.89m in the second round. Reigning European Indoor champion Tomas Stanek moved past Weir by one cm with 21.90m to take the lead by one cm after two attempts. Weir produced the winning mark of 22.06m in the third round to take the lead. The Italian shot putter of South African origin ended the competition with three fouls.
Stanek threw over the 21 metres twice more with 21.45m and 21.06m in the fourth and sixth rounds. Ukraine's Roman Kokoshko moved into bronze medal position with a throw of 21.84m in the sixth round overtaking European outdoor champion Filip Mihalijevic, who had moved to third place with 21.42m in the third round. Mihaljevic increased his best mark to 21.43m to finish the competition in fourth place.
Weir has become the first European indoor gold medallist in the shot put from Italy since his coach Paolo Dal Soglio triumphed in Stockolm in 1996.
Zane Weir: "I am very emotional as I have been overlooked for a long time. I dedicate this gold medal to my coach Paolo Dal Soglio. It feels good to finally be where I am. The previous season was difficult because of the broken finger but here I am now".
Women's 3000 metres final:
Hanna Klein launched her kick in the final lap to win the women's 3000 metres in a lifetime best of 8:35.87 ahead of her compatriot Konstanze Klosterhalfen (8:36.50). Klein followed front-runner Klosterhalfen until the final lap before launching her final kick. Klein covered the final km in 2:45.35. Melissa Courtney Bryant won the bronze medal in 8:41.19. European under 23 cross country and 5000 metres champion Nadia Battocletti finished fourth in a seasonal best in 8:44.96.
Hanna Klein: "It was a perfect race for me, not too fast from the beginning and getting very fast at the end. The way I could keep with Klosterhalfen just made me feel stronger and stronger, because I could trust my speed at the end".
Klosterhalfen won her third silver medal at these championships after finishing second in the 1500m in Belgrade 2017 and in the 3000m in Glasgow 2019.
Konstanze Klosterhalfen: "For sure first place is nicer than the second but the first and second for Germany feels great. The preparations to get here were a little grumpy, a lot of changes. I am now looking forward to prepare for next season"
Men's triple jump final:
Pedro Pablo Pichardo set a world leading mark of 17.60m to win his second consecutive European indoor title in the men's triple jump. The Portuguese jumper took the lead with 17.26m in the first round.
Nikolaos Andrikopoulos won the silver medal with 16.56m beating Max Hess by just one cm.
Pedro Pablo Pichardo: "The competition was easy. I wish the competition was stronger".
Final women's shot put:
Auriol Dongmo won the second gold medal for Portugal retaining the title she won two years ago in Torun. Dongmo improved her seasonal best to 19.76m. All four of her valid efforts would have been enough to win.
Auriol Dongmo: "I felt some pressure because my indoor season was tough. I wasn't sure what was about to happen. Last week at the training I became a bit more confident about I can do here. I had some really good throws. I am really pleased because throwing over 19.50m is a good starting point which gives me extra motivation to work hard".
Sara Gambetta from Germany won the silver medal with 18.83m ahead of Fanny Ross, who claimed bronze with 18.42m. European outdoor champion Jessica Schilder placed fifth with 18.29m.
Sara Gambetta: "I did not expect to win the medal today. It was my goal to get one, but I didn't expect it".
Men's 400 metres heats and semifinals:
Karsten Warholm clocked the fastest ever time recorded in the 400 metres heats with 45.75. The 2019 European indoor 400 metres champion cruised through the first lap in 21.29 and continued running fast in the final 50 metres to finish ahead of world indoor bronze medallist Carl Bengstrom (46.55).
Warholm won the European indoor gold medal equalling the European record with 45.05 in Glasgow 2019.
Karsten Warholm: "It was a bit faster than I was planning, but I had to scare my opponents. I am very glad for the run, and I think it was a good start".
The other heat winners were Matej Krsek from Czech Republic (46"23), Inaki Canal from Spain (46"26), Belgium's Julien Watrin from Spain (46"41) and Gilles Biron from France (46.50). Reigning European Indoor champion Oscar Husillos finished second behind Krsek in 46.28.
Warholm won the semifinal in 45.43 in the semifinal in the evening session. Carl Bengstrom took the win in the other semifinal in 45.77.
Women's 400 metres heats:
World indoor record holder Femke Bol from the Netherlands cruised to the finish-line to win the heat in 52.35. Femke Bol: "The goal for today was to get through to the next round without spilling much energy".
Anna Kielbasinska set the fastest time in the heats with 51.77 beating Tereza Petrzlikova, who improved her PB to 52.14.
The other heat winners were Austria's Susanne Gogl Walli (52.34), Bol's training partner Lieke Klaver (52.72), Lada Vondrova from Czech Republic (52.77).
Bol returned to the track in the afternoon to win the semifinal in 52.19. Klaver claimed the other semifinal in 51.43.
Men's long jump qualifying round:
Four athletes jumped over the automatic qualifying mark of 7.95m. Thobias Montler from Sweden opened the competition with a foul followed by 7.75m but he bounced back by producing the best mark of the day with 8.14m in the third round. Olympic champion Miltiadis Tentoglou from Greece got through to 8.03m in the second round.
Miltiadis Tentoglou: "It is very early in the morning and I underestimated 7.95m. You actually need to try to do it. It is good that the final is in two days. I will have enough time to rest. This competition was like a warm-up. My goal is to win the gold medal, but I think that 8.30m would not be enough for it. I know that Thobias Montler is very strong and will jump further than 8.30m".
Gabriel Bitan from Romania was the only other jumper to leap over the 8 metres with 8.03m. The next best qualifiers were Jaime Guerra from Spain with 7.99m and double world under 20 champion Erwan Konate from France (7.93m).
Women's pole vault:
European champion Wilma Murto from Finland and Tina Sutej from Slovenia easily got through to the final with a clean sheet up to 4.55m. Former Olympic and world champion Ekaterini Stefanidi failed one attempt at 4.45m before clearing 4.55m on her first attempt.
-->