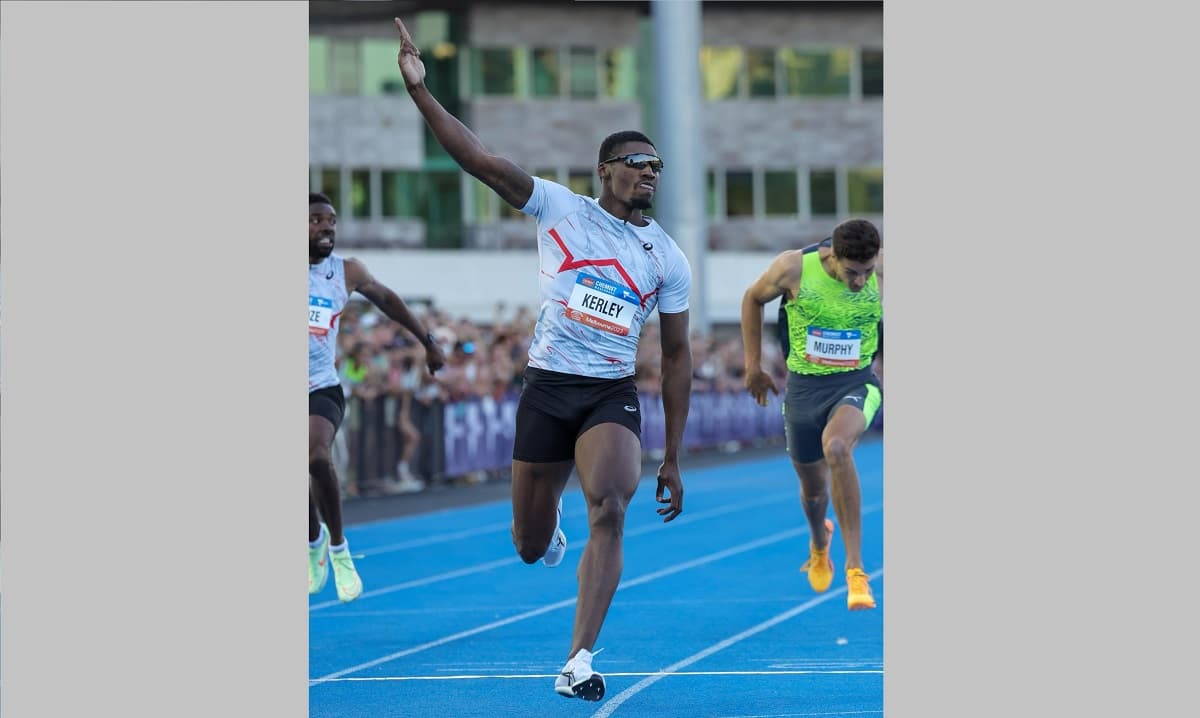 World 100 meters champion Fred Kerley kicked off his season with a win in the men's 200 meters in 20.32 into a headwind of -0.9m/s at the Maurie Plant Meeting in Melbourne, which started the 2023 World Athletics Continental Tour Gold on Thursday on a sunny day.
In Melbourne, Kerley has run his first 200 meters race since last July when he hurt his left hamstring in the 200m semifinal at the World Championships in Eugene.
Rohan Browning led the field through the first 100 meters, but Kerley switched into top gear with 90 meters to go and eased up to start his celebration with 30 meters to go.
Kerley is one of the three sprinters to have run sub-10 seconds in the 100 meters, sub-20 seconds in the 200 meters, and sub-44 seconds in the 400 meters.
Fred Kerley: "I just wanted to put on a show for the crowd. I still have to work on the bend, but I am not too worried about that. I know coming home, I am good. I have been training in Australia for two weeks. I will compete at the Sydney Track Classic on 11 March".
Browning placed second in 20.71 in his first 200 meters in two years. Aidan Murphy completed the top three in 20.76.
The 200 meters was dedicated to Peter Norman, who won the Olympic silver medal in the 200 meters in Mexico City in 1968.
Men's 100 meters:
Rohan Browning returned to the track to win the men's 100 meters in 10.26, edging out Edward Osei Nketia from New Zealand by just one-hundredth of a second into a strong headwind of -1.7 m/s.
Browning ran the fastest time ever by an Australian sprinter at the Olympic Games during the heats in Tokyo in 2021. The 25-year-old Sydneysider studies law at the University of Sydney. Earlier, he played rugby and football.
Roahn Browning: "You look at a guy like Fred Kerley. He can just run it so easily and cruise to 20.30, and that's where you need to be. Fred is truly world-class, and I have got to get to that level. A couple of years ago, I would have never backed up. I would have been too fragile, too cautious, whereas now I am confident that my body can handle it. I am just a little bit older. I have matured more in my body, but I am not under any illusions. I have to keep executing better".
Women's 100 meters hurdles:
Michelle Jenneke clocked 12.78 to win the women's 100 meters hurdles. She is the only athlete to achieve a World Championships qualifying standard at the Melbourne meeting.
The Australian hurdler had recently improved her indoor PB to 7.89 in the 60 meters hurdles at the ISTAF Indoor meeting in Berlin. She set her PB of 12.66 in the 100m hurdles semifinal at the World Championships in Eugene and placed fifth at the Commonwealth Games in Birmingham with 12.68 last year.
Celeste Mucci challenged Jenneke for most of the race, but she crashed into the penultimate hurdle.
Men's John Landy Mile:
Last year's Commonwealth Games 1500 meters gold medallist Oliver Hoare won the men's Mile in 3:52.24 ahead of New Zealand's Sam Tanner (3:53.83).
Hoare clocked the third fastest Mile by an Australian athlete on home soil behind Stewart McSweyn's 3:50.61 in Tasmania in 2020 and the Melbourne meeting record of 3:51.54 set by Simon Doyle 1991.
Hoare led the Australian mixed relay team to a bronze medal at the World Cross Country Championships in Bathurst.
Oliver Hoare: "It's been a couple of big weeks, and I am proud."
Sixteen-year-old Australian middle distance runner Cameron Myers finished third in 3:55.64 to improve the previous Oceanian under 18 and U 20 records set by Mike Hillardt in Berlin in 1980. Myers also broke Jakob Ingebrigtsen's world age-16 all-time best. A few weeks ago, Myers had improved Ryan Gregson's Australian under-20 record by three seconds with 3:40.60.
Former Olympic 1500 meters champion Matt Centrowitz finished a distant 11th in 4:06.52. The Mile race is dedicated to John Landy, who was the second man in history to break the 4 minutes barrier and held the world records in the 1500m and the mile distance. He was also the Governor of Victoria from 2001 to 2006.
Men's 3000 meters:
Ishmael Kipkirui won the men's 3000 meters in a meeting record and a world lead of 7:41.38 ahead of Stewart McSweyn, who crossed the finish line in 7:44.36. Kipkirui closed the gap on early leader McSweyn and moved past the Oceanian 1500m and 3000m record holders. The Kenyan athlete held on to win the race in his debut over the 3000m distance.
Kipkurui claimed the world under 20 cross-country gold medal in Bathurst last Saturday. Uganda's Dan Kibet, who finished fourth in the under-20 race at the World Cross Country Championships in Bathurst, crossed the finish line in 7:50.11.
Women's 3000 meters:
Senayet Getachew crowned a remarkable week by winning the women's 3000 meters, improving her PB to 8:46.54. The Ethiopian 17-year-old middle-distance runner stayed with the leading pack for most of the race and broke away from the rest of the field with a lap to go.
Getachew won the world under 20 cross-country title last Saturday. Prisca Chesang from Uganda finished second in 8:48.85 ahead of Japan's Nozomi Tanaka (8:49.09) and Australia's Linden Hall (8:50.89).
Women's 1500 meters:
Jessica Hull won the women's 1500 meters in 4:07.11, holding off her compatriots Abbey Caldwell (4:07.32) and Georgia Griffith (4:10.06). Heather MacLean from the USA finished fourth with 4:10.63 ahead of 2017 3000m steeplechase world champion Emma Coburn.
Hull won the bronze medal with the Australian mixed relay team at the World Cross Country Championships in Bathurst.
Women's high jump:
Olympic silver medallist Nicola Olyslagers cleared 1.93m to win the women's high jump before failing three attempts at 1.96m. Olyslagers set her seasonal best of 1.98m in Canberra last January.
Men's discus throw:
Connor Bell from New Zealand set a national record of 66.23m in the men's discus throw to upset Commonwealth Games gold medallist Matthew Denny, who produced a best throw of 62.73.
Women's long jump:
Australian 22-year-old jumper Samantha Dale came close to her PB to win the women's long jump with 6.71m in the second round. Former NCAA indoor and outdoor champion Tara Davis Woodhall placed second with 6.69m ahead of world finalist Brooke Buschkuehl from Australia (6.59m).
Women's 100 meters:
Former long jumper Naa Anang from Australia won the women's 100 meters in 11.20 into a headwind of -1.4 m/s beating Ella Connolly (11.30) and Bree Masters (11.34).
Women's 200 meters:
Ella Connolly took the win in the women's 200 meters in 23.28 into a headwind of -1.5 m/s edging out Torrie Lewis (23.31).
Men's long jump:
Chris Mitrevski won the men's long jump with a wind-assisted 8.16m (+3.9 m/s).
Men's 800 meters:
James Preston from New Zealand pulled away in the final 30 meters to win the men's 800 meters in 1:45.85 ahead of his compatriot Brad Mathas (1:46.00).
Men's javelin throw:
Felise Vahai Sosaia from France won the men's javelin throw with 82.04m beating Cameron McEntyre (80.32m).
Women's hammer throw:
Rose Loga improved Browning Eagles' meeting record by 13 cm to score the second French win of this meeting with 69.31m in the women's hammer throw.
Women's javelin throw:
Tori Peeters from New Zealand claimed the win in the women's javelin throw with 59.00m.
-->