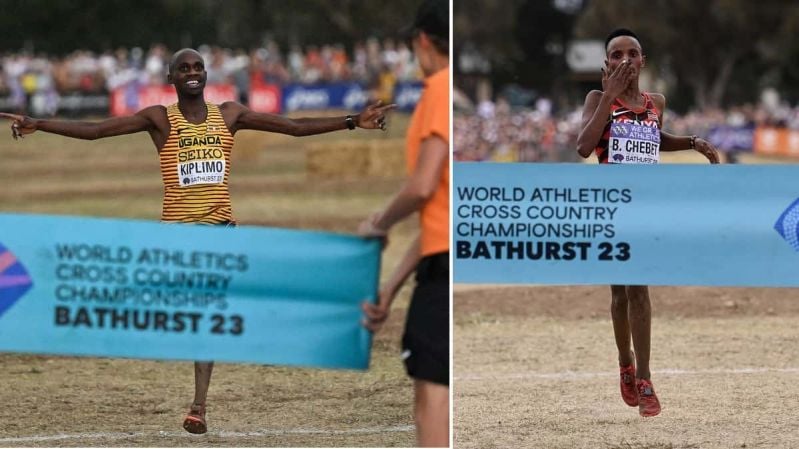 Bathurst hosted the 44th edition of the World Cross Country Championships. The competitions were staged at Bathurst's Mount Panorama, the home of Australian motorsport, which hosts the annual 1000 km race for tourist cars. Jacob Kiplimo from Uganda and Beatrice Chebet from Kenya won the world senior cross-country titles. The junior titles went to Senayet Getachew from Ethiopia and Ishmael Kipkirui from Kenya.
Men's senior race:
Jacob Kiplimo from Uganda claimed the world men's senior gold medal four years after finishing second to his compatriot Joshua Cheptegei in the previous edition in Ahrus 2019. Kiplimo added the world cross-country gold medal following the world half marathon title in Gydnia in 2020, two bronze medals in the 10000m at the Olympic Games in Tokyo in 2021 and the World Championships in Eugene in 2022.
Ugandan runners Isaac Kibet, Samuel Kibet and Martin Kiprotich went to the front of the leading group with Geoffrey close behind in the race's early stages and covered the first lap in 6:09.
The leading pack was whittled down to 15 athletes. Kiprotich maintained his lead ahead of Kamworor. Kiplimo and Cheptegei were running at the back of the leading pack.
Cheptegei and Kamworor moved to the lead at halfway. Daniel Simiu Ebenyo, Kiplimo and Berihu Aregawi followed closely behind the leaders. Rodrigue Kwizera from Burundi lost his contact.
A leading quartet formed by Kamworor, Cheptegei, Kiplimo and Aregawi broke away from the rest of the field. Former World half marathon record holder Kibiwott Kandie was leading the chasing pack five seconds behind the leaders.
Kiplimo made his decisive break during the last lap building up a lead of two seconds over Cheptegei. Aregawi and Kamworor were just one second behind Cheptegei.
Kiplimo increased his lead to seven seconds when he reached the uphill section of the course. Aregawi moved into second place, overtaking Cheptegei. Kamworor followed five seconds behind Cheptegei,
Kiplimo crossed the finish line in 29:17 ahead of Aregawi, who won the silver medal in 29:26. Cheptegei claimed the bronze medal in 29:37, edging Kamworor, who finished fourth at the same time. Kandie held on to fifth in 29:57.
Kamworor led Kenya to a team gold medal ahead of Ethiopia and Uganda. The Kenyan top runner won his first senior men's team title in his fifth appearance at these championships.
Jacob Kiplimo: "The course was excellent. Even with lots of wind that was intense. I think it was perfect because there are lots of hills when we train in Uganda. It was not easy, but I did my best".
Aregawi won his first senior medal after claiming the African under 18 title in the 3000 metres and two silver medals at the Youth Olympic Games in 2018. The Ethiopian athlete won the Diamond League title in the 5000 metres in Zurich and set a 5 km world record on the road. He finished fourth at the Olympic Games in Tokyo in 2021.
Berihu Aregawi: "The conditions were difficult. It was tough on the first lap and it changed to windy. The championship was very tough, but I am very pleased".
Cheptegei was delighted with a bronze medal in his come-back from injury four years after his triumph in Ahrus.
"I think it was a good race, especially coming back from injury. I did not have the best preparation, but I am grateful to have come and finished on the podium. Now I can be reassured I can focus on the track, and especially the coming World Championships", said Cheptegei.
Women's senior race:
Kenya's Beatrice Chebet won her first world senior gold medal in 33:48 four years after clinching the under-20 title. Tsigie Gebrselama took the silver medal in 33:56 ahead of Agnes Jebet Ngetich, who crossed the finish line in third place in 34:00.
Gidey made her move after 30 minutes and moved past Chebet. The Kenyan athlete overtook world 5000m and 10000m world record holder Letesenbet Gidey, who fell and was disqualified a few metres from the finish line. An Ethiopian supporter jumped the fence and dashed to the course to assist Gidey. The Ethiopian athlete was later disqualified for outside assistance.
Chebet won the world silver medal in the 5000m in Eugene, the gold medal at the African Championships, Commonwealth Games in Birmingham and the Diamond League Trophy over the same distance in 2022. She won two World Cross Country Tour races in Atapuerca in November 2022 and Cinque Mulini in San Vittore Olona in January 2023.
Beatrice Chebet: "I did not expect to win, but Gidey was slowing. I saw my chance and I decided to kick. I felt she didn't have anymore. I knew she couldn't threaten me. I knew I had the potential to go on and win. I was still feeling strong. I knew I could do it. This win gave me strength, courage and potential. I am thrilled to win. It was not easy. I won this race as a junior and now as a senior. It was a matter of endurance and believing in myself".
Gebrselama added the senior silver medal to the under 20 cross country bronze medal in Ahrus 2019 and the World under 20 3000m bronze medal.
Tsigie Gebrselama: "I am so happy that I managed to be in the second position. When I was at home, I was training well. I expected to win the gold medal, but I am still happy despite not winning.
I look forward to winning a gold medal in another race, as this is my dream".
Ngetich made a major breakthrough in winning the bronze medal in her debut in the senior team.
Agnes Jebet Ngetich: "I did not expect I would come third because it was my first time running for the senior team running 10 km. I want to say thank you for praying who pray for me and those who cheer for me".
Kenya won the team gold medal with 16 points ahead of Ethiopia (25) and Uganda (41).
Women's Under 20 race:
Ethiopian teenager Senayet Getachew won a close women's under 20 6 km race held on a hot day with a temperature of 36° C.
Seventeen-year-old Getachew, who finished third at the Ethiopian Cross Country Trials last January, crossed the finish line in 20:53 ahead of her compatriot Medina Eisa (21:00) and 15-year-old Kenyan athlete Pamela Kosgei.
Eisa added the silver to the gold medal she won in the 5000m at the World Under 20 Championships in Cali.
Ethiopia won the under-20 team gold medal with 15 points ahead of Kenya (22) and the United States (54).
Senayet Getachew: "We were preparing ourselves for this championship and our team spirit was good. When we ran together in this race, that team spirit helped me to win."
Men's under 20 race:
Ishmael Kipkirui won the men's under-20 race leading Kenya to the gold medal in the team competition. Kirui's win ended Kenya's drought of 12 years in this age category.
Twenty athletes went to the lead in the opening lap. The leading pack was whittled down to 15 athletes during the second lap. Two-time World under 20 champion Dan Kibet from Uganda took the front with a slight lead over Kipkirui and World under 20 1500m gold medallist Reynold Cheruiyot.
A quartet formed by Kipkirui, Cheruiyot, Kibet and Boki Diriba from Ethiopia broke away in the final km.
Kipkirui pulled away during the final lap and held on to cross the finish line in 24:29, beating Cheruyiot by one second. Diriba won the bronze medal in 24:31, beating Kibet by five seconds.
Kipkirui has won Kenya's first World under 20 title since 2011 when Geoffrey Kamworor triumphed in Punta Umbria. Kamworor went on to win two senior titles in Guyang in 2015 and Kampala in 2017.
"The course at the training camp where I have been with the Kenyan team has the same kind of bends that we ran through, especially the corners and we practice those angles. That helped me to win at the end", said Kipkurui.
Kenya won the team gold beating Ethiopia by one second. Leo Young led the US team to their first bronze medal in the under-20 category since 1982.
Mixed relay:
The Kenyan quartet formed by Emmanuel Wanyonyi, Mirriam Cherop, Daniel Kyumbe Munguti and Brenda Chebet won the mixed relay avenging their country's defeat from the previous edition held in Ahrus four years ago.
Ethiopia came through in the final leg to win the silver medal ahead of the host team Australia.
Last year's Commonwealth Games finalist Ryan Mphalele led the front pack in the first leg. Wanyonyi, who won the 800 metres world under 20 gold medal, came back to take the lead ahead of Mphahlele, but the South African athlete produced a surge and ended the first leg in the lead. Last year's Commonwealth Games 1500m gold medallist Ollie Hoare came through to take third place six seconds behind South Africa and Kenya.
Mirriam Cherop, who won the African under 20 cross country title in 2016, took the lead at the start of the second lap ahead of 800m specialist Prudence Sekgodiso. Olympic and World 1500 metres finalist Jessica Hull moved past Sekgodiso before overtaking Cherop on the last downhill section.
Hull, who clocked 5:47 in the second leg, handed over to 1500m Australian record holder Stewart McSweyn to build up a 5-second lead over Kenya. Third-leg runner Daniel Mungut overtook Sekgodiso to move into third place. Former world 3000 steeplechase champion Emma Coburn caught up positions, moving from 10th to 5th. Munguti clocked 5:09 in his leg to earn Kenya an eight-second lead in the third leg. McSweyn ran his leg in 5:22 to hold on to the second place. South Africa's Tshepo Tshite handed over the baton in third place with his leg in 5:11 with a one-second lead over steeplechase specialist Getnet Wale.
World under-20 1500 metres gold medallist Brenda Chebet held on to first place in the final leg to cross the finish line in 23:14. Ethiopia won the silver medal in 23:21. Australia won the bronze medal in 23:26, beating South Africa by 24 seconds. The US team finished fifth in 24:32 with a gap of seven seconds over Great Britain.
-->