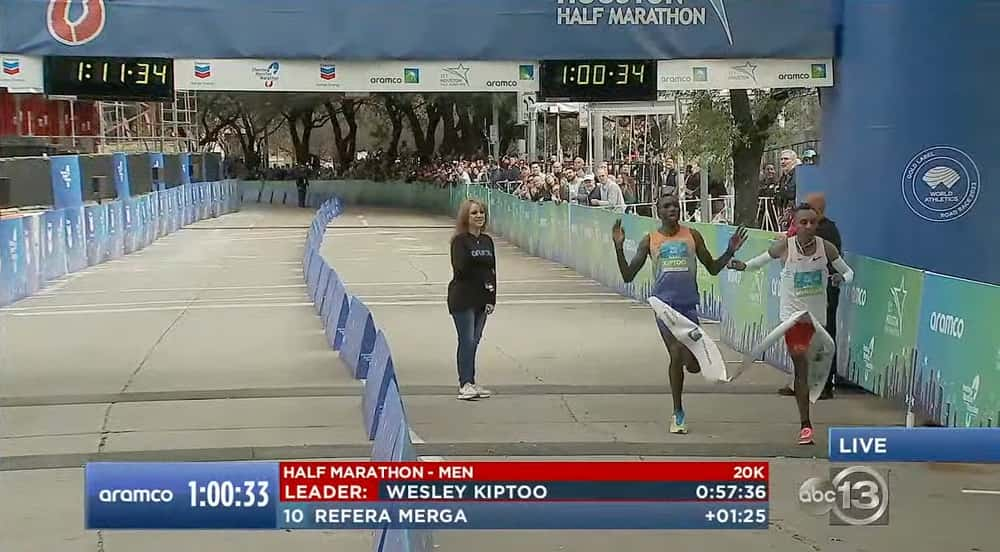 Results, tracking and leaderboard for the 2023 Houston Half Marathon, a World Athletics Elite Label Road Race.
Hiwot Gebremaryam won the men's Houston Half Marathon in 1:06:28 while Hiwot Gebremaryam took the women's race in 1:06:28.
Emily Sisson broke her American record, clocking 1:06:52. She Became the first American woman to break 1:07:00 on a record-legal course.
Olympic and World championships 1500m medalist Jenny Simpson debuted in the half marathon, clocking 1:10:35 for 9th place.
Houston marathon results:
You can search results, track runners and follow race leaders on the official Houston Marathon App.
Top Results Men Half Marathon
1. Leul Gebresilase Aleme (ETH) - 1:00:34
2. Wesley Kiptoo (KEN) - 1:00:35
3. Mohamed El Araby (MAR) - 1:00:58
4. Alberto Gonzalez Mindez (GUA) - 1:01:03
5. Zouhair Talbi (USA) - 1:01:08
6. Conner Mantz (USA) - 1:01:12
7.Shura Kitata Tola (ETH) - 1:01:16
8. Edward Chesrek (KEN) - 1:01:51
9. Frank Lara (USA) - 1:02:00
10. Brian Srader (USA) - 1:02:17
Top Results Women Half Marathon
1. Hiwot Gebremaryam (ETH) - 1:06:28
2. Emily Sisson (USA) - 1:06:52
3. Jessica Warner-Judd (GBR) - 1:07:19
4. Anna Dibaba (ETH) - 1:09:22
5. Mollly Juddle (USA) - 1:10:01
6. Dominique Scott (RSA) - 1:10:07
7. Erika Kemp (USA) - 1:10:14
8. Lindsay Flanagan (USA) - 1:10:35
9. Jennifer Simpson (USA) - 1:10:35
10. Jessie Cardin (USA) - 1:10:52