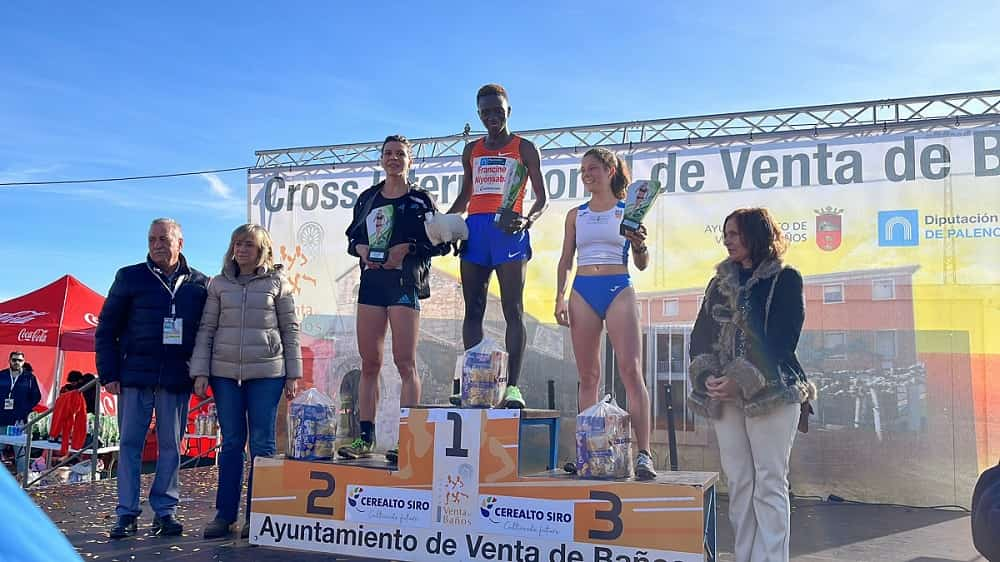 Rodrigue Kwizera and Francine Nyonsaba from Burundi claimed wins at the 42nd edition of the Cross Internacional de Venta de Banos, the ninth leg of 2022 the World Athletics Cross Country Tour Gold.
Adel Mechaal from Spain went at the front of the leading group consisting of Kwizera, his fellow Burundian Agide Nduwuimana, Abderhamane Aferdi from Morocco, Etson Barros from Portugal and Abdessamed Oukhelfen from Spain, European Under 23 cross country bronze medallist in Lisbon 2019.
The leading pack whittled down to Mechal, Oukhelfen, Kwizera and Aferdi. Kwizera launched his first attack after 4.5 km. Only Oukhelsfen could keep up with Kwizera and overtook the Burundian runner. However, Kwizera regained the lead with a split of 6:46. Kwizera and Oukhelfen ran neck and neck with a gap of five seconds over Aferdi.
Kwizera broke away from Oukhelfen at the beginning of the penultimate lap. The Burundian athlete ran another lap in 6:45 to build up a lead of seven seconds over Oukhelfen. The Spaniard attempted to close the gap on Kwizera, but the African athlete changed gears to increase his gap.
Kwizera crossed the finish line in 34:06, beating Oukhelfen by 14 seconds. Mechaal crossed the finish line at 34:42.
Rodrigue Kwizera: "This is my third win on this year's Cross Country Tour after my wins in Alcobendas and Amorebieta. I will now go back to altitude training, and my next race will be the Cinque Mulini on 15th January".
Nyonsaba wins the women's race:
Spanish steeplechaser Irene Sanchez Escribano took the early lead in the 7.9 km women's race, closely followed by Nyonsaba, Emine Mechaal from Turkey and Spanish runners Marta Garcia, Isabel Barreiro and Caroline Robles.
Nyonsaba took the lead with seven minutes on the clock and increased the pace. The Burundian athlete, who won the Diamond League title in the 5000m in 2021, built a 5-second gap over Sanchez Escribano and Barreiro.
Nyonsaba covered the first lap in 7:54 and increased her lead to 15 seconds over Sanchez Escribano and Barreiro at the bell. She slowed down with a split of 7:59 in the final lap, but she crossed the finish line in 30:44 with a gap of 11 seconds over Escribano. Barreiro took third place in 31:03.
Francine Nyonsaba: "The circuit was tough over some sections, so I decided to kick off conservatively. I am delighted with my first win at a cross-country race and hope to compete at the Cross Country in Bathurst. After a training stint in Kenya and today's race, I will return to Burundi, but I will return in three weeks to compete at the Elgoibar cross country race on 8th January".
-->