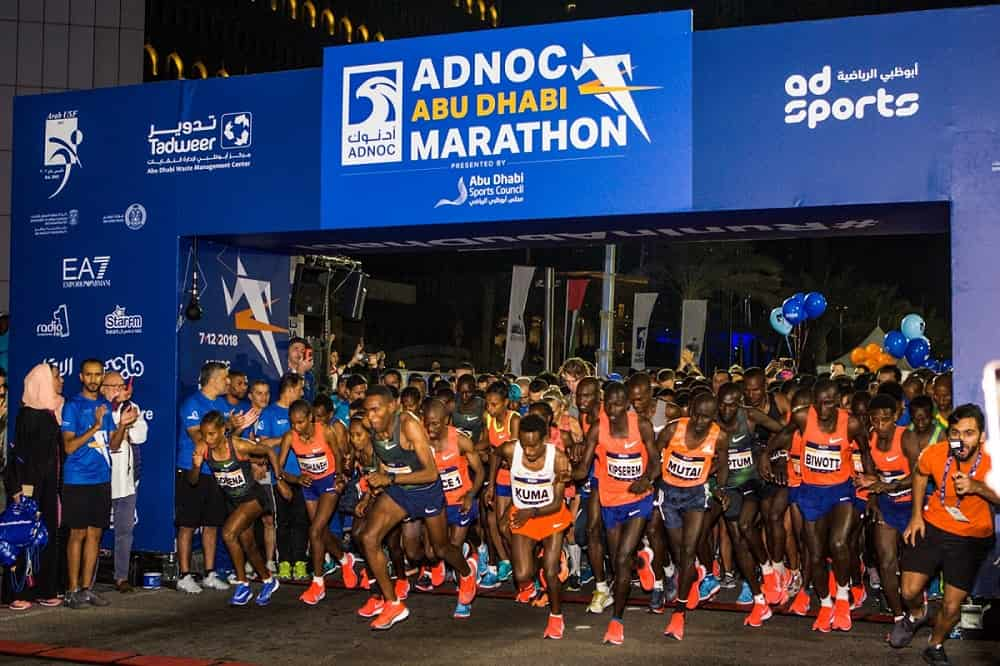 Men's and women's elite field for the 2022 Abu Dhabi Marathon, a World Athletics Elite Label Road Race.
The 4th edition of the Abu Dhabi Marathon will feature stunning men's and women's elite fields.
The 2-time Tokyo Marathon and Chicago and Rome marathon winner Dickson Chumba will lead the men's field. Chumba, whose marathon personal best stands at 2.04.32, will face an impressive field of 7 men with lifetime best marks inside 2 hours and 7 minutes.
The women's field is no less impressive, as several women hold PBs within 2 hours and 20 minutes. The fastest runner in the field is Kenya's Angela Tanui, who took the 2021 Amsterdam marathon title with one of the quickest time's in history at 2h17:57. At this year's Tokyo marathon she took 4th place with an impressive 2 hours 18 minutes and 42 seconds.
Men's Elite Field
| | | | | | |
| --- | --- | --- | --- | --- | --- |
| BIB | LAST NAME* | FIRST NAME* | COUNTRY | PB | SB |
| 1 | KIBET | DANIEL KIPKORE | KENYA | 2.05.19 | 2.05.19 |
| 2 | CHUMBA | DIKSON KIPTOLO | KENYA | 2.04.32 | 2.07.11 |
| 3 | MBISHEI | TITUS KIPJUMBA | KENYA | DEBUT | DEBUT |
| 4 | KIPKEMOI | KENNETH KIPROP | KENYA | 2.05.44 | - |
| 6 | KIMUTAI | FELIX | KENYA | 2.09.23 | 2.18.24 |
| 7 | WOLDAREGAY | KELKILE GEZAHEGN | ETHIOPIA | 2.05.56 | 2.08.30 |
| 8 | WELDEGIORGIS | ASHENAFI MOGES | ETHIOPIA | 2.06.12 | 2.07.06 |
| 9 | GEBREYOHANNES | ADELADLEW MAMO | ETHIOPIA | 2.05.12 | 2.05.12 |
| 10 | MALEDE | BUKAYAW | ISRAEL | 2.09.28 | 2.09.28 |
| 19 | KIPRONO | KIPKEMOI | KENYA | 2.06.45 | 2.08.18 |
| 20 | REGASA | ZELALEM BACHA | BAHRAIN | 2.07.09 | 2.11.03 |
| 95 | PEREZ MORENO | JUAN ANTONIO | SPAIN | 2.11.50 | - |
Women's Elite Field
| BIB | LAST NAME* | FIRST NAME* | COUNTRY | PB | SB |
| --- | --- | --- | --- | --- | --- |
| 101 | TANUI | ANGELA JEMESUNDE | KENYA | 2.17.57 | 2.18.42 |
| 102 | CHUMBA | EUNICE CHEBICHII | BAHRAIN | 2.20.02 | 2.20.02 |
| 103 | ABREHA | TSIGE HAILESLASE | ETHIOPIA | 2.31.48 | 2.31.48 |
| 104 | CHEROTICH | DAISY | KENYA | 2.30.42 | 2.30.42 |
| 105 | HURSSA | MARE DIBABA | ETHIOPIA | 2.19.52 | 2.24.12 |
| 106 | TOLA | HELEN BEKELE | ETHIOPIA | 2.21.01 | 2.24.33 |
| 107 | GEBRESLASEA | LETEBRHAN HAYLAY | ETHIOPIA | 2.24.47 | 2.25.45 |
| 109 | GADA | BONTU BEKELE | ETHIOPIA | 2.23.39 | - |
| 110 | CHEPTEGEI | REBECCA | UGANDA | 2.31.21 | 2.31.21 |
| 118 | WEDESA | BONE CHELUKE | ETHIOPIA | 2.24.37 | 2.24.37 |
| 119 | CHEKOL | MULUHABT TSEGA | ETHIOPIA | 2.24.23 | 2.24.23 |
| 120 | MELEKA | MESERET DINKE | ETHIOPIA | 2.24.02 | 2.24.02 |
-->