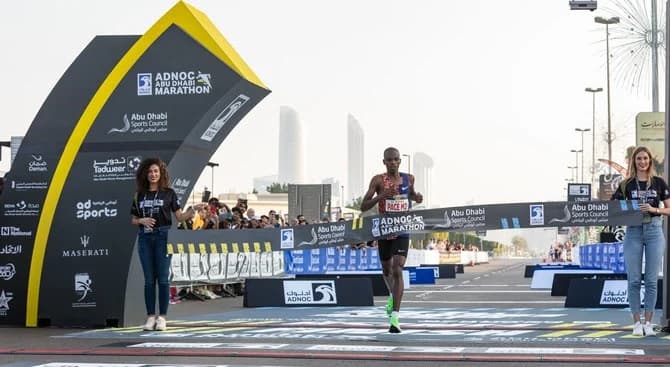 Results, tracking and leaderboard for the 2022 Abu Dhabi Marathon, a World Athletics Elite Label Road Race.
The fourth edition of the ADNOC Abu Dhabi Marathon will take place on Saturday, 17 December 2022. The marathon race will kick off at 6:00am local time (GMT +4).
You can also track runners, follow race leaders and search results on the official Abu Dhabi Marathon app.
TOP RESULTS MEN MARATHON
1. Timothy Kiplagat Ronoh (KEN) - 2:05:20
2. Felix Kimutai (KEN) - 2:09:32
3. Adeladlew Mamo Gebreyohannes (ETH) - 2:09:42
4. Zelalem Bacha Regasa (BRN) - 2:12:28
5. Titus Kipjumba Mbishei (KEN) - 2:12:53
6. Dickson Kiptolo Chumba (KEN) - 2:14:46
7. Kenneth Kiprop Kipkemoi (KEN) - 2:15:00
8. Bukayaw Malede (ISR) - 2:16:12
9. Kelkile Gezahgen Woldaregay (ETH) - 2:16:41
TOP RESULTS WOMEN MARATHON
1. Eunice Chebichii Chumba (BRN) - 2:20:40
2. Angela Jemesunde Tanui (KEN) - 2:21:12
3. Mare Dibaba Hurssa (ETH) - 2:21:25
4. Rebecca Cheptegei (UGA) - 2:22:46
5. Meseret Dinke Meleka (ETH) - 2:22:51
6. Daisy Cheroitich (KEN) - 2:25:30
7. Tsige Haileslase Abreha (ETH) - 2:27:06
-->