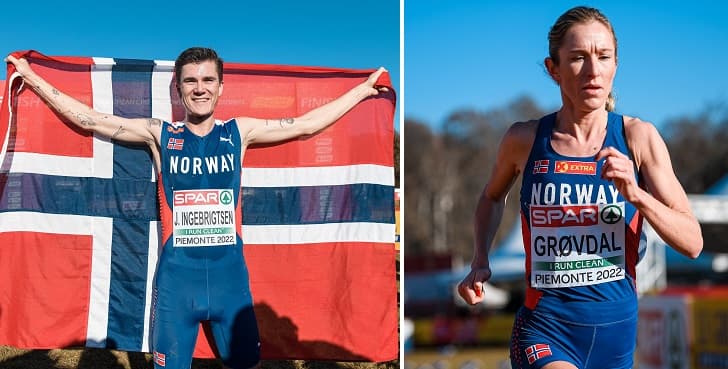 Norwegian stars Jakob Ingebrigtsen and Karoline Bjerkeli Grovdal successfully defended their European Cross Country titles at the Mandria Park in Venaria Reale near Turin.
Men's race:
Jakob Ingebrigtsen broke away with 700 metres and increased his lead to 60 metres before crossing the finish-line in 29:33. Ingebrigtsen won his second consecutive European senior title and the sixth gold medal of his career at these championships after claiming four under 20 titles from 2016 to 2019.
Jakob Ingebrigtsen: "It was a tough race overall, but in the last couple of weeks, I have been doing some excellent training, so I knew I was in great shape coming here, but then again, you don't know about the course and don't know what shape your competitors are in, so I think it was a great race for me. I had a lot of fun".
Emile Cairess from Great Britain took the silver medal in 29:42, holding off former European under 23 champion Isaac Kimeli from Belgium by three seconds. European 10000 metres champion Yeman Crippa lost contact with the leading group in the final stages of the race and crossed the finish line in fourth place just two seconds behind Kimeli.
France placed their three best scorers in the top three to win the men's team title with 24 points, beating Italy by just one point.
Women's senior race:
Karoline Bjerkeli Grovdal won a head-to-head battle against European 5000m gold medallist Konstanze Klosterhalfen in the women's 7.7 km race in 26:25.
Grovdal pulled away from Klosterhalfen on the final downhill stretch with just 200 metres to go. Klosterhalfen finished four seconds behind Grovdal in 26:29. Alina Reh from Germany won the bronze medal in 27:19, holding off her compatriot Hanna Klein.
Germany placed three athletes in the top four to win the women's team title for the first time. Great Britain placed second with 30 points continuing their streak of winning a senior women's team medal at every championship since 2000.
Karoline Grovdal: "I was tired going into the last lap, and I felt that in the last few metres, but I knew I was good going down the hill. The technical part is good for me. I felt quite strong going up the hills, and I think that is why I took the gold".
Women's Under 23 race:
Nadia Battocletti from Italy claimed her fourth overall European Cross Country individual gold medal and her second consecutive under-23 title one year after her triumph in Fingal-Dublin. Battocletti had previously won two under-20 titles in 2018 and 2019.
Battocletti crossed the finish line in 19:55 ahead of Megan Keith, who finished second in 20:08 in her first year in the under-23 category one year after winning the European under-20 gold medal in Fingal-Dublin. Alexandra Millard won the bronze medal in 20:27. Grace Carson was the third British finisher in fifth place.
Battocletti and Keith produced the first surge on the uphill section of the second lap after 2.5 km. They ran neck and neck until the fourth lap when Battocletti launched her decisive kick with just under one km to break away from Keith before the final uphill section. The Italian 22-year-old Italian star went on to win the gold medal to the delight of the home fans.
Nadia Battocletti: "This race was exceptional. I knew I was supposed to bring home a medal, but this season was not easy. I was fighting some viruses, had mononucleosis, and in spring, I was injured. It was not the best start, but that makes this victory even more special. It was another taste. I wanted this title. My dad, also my coach, told me to speed up in the last lap, but I think Megan had the same plan. She did not make it easy for me today. It is great to defend my title and to add another gold".
Great Britain won the team's under 23 title with 10 points ahead of Italy (31 points) and France (38 points).
Men's under 23 race:
Charles Hicks from Great Britain successfully defended his European Under 23 title, repeating his last year's triumph in Fingal-Dublin. Hicks won his second title this autumn season three weeks after his NCAA title in Stillwater last November.
Hicks broke away from his compatriot Zakariya Mahamed with 500 metres to go. Matthew Stonier placed eighth, earning Great Britain the top spot in the team's under-20 ranking with 11 points. France placed three athletes in the top seven to take second place with 14 points.
Charles Hicks: "It is unbelievable. It was something I was thinking about coming into the race. It's unreal to win the NCAA and European titles in the same year. Last year's win was an accomplishment. It was one of my wildest dreams: if I could do it again, that would have been the perfect season. Now that I have finally done it. This course suits me. It is a long season mentally, but physically I feel great".
Mixed relay:
Pietro Arese, Federica Del Buono, Yassin Bouih and Gaia Sabbatini earned Italy the first gold medal for their country in the mixed relay after a thrilling battle against Spain. Sabbatini, a European Under 23 champion in the 1500 metres in Tallin 2021, edged Spanish anchorwoman Rosalia Tarraga by one second in 17:24. France won the bronze medal in 17:31.
Arese gave the host team a four-second lead at the first changeover. Federica Del Buono could not keep the lead, as Romania's Elena Panaet ran an excellent second leg to take the lead. Italy Yassin Bouih took a five-second lead after a solid third leg before handing over the baton to Sabbatini. Tarraga closed the gap on Sabbatini on the uphill section of the course and took the lead. Sabbatini held off Tarraga in the home straight to cross the finish-line in 17:23.
Gaia Sabbatini: "I felt very responsible for bringing the team to the finish line in the best position, and it was very hard. The public was just amazing, and it helped us a lot".
Pietro Arese: "We did the Italian Trials on this track so I think we knew the course and had a small advantage today compared to the other teams. It was pretty special to run here on the home soil because I come from Turin, so it was very emotional".
Men's Under 20 race:
Will Barnicoat from Great Britain won the under-20 race in 17:40, beating Irish runners Nicholas Griggs (17:41) and Dean Casey (17:46). Great Britain placed three athletes in the top five to win the men's under-20 title with 10 points ahead of Ireland (17) and Spain (30).
Last year's European under 20 silver medallist Abdullahir Dahir Rabi from Norway dropped out of the race at the start of the uphill climb on the second lap. Reigning European under-20 champion Axel Vang Christensen from Denmark pushed the pace in the race's early stages, but he lost ground on the penultimate climb before dropping out of the race.
Griggs pulled away from Barnicoat with 300 metres to go, but he started to stumble with 30 metres to go. Barnicoat overhauled Griggs by just one second in the final straight to take the win in 17:40.
Barnicoat won a second gold medal with the British team, who placed two more athletes in the top five. Sam Mills finished fourth in 17.54, beating Luke Birdseye by two seconds.
Will Barnicoat: "This was a tough race and a great win for me. It was even more special because of all our support from the people around us. I was very emotional coming to the finish line. I was thinking about my mum and dad and all their support after all those years. Without them, I would not be here. Normally they do not go to all my competitions, but they are here today. It was a tough course and in the last lap, I saw the others struggling a bit, so I started kicking. I was thinking – this is going to be my chance. I felt I still had something left and I tried to push myself. I have always had a strong finish. I knew the race was not over until the end and that was my plan to fight until the very end. I just started sprinting and it was unbelievable. I still cannot believe it".
Women's Under 20 race:
Maria Forero from Spain took a surprising win in the women's race in 13:04, ahead of Ingeborg Ostgard from Norway (13:07) and Ilona Mononen from Finland (13:08).
Sixteen-year-old Ines Fitzgerald and Forero ran neck to neck in the first three km. Forero pulled away from Fitzgerald on the uphill section of the course and went on to take the win in 13:04.
Ostgard and Mononen closed the gap on Fitzgerald and overhauled the British athlete in the final 200 metres to finish second and third in 13.07 and 13:08, respectively.
Forero led Spain to a surprising gold medal in the team's under-20 race with 21 points ahead of Turkey (25) and Germany (33).
Maria Forero: "To be honest, I feel incredible. I can't find the words for how I am feeling now. It's an individual medal at the European level, and on top of that, it is gold. I didn't expect to win with such a margin over the other girls and take the lead at such an early stage. I felt powerful but not in my dreams it occurred to me I could have won in the way that I did. I came out as strong as possible, realizing I had some advantage over the other athletes."