Almaz Ayana and Genzebe Dibaba set for marathon debut in Amsterdam

Posted by:
Watch Athletics
Thursday, 13 October 2022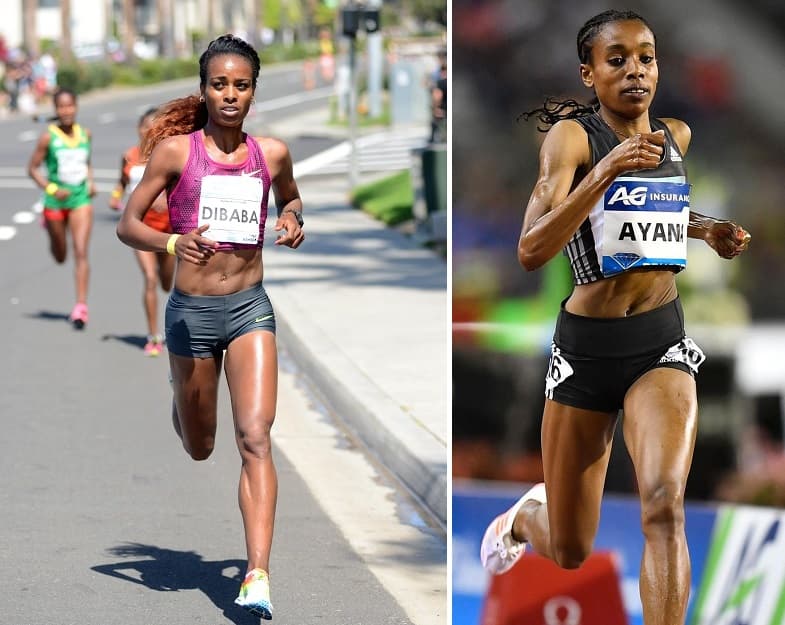 Ethiopian stars Almaz Ayana and Genzebe Dibaba will debut over the 42 km distance on Sunday, 16th October, at the TCS Amsterdam Marathon, a World Athletics Platinum race.
Ayana won the Olympic gold medal in the 10000 meters in Rio de Janeiro 2016, breaking the world record with 29:17.45 and the bronze medal in the 5000 meters. That year she was awarded World Athlete of the Year. Ayana also won two world gold medals in the 5000m in Beijing in 2015, the 10000m in London in 2017, two Diamond League Trophies in the 3000m in Zurich in 2015, and the 5000m in Brussels in 2016. After giving birth to her first child, Ayana is looking to add her first marathon win to the record of achievements.
Genzebe Dibaba broke the 1500m world record in Monaco with 3:50.07 in 2015 and won the 1500m world title in Bejing a few months later. The 31-year-old claimed the Olympic 1500m silver medal in Rio de Janeiro in 2016 and was rewarded with the title of World Athlete of the Year in 2015. Genzebe is the youngest sister of three-time Olympic champion Tirunesh Dibaba and former 10000m Olympic silver medallist Eyegayehu Dibaba.
The line-up of Ethiopian runners is completed by 23-year-old Tsehay Gemechu, who finished fourth in the 5000m at the 2019 World Championships in Doha and set a half marathon PB of 65:01 in Larne in 2022.
The fastest entrants are Ethiopian runners Azmera Gebru, Gebeyanesh Ayele, and Sintayehu Tilahun.
Gebru finished second in Paris in 2019 in 2:22.52 and third in Amsterdam later that year in 2:20:48. Ayele also returns to Amsterdam, where she finished fourth, improving her PB to 2:21:22 last year. Tilahun took third place at the Milano Marathon in 2:22:19 last April.
Men's race:
Nine 2:06 performers headline the men's race. The line-up is led by Lemi Berhanu from Ethiopia, Cyprian Kotut, and Titus Kipruto from Kenya. They will aim to break the course record set by Ethiopia's Tamirat Tola with 2:03:39 in 2021.
Berhanu won in Dubai in 2015 at 2:05:28, Boston in 2016 in 2:12:45 and Xiamen in 2017 in 2:08:27 and set his PB of 2:04:33 in Dubai in 2016.
Kotut won in Paris in 2016 at 2:07:11, in Florence in 2021 at 2:08.59, and Hamburg improved his PB of 2:04:47 last April. The Kenyan runner also finished second in Milan in 2015 in 2:08:55 and third in Frankfurt in 2016 in 2:07:28.
Titus Kipruto made his breakthrough last April when he won the Milano Marathon, improving his PB to 2:05:05 in the second marathon of his career.
-->