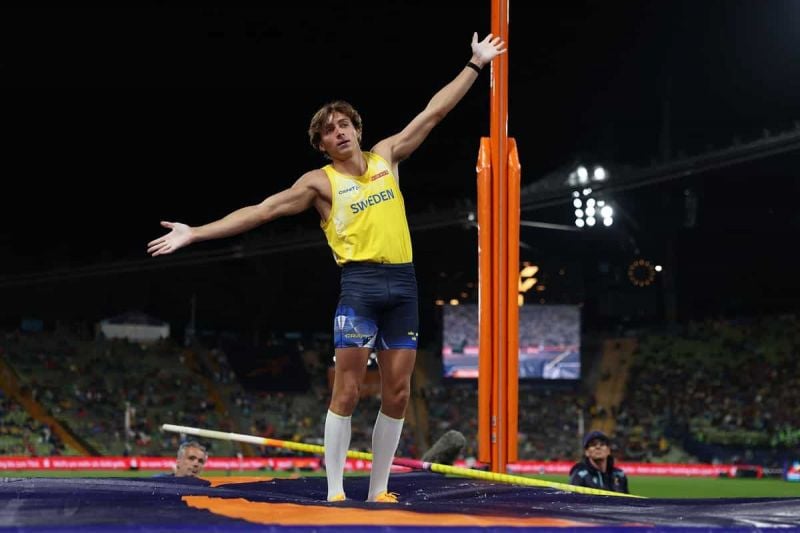 World record holder Armand Duplantis defended his European, outdoor title with 6.06m in his first attempt on a wet evening on the penultimate day of the European Athletics Championships in Munich.
Duplantis cleared 5.66m, 5.85m, 5.90m, 5.95m and 6.06m on his first attempt to win the gold medal. The Swede cleared 6.06m on his first attempt, one cm higher than his championship record set at the European Championships in Berlin in 2018.
Armand Duplantis: "Considering the situation and circumstances, I cannot complain, it was very special for me today. I just focused on winning I guess. I think this season, I have experienced all kind of situations and these championships were special for me. The crowd was very special".
Bo Kanda Lita Baehre from Germany cleared 5.85m on his second attempt to win the silver medal. The German vaulter failed one attempt at 5.90m and two final tries at 5.95m.
Pal Haugen Lillefosse from Norway won the bronze medal with 5.75m beating Rutger Koppelaar from the Netherlands, Thibaut Collet from France and Sondre Guttormsen on countback.
Three-time European champioRenaud Lavillenie cleared 5.65m on his first attempt and decided to pass 5.75m before failing three attempts at 5.85m.
Women's 4x400 relay:
Femke Bol anchored the Dutch team to the win in the women's 4x400 relay in a European lead of 3:20.87, with a winning margin of 0.81.
Natalia Kaczmarek, who finished second to Bol in the individual 400m final, claimed silver for Poland in 3:21.68. Great Britain with 3:22.12. Bol was grateful her teammates Eveline Saalberg, Lieke Klver and Lisanne De Witte.
With her three gold medals Bol equalled her compatriot Fanny Blankers Koen, who won three European gold medals in the 100m, 200m and 80 metres hurdles in Brussels in 1950.
Femke Bol: "I really love to run with these girls. They are such fantastic athletes. It was such an amazing race .These championships feel special"
Women's javelin throw
Elina Tzengko from Greece won the gold medal in the women's javelin throw at the age of 19 improving her PB to 65.81m in the second round. Tzengko backed up this mark with the second best throw of 64.57m. The Greek teenager won the European under 20 gold medal in Tallin and the world under 20 silver in Nairobi in 2021.
Tzengko earned Greece the fourth gold medal at these championships. The Greek teenager bounced back from the disappointment at the World Championships in Eugene, where she did not get through to the final with a throw of 57.12m.
Elina Tzengko: "I was waiting for the right moment here at the European Championships. I am really excited because after Oregon I told myself: 'just relax, you can throw a lot of metres, you just have to do this. At my last competition I threw over 60 metres, so I knew I could throw over 63 metres and here at the European Championships I did it. It was a crazy competition for me. The Greek team was here to support me. I want to attack 70 metres for sure, but at the moment 65 metres is perfect for me now".
Adriana Vilagos from Serbia, who won the world under 20 beating Tzengo last year, won the silver medal with 62.07m. Barbora Spotakova finished third with 60.68m on her sixt attempt at the age of 41 winning her fourth European medal across three separate decades after silver in 2006, bronze in 2010 and gold in 2014. Spotakova won her first medal at a big international championship since her world title in London 2017.Spotakova returned to Munich where she made her first appearance at these championships.
Women's 3000 metres steeplechase:
Luiza Gega won the first gold medal for Albania in the history of these championships crossing the finis-line in 9.1131. Gega pulled away with 500 metres to go to break the championship record held by Yuliya Zaripova since Barcelona 2010.
Lea Mayer from Germany overtook Lizzie Bird to win the silver medal in 9:15.35. Bird took the bronze medal in 9:23.18.
Luiza Gega: "I wanted this medal so much. From the beginning I tried to run hard. I know how to run alone because I train alone. When I entered the last lap, I just said to myself: 'This is the first gold medal for my country. I am so happy. I worked so hard for it".
Women's 800 metres final:
Keely Hodgkinson won her first European outdoor gold medal in 1:59.04 following the European Indoor gold medal in Torun 2021 and three silver medals at the Olympic Games in Tokyo 2021, at the World Championships in Eugene and at the Commonwealth Games in Birmingham this year. With Hodgkinson's win Great Britain won its 122th European gold medal overtaking the former Soviet Union with the highest number of gold medals in the history of the European Championships
Renelle Lamote won her third consecutive European outdoor silver medal in 1:59.49. Anna Wielgosz from Poland claimed bronze medal in 1:59.87 holding off Lore Hoffmann from Switzerland by 0.05.
Keely Hodgkinson: "I am very happy to come here and finally get on top of the podium. It's been.a hard year mentally but I have made it to the end with gold and two silvers"
Christina Hering took the leading pack through the 400 metres in 58.58. Lamote went to the front briefly before Hodgkinsn broke away at 300 metres.
Men's 4x400 metres final:
The British team formed by Eiuropean 400m champion Matthew Hudson Smith, Charles Dobson, Lewis Davey and Alex Haydock Wilson won the 4x400 relay final in 2.59.35 in the earning the 123rd gold medal for Great Britain in the history of the European Championships,
Belgium featuring Alexander Doom, Julien Watrin, brothers Kevin and Dylan Borlée finished second in 2:59.49 after winning gold in the past three editions of the European Championships. France won bronze medal in a seasonal best of 2:59.64.
Women's 20 km walking race.
Antigoni Ntrismpioti won the 20 km walking race completing the double a few days after claiming the gold medal in the 35 km race.
The 38-year-old Greek walker pulled away from double world silver medallist Katarzyna Zdzieblo with 3 km to go to win by 17 seconds the European gold medal in the 20.km in a lifetime best of 1:29:03. Zdieblo won the silver medal in 1:29:20. Saskia Feige from Germany won the bronze medal in a PB of 1:29:25.
Ntrismpioti finished eighth in the 20 km at the Olympic Games in Tokyo 2021 and fourth in the 35 km at the World Championships in Eugene last month.
The Greek walker combines her training with her working activity as waitress at her family's restaurant
Antigoni Ntrismpioti: "It's unbelievable. It was only in the last quarter of the race that I thought I could in the medals, but not definitely winning. Before that, I was just trying to assess the form of the other girls, trying to work out in what place I might finish. I didn't think this would happen".
Men's 20 km walking race:
Alvaro Martin from Spain defended the European the 20 km walking title he won in Berlin four years ago. Martin crossed the finish-line in a lifetime best of 1:19:11. Spain placed three athletes in the top four.
Alvaro Martin: "This is very beautiful, a second gold medal for me. I had to work hard for it. I have to pay tribute to my rivals",
Perseus Karlstrom from Sweden won the silver medal in 1:19.23 ahead of Spanish walkers Diego Garcia (1:19:45) and Alberto Amezcu (1:20:00). Karlstrom won two world bronze medals in the 20 km and 35 km in Eugene last month. The 32-year-old Swedish walker followed in the footsteps of her mother Liv Gustavson, European 10 km bronze medallist in Stuttgart 1986, and two-time world 50 km silver medallist Enrique Vera from Mexico.
Francesco Fortunato was the top Italian in fifth place in 1:20:06. Olympic 20 km champion Massimo Stano finished eighth in 1:21:18 one month after winning the world 35 km gold medal in Eugene.
-->