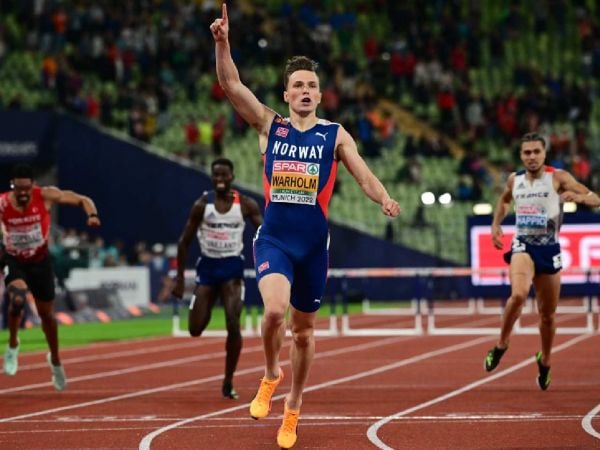 Femke Bol and Karsten Warholm broke championship records in the 400 metres hurdles on the fifth day of the European Championships in Munich on Friday night.
Women's 400 metres hurdles:
Femke Bol completed ta unique double by winning the women's 400 metres hurdles in a championship record of 52.67 a few days after her win in the 400 metres in her PB of 49.44. Bol added these two medals to her collection of medals, which includes the Olympic bronze medal in Tokyo in 2021 and the world silver in Eugene in 2022 in the 400 metres hurdles.
Femke Bol: "Winning this gold medal is a big relief. It was a great race for me. I am very surprised to achieve such a fine time. It was mentally hard to race the 400 metres without hurdles. I am so proud to achieve the duuble. I will never do the double again. Well, maybe. Never say never. I knew if nothing strange happens, I would get this medal. This race was pretty hard. It was not easier than the 400m flat".
Bol could win her third gold medal with the Dutch 4x400 relay, which fetaures her compatriot Lieke Klaver, who finished fourth at the World Championships in Eugene.
Ukraine won silver and bronze medals with Viktoriya Tkachuk (54.30) and Anna Ryzhykova (54.86).
Sara Gallego from Spain also ran a good race finishing fourthin 54.97.
Men's 400 metres hurdles final:
Olympic champion and world record holder Karsten Warholm won his second consecutive European gold medal in the men's 400m hurdles in 47.12, breaking the championship record held by German Harald Schmid with 47.48 since Athens 1982.
Warholm has also won two world gold medals in London 2017 and Doha 2019 and the Olympic title with the world record of 45.94.
Karsten Warholm: "I had a very tough season with injuries, so to be here and bounce back means a world. I learned that I should have never taken anything like this for granted. I am going to enjoy it even more because it was tough. I hope that I can be injury-free and train at the high level again so you could never count me. A championship record is huge. Now for German beers. My friends and family are here, as well as a lot of fans from Norway. I am so happy to have them. This was one of the competitions for me this year. I am looking forward to train hard and to compete next year".
Wilfried Happio from France won the silver medal in 48.56 one month after finishing fourth at the World Championships in 47.41. Yasmani Copello from Turkey claimed bronze medal in 48.78 edging Ludvy Vailliant from France and Joshua Abuaku by 0.01 in a very close finish.
Women's 200 metres:
Mujinga Kambundji from Switzerland won the 200m final in 22.32 beating defending champion Dina Asher Smith (22.43). Ida Karstoff from Denmark won the bronze medal in 22.72m.
Kambundji reached her third international medal after winning the world indoor gold medal in the 60m in Belgrade 2022 in 6.96 and the European 100m silver medal in 10.99 in Munich, just five thousandths of a second behind Gina Luckenkemper. She also finished fifth in the 100m and eighth in the 200m at the World Championships in Eugene. At the European Championships in Berlin 2018 Kambundji finished fourth in the 100m, 200m and in the 4x100 relay.
Mujinga Kambundji: "My parents, my sister, my grandmother and my aunt are here. Plus there are so many many Swiss fans. Thank you to all. Your support. I am cloud nine. I knew was going to be tough. I made sure to get a clean race. It is overwhelming to come home with two medals. These are really successful champinships for me. Unfortunately our relay did not make it to the final. Dina Asher Smith is a great athlete, but today it was me who won"
Dina Asher Smith: "This is ok. Obviously, I came here to win. I wanted to defend my title but Mujinga ran a fantastic race. I am not super happy, but at the same time this was an amazing race. After the season is over, my plan is go on holiday. It's been a long year. I am planning to go holiday and get ready for next summer"
Men's 200 metres.
Zharnel Hughes from Great Britain won the 200 metres in 20.07 adding this title to the two 100m European medals (gold in Berrlin 2018 and silver in Munich 2022). Neetheneel Mitchell Blake completed the British double winning his second consecutive European 200m silver medal in 20.17.
Zharnell Hughes: "I knew that I am faster than other guys on the track because of my last 100m race. I really did the damage on the bend. I really dominated on it. As soon as I crossed the finish -line, I knew that I had won because I didn't see anyone else there, I am really happy with the European title and the silver of Nethaneel".
Filippo Tortu won the bronze medal in 20.27 becoming the first Italian sprinter to win a European medal in the 200 metres since Pietro Mennea's triumph in Prague 1978.
Filippo Tortu: "I am not too happy about the bronze. I think I have done some mistakes during the race. I have to congratulate to Zharnel and Nethen. During the race I was not thinking about anything at all, just to run. In the end it's the only thing I had to do"
Men's discus throw:
Mykolas Alekna from Lithuania won the European gold medal in the men's discus throw with 69.778m following in the footsteps of his father Virgilius Alekna, who won the European gold medal in Gothenburg 2006.
Kristjan Ceh from Slovenia took the lead with a throw of 67.62m in the second round and increased his mark to 67.81m in the third round and 68.82m in the fifth round.
Mykolas Alekna: "Kristjan is a strong athlete. Maybe today wasn't his day. I am happy to win, with my family in the stands here. I am still young and I expect that my journey will be a long one. Next year is going to be even better than this one. The rivalry between us will be tough, as well as the one with the other athletes".
Lawrence Okoye from Great Britain took a surprising bronze medal with a throw of 67.14m in the opening round beating Simon Petterson from Sweden by 2 cm. Olympic champion Daniel Stahl took fifth place with 66.39m.
Women's 1500 metres final:
British middle distance star Laura Muir won her second consecutive European gold medal in 4.01.08. Muir reached the podium at all three big championships this year claiming bronze at World Championships in the 1500m, gold in the 1500m and bronze in the 800m at the Commonwealth Games in Birmingham and now the 1500m gold at the European Championships in Munich.
Laura Muir: "I tried to control the race and I knew my speed was the best for the last lap. It's fantastic to see Clara running so well. I knew I would have to run well to beat her"
Clara Mageean from Ireland improved her seasonal best to 4:02.56 to win the silver medal. Sofia Ennaoui from Poland won the bronze medal in 4:03.59 four years after finishing second to Muir in Berlin.
Clara Magean: "You always have to run hard if you are running against Laura Muir. I am too happy to come away with the silver. It's a beautiful night. The Irish flag is raised"
Women's triple jump:
Maryna Bekh Romanchuk from the Ukraine won her first European gold medal in the triple jump with a European seasonal lead of 15.02m. Beck Romanchuk had previously won the European outdoor silver medal in Berlin 2018, the European indoor gold medal in the long jump and the world indoor silver medal in the triple jump in Belgrade.
The Ukrainian jumper backed up her winning mark with a second best jump of 14.81m which would have been enough to win. She bounced back from the disappointment of the long jump final, where she was denied bronze medal by Jazmin Sawyers in the final round.
Maryna Beck Romanchuk: "I am really happy because I felt very supported by the German fans, my family and my husband. I won the gold medal because of them"
Kristina Makela from Finland improved her PB to 14.64m to win the silver medal. Hanna Minenko won the bronze medal with 14.45m beating Neele Eckardt Noack by just 2 cm.
Hanna Minenko "I am super happy to take a medal in these European Championships, especially in Munich, 50 years after the Olympic Games here"
Men's 3000 metres steeplechase:
Topi Raitainen from Finland launched his kick in the final 200 metres to win the men's 3000 metres steeplechase in 8:21.80 ahead of Italian middle-distance runners Ahmed Abdelwahed (8:22.35) and Osama Zoghlami (8:23.44). Zoghlami led for most of the race together with his twin brother Ala Zoghlami. Italy has won two medals in the 3000m steeplechase at the European Championships since 1994, when Alessandro Lambruschini and Angelo Carosi won gold and silver.
Raitanen finished eighth at the Olympic Games in Tokyo, but he did not qualify for the World Champinships in Eugene. He has become the first Finnish steeplechase runner to win the European gold medal since 2006, when Jukka Keskisalo won in Gothenurg.
Men's 800 metres semifinals:
Andreas Kramer from Sweden and Simone Barontini finished first and second in the first semifinal clocking 1:48.37 and 1:48.51 respectively t secure their spot in the final.
Word indoor champion Mariano Garcia won a much faster second semifinal in 1:46.51 beating world 1500m gold medallist Jake Wightman (1:46.61).
Men's 4x100 relay heats:
Home team Germany set the fastest time in the men's 4x100 relay on the fifth morning session of the European Athletics Championships at the Olympic Stadium in Munich.
European bronze medallist Jeremiah Azu anchored the British team t a win in 38.41 in the first heat. The German team formed by Kevin Kranz, Joshua Hartmann, Owen Ansah, Lucas Ansah Peprah improved the national record to 37.97 in the second heat beating France (38.17) and Poland (38.60).
Marcell Jacobs dropped out of the heats after suffering an injury problem during the warm-up.
A young Italian team formed by Lorenzo Patta, Wnderson Polanco, Matteo Melluzzo and Chituru Ali finished fifth in 39.02 and it seemed that they had claimed the last non-automatic qualifying spot, but Turkey successfully protested after being impeded by Finland before the first changeover. Turkey had the chance to run alone again and crossed the finish-line in 38.98 to secure the last qualifying spot for the final.
Italy rested Filippo Tortu, who won his 200 metres semifinals in 20.29 on Thursday evening.
Women's 4x100 relay heat:
Great Britain won the first women's 4x100 relay heat setting the fastest time with 42.83 ahead of Spain (42.95) and Italy (43.28).
France won the second heat with 43.24 ahead of Germany (43.33) and Poland (43.39).
Women's 800 metres semifinals:
Olympic silver medallist Keely Hodgkinson won the first women's semifinal in 2:00.67 beating Poland's Anna Wielgosz (2:01.05).
Two-time European silver medallist Renelle Lamote claimed the second semifinal in 2:00.23 holding off Jemma Reekie (2:00.30) and Alexandra Bell (2:00.53).
Women's 4x400 relay heats:
Great Britain set the fastest time in the first women's 4x400 heat with 3:23.79 beating Belgium (3:25.44) and defending champions Poland (3:26.05). The Netherlands clocked the third fastest time overall with 3:25.84. Ireland advanced to the final as the fifth fastest team overall in a national team of 3:26.06. Rhasidat Adeleke, who finished fifth in the 400m final in 50.53, ran the third leg with 49.49.
Men's 4x400 relay hears:
Spain set the fastest qualifying time in the men's 4x400 heats in 3:01.27 beating the Netherlands (3.01.57), Germany (3:01.80) and Belgium (3:01.80). Czech Republic won the second heat in 3:02.07 holding off France (3:02.09).
Women's high jump qualifying round:
Thirteen athletes advanced to the final with 1.87m before it began to rain. World silver and bronze medallist Yaroslava Mahuchik and Elena Vallortigara, Iryna Gerashchenko and Yulya Levchenko are among the athletes, who secured their spot in the final.
Men's javelin throw qualifying round:
Olympic silver medallist Jakub Vadlejch from Czech Republic led the qualifying round in the men's javelin throw qualifying round with 81.81m ahead of Julian Weber from Germany (80.89m), Lassi Eteletal from Finland (79.29m) and Vitezslav Vesely (79.27m). Andreas Hoffmann, who fouled all three throws in the qualifying round at last month's World Championships in Eugeene, secured the penultimate qualifying spot with 77.29m.
-->