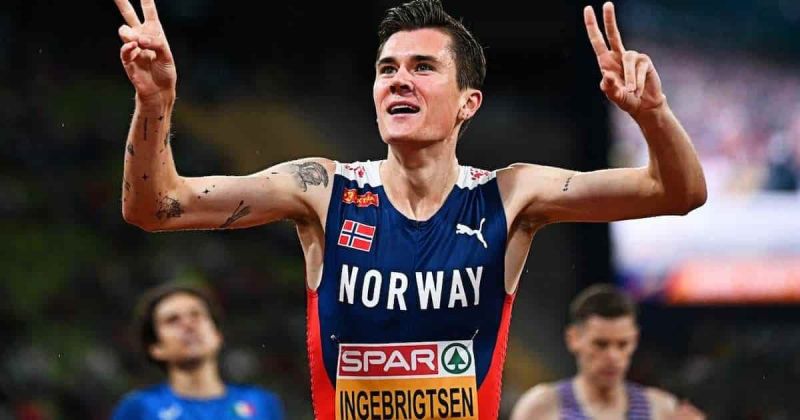 European Athletics Championships Zurich 2022 day four report: Jacob Ingebrigsten defended his 1500m title, Konstanze Kosterhalfen won the 5000m in front of home fans, Nafissatou Thiam set a new meeting record in in the heptathlon, and Serbia's Ivana Vuleta jumped 7.06m to win long jump.
Jakob Ingebrigtsen won his second consecutive European gold medal in the 1500 metres in a Championship record of 3:32.76 on the fourth day of the European Championships in the Olympic Stadium in Munich. The Norwegian star completed the "double-double" winning both the 1500 and the 5000 metres for the second consecutive edition of the European Championships.
Ingebrigtsen took control of the race in the first 300 metres and increased the pace before clocking 55.25 in the final lap.
Jakob Inbebrigtsen; "I felt I have the speed in my legs, so I wanted to go from the beginning. I wanted to have a fast race, and I wanted to win. When I heard the great crowd cheering for us and I also saw so many Norwegian flags in the stands, it was a great motivation for me today. The fans here are just awesome. With the rain it feels almost like at home. Rain feels good. I am very glad I managed this double and the Championships record is a nice bonus"
Olympic finalist Jake Heyward from Great Britain won the silver medal in 3:34.44 holding off Mario Garcia from Spain, who claimed bronze in 3:34.88. Pietro Arese from Italy finished fourth improving his lifetime best with 3:35.00.
Women's 5000 metres:
German distance running star Konstanze Kosterhalfen won the women's 5000 metres gold medal in 14:50. 47 in front of her home fans. Klosterhalfen bounced back from the disappointment of finishing fourth in the 10000 metres at this edition of the European Championships.
Yasemin Can won the silver in 14.56.91. The Turkish athlete was seeking her second European double medal in the 5000 and 10000 metres four years after her triumphs over both distances in Amsterdam 2016.
Eilish McColgan claimed the bronze medal in 14:59.34. The British runner has won two Commonwealth Games medals in Birmingham (gold in the 1000m and silver in the 5000m) and two Euroean Championships medals in Munich (silver in the 10000m and bronze in the 5000m).
Konstanze Klosterhalfen: "The audience carried me so much. After two difficult years, it's amazing to win a gold medal at European Championshios on home soil. I have tears of joy. I am on cloud nine. I have no words to descrive my feelings. It is a dream come true. The crowd gave me everything"
Women's heptathlon:
Nafissatou Thiam started the second day wit 4063 points, just eight points down on her first day score at the World Championships in Eugene, where she won her second gold medal setting the second score of her career with 6947 points. Thiam scored the third best performance on the world all-time list when she won at the Hypo Meeting in Goetzis in 2017 with 7013 points.
Thiam opened the long jump with 6.08m in the first round and made fouls in the second and third rounds. Thiam is no longer on target to break the championship record set by Jessica Ennis Hill in Barcelona with 6823 points in Barcelona 2010.
Thiam was ranked first in the overall ranking with 4937 points maintaining a lead of 99 points over her compatriot Noor Vidts, who leapt to 6.31m, missing her seasonal best by two cm.
Anouk Vetter jumped 6.27m, but she withdrew from the competition due to an Achilles tendon injury.
Anouk Vetter: "I felt some pain after the long jump and during the warm-up for the javelin it got worse. It looks like it was too early for me to compete again after the World Championships".
Thiam threw the javelin to 48.89m to take her total tally to 5776 points. She built a gap of 172 points over Swiss record holder Annik Kaelin, who leapt to 6.73m in the long jump and 46.72m in the javelin throw. Adrianna Sulek maintained her third spot wit 5560 points after marks of 6.55m in the long jump and 42.80m in the javelin. Vidts was ranked fourth with 5497 points after her throw of 41.82m in the javelin.
Thiam crossed the finish-line in 2:17.95 to win her second consecutive European heptathlon gold medal with 6628 points. Adrianna Sulek from Poland won the silver medal with 6532 points. Annik Kaelin from Switzerland improved her national record to 6515 points ro claim the bronze medal.
Thiam completed the second full set of major heptathlon titles, as she won Olympic, world and European gold medals twice in her career.
Nafissatou Thiam: "I am very happy because I was quite exhausted after the first day. I didn't think I could beat European record because the first day was perfect. But the second day was really difficult for me. I had pain all over my body, but I still managed to give my best. I am very happy that I have won World, Olympic and European title in less than one year. I am double Olympic, double world and double European champion"
Women's long jump:
Serbia's Ivana Vuleta set a seasonal outdoor best of 7.06m in the opening round to win her second European outdoor gold medal. The Serbian star has recorded the longest jump at the European Championships since 1998. Vuleta had won the world indoor title last March on home soil in Belgrade with the same mark of 7.06m. Vuleta produced a second best jump of 6.98m in the second round before three consecutive fouls. She passed on her final attempt.
Malaika Mihambo leapt to 7.03m in the second round to win the silver medal in front of her home fans. Her preparation for the European Championships was affected by a bout of covid on her return home at the World Championships in Eugene, where she won her second consecutive world outdoor gold medal with 7.12m.Mihambo ended the competition with a 6.99m jump in the sixth round.
Maryna Beck Romanchuk was ranked in third position with 6.76m, but British long jumper Jazmin Sawyers overtook the Ukrainian jumper with a 6.80m jump in the sixth round to clinch the silver medal. Beck Romanchuk displaced Sawyers from podium four years ago when the European Championships were held in the Olympic Stadium in Berlin.
The same medallists reached the podium in the edition of the European Championships in Amsterdam 2016 when Vuleta beat Sawyers and Mihambo.
Ivana Vuleta: "This was one of the strongest and most beautiful competitions of my career. I love jumping in the rain., so it was not a problem for me today. This year I have won the world indoors and now the European outdoor title. The only one missing was the medal from Eugene. I had a good jump there but it was a slight foul. These kind of fouls motivate me. It was not an option to come here and fail to win, even if it was Malaika's home soil"
Malaika Mihambo: "Ivana did a great competition, jumping 7.06m. It made it a hard competition. I had to fight. I am relieved that I was able to come here and compete so well.The crowd was on fire. I loved it".
Men's high jump final:
Olympic high jump champion Gianmarco Tamberi won his second European gold medal with 2.30m. Tobias Potye claimed the silver medal with 2.27m beating world bronze medallist Andy Protsenko on countback.
After a delay of 30 minutes due to rain Tamberi put on a big show and jumped 2.23m and 2.27m on his first attempt before clearing 2.30m on his second attempt.
Potye, who won the European Under 20 title in Rieti 2013, had a clean sheet until 2.27m before failing three attempts at 2.30m Protsenko needed three attempts to clear 2.23m before jumping 2.27m at the first time of asking. The Ukrainian jumper failed two attempts at 2.30m and one remaining try at 2.32m.
Gianmarco Tamberi: "It was an amazing night. I felt the vibe inside me because of the crowd and because of the atmosphere. It was amazing. I said that we could really jump high. Everyone in the stadium became part of the competition, just by the way they were supporting us. My goal is to try and involve everyone, so they can have fun, because they paid for a ticket to have fun and be part of the competition. I missed a chance at the World championships in Eugene. Of course the Paris Olympic Games is my second goal, but to win the gold the World Championships means that I have medalled in all competitions".
Men's hammer throw;
Wojciech Nowicki from Poland won his second consecutive European title in the men's hammer throw setting the world seasonal lead with 82.00m in the fifth round. The Polish thrower threw three more times over the 80 metres (80.90m, 80.91m and 80.66m). Bence Halasz improved his PB to 80.92m to win the silver medal. Olympic silver medallist Elvind Heniksen claimed bronze medal with 79.45m. Pawel Fajdek, who won his fifth world title in Eugene, had to settle with fourth place with 79.45m in a very competitive final.
Men's semifinals 200 metres:
Zharnel Hughes from Great Britain won the first men's 200 metres semifinal setting the fastest overall time with 20.19. Joshua Hartmann secured her spot in the final with his second place in a PB of 20.33. Fresh world under 20 champion Blessing Afrifah reached the final as the fastest non-automatic qualifying time of 20.36.
Charles Dobson won the second semifinal in 20.21 ahead of defending European champion Ramyl Gulyev (20.44).
Olympic 4x100 gold medallist Filippo Tortu claimed the win in the third semifinal in 20.29 holding off Nethaneel Mitchell Blake (20.34).
Women's 200 metres semifinals:
Reigning European champion Dina Asher Smith won the second semifinal setting the fastest overall time with 22.53. Lieke Klaver from the Netherlands reached her second final at these Championships with 22.62 after finishing sixth in the 400 metres. Alexandra Burgharrdt from Germany and Dalia Kaddari from Italy were the fastest non-automatic qualifiers clocking 23.05 and 23.06.
Swiss record holder Mujinga Kambundji cruised to a comfortable win in the third semifinal in 22.76.
Men's 400 metres hurdles semifinals:
Olympic champion and world record holder Karsten Warholm won the second semifinal in the 400 metres hurdles setting the fastest time with 48.38. Warholm beat Ludvy Vaillant from France (48.52). World Championships fourth placer Wilfried Happio and 2016 European champion Yasmani Copello won the other two semifinals clocking 48.89 and 49.34 respectively.
Karsten Warholm: "At the last hurdle I was just slowing down my pace and missed some steps. I had it under control. The atmosphere here is amazing. I have been watching it from my hotel room. There is German hurdler Joshua Abakiu in the final, so I am sure that will help with getting the crowds going tomorrow".
Semifinal Women's 400 metres hurdles:
Olympic bronze medallist Femke Bol cruised through to a comfortable win in the women's 400 metres hurdles semifinal in 53.73 just a few hours after winning the 400 metres gold medal in a European leading lime of 49.44. Bol beat Ukraine's Anna Ryzhykova (54.25). Italian record holder Ayomide Folorunso qualified with the second fastest non-automatic qualifying time of 54.98.
-->