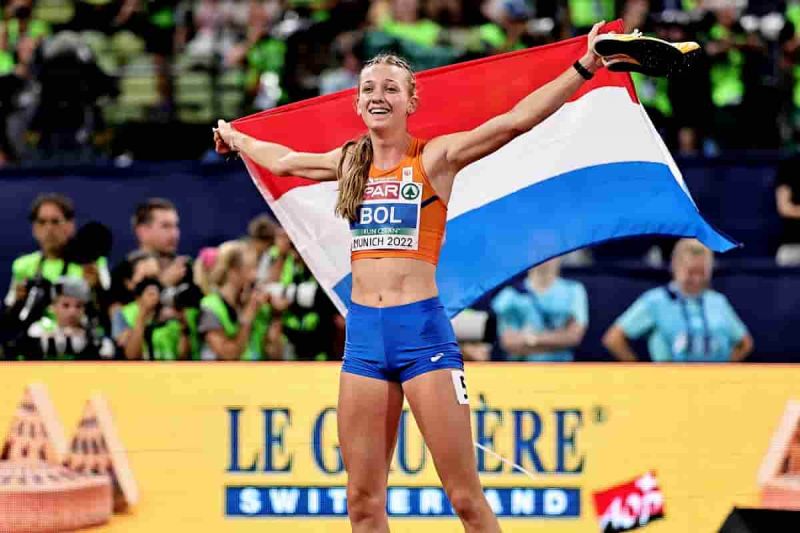 There were four finals on day four at the European Athletics Championships in Munich; Men's and women's 400m finals, men's 110m hurdles final, and men's triple jump final.
Women's 400 meters:
Femke Bol from the Netherlands won the women's 400 metres final improving her own Dutch record and the European leading time to 49.44. Bol has won her third international medal following the European Indoor title in Torun 2021 and the world indoor silver in Belgrade 2022.
Natalia Kaczmarek from Poland also broke the 50 seconds barrier to win the silver medal in 49.94 ahead of her compatriot Anna Kielbasinsska (50.29).
Bol entered the final straight with a slight lead over Klaver and Kaczmarek, but she pulled away to improve her PB by 0.31. She set her previous national record of 49.75 in the Wanda Diamond League meeting in Chorzow on 6 August. Kaczmarek, who trains with Bol in Papendal, clocked 49.86 in the same Chorzow race becoming the first Polish to run the 400 metres under 50 seconds since Irena Szewinska.
The Dutch star set the fastest winning time since 1986, when Marita Koch won her third consecutive European gold medal in 48.22.
Bol will return to the track on Thursday morning for the semifinals of the women's 400 metres hurdles.
Femk Bol: " I think the 400 metres was harder than the 400 metres hurdles.It wasn't until after the race that I realized that it wasn't such a close race. I won by half a second and with a big PB. I felt confident and strong. I know I won't sleep a lot tonight, so tomorrow's 400m hurdes semifinal is going to be tough"
Men's 400 metres:
Matthew Hudson Smith from Great Britain successfully defended his European 400 metres title in 44.53.
Hudson Smith completed a full set of international medals this summer following the world bronze in Eugene and the Commonwealth Games silver in Birmingham. He became the third British 400m sprinter to win two consecutive titles in the 400m after Roger Black (Stuttgart 1986-Split 1990) and Martyn Rooney (Zurich 2014 and Amsterdam 2016).
Matthew Hudson Smith: "It's great to be here and get the job done. All I wanted was to defend my title"
Ricky Petrucciani from Switzerland won the silver medal equalling his PB with 45.03, just 0.04 off the national record held by Mathias Rusterholz.
Ricky Petrucciani: "To get a silver medal is incredible. When I crossed the finish-line, I could not believe it. I thought: 'Impossible'.
Alex Haydock Smith won a very close bronze medal in 45.17 holding off Liiemarvin Bonevacia by 8 thousandths of a second.
Alex Haydock Smith: "I saw angels and demons in the final stretch in the semifinals. Today I have seen angels mostly. I did not know if I had won a medal when I crossed the finish-line. I had to see the results on the screen. It made me so happy".
Men's 110 metres hurdles:
Spain's Asler Martinez and Pascal Martinot Lagarde lunged at the finish-line together in the men's 110 metres hurdles.. Martinez won the European gold medal by just one thousandth of a second in 13.14. Frenchman Just Kwaou Mathey won the bronze medal in in 13.33. World under 20 champion and record holder Sasha Zhoya tripped on the final hurdle and finished last
Asler Martinez: "This means a lot. I was running next to some great athletes, and it was a great battle on the track. This was a reward for all of those who support me. This is very special because I was running against Pascal Martinot Lagarde, who is a force to be reckoned with".
Women's pole vault:
Wilma Murto won the women's pole vault setting the championship record of 4.85m. Two-time European champion Ekaterini Stefanidi set a seasonal best of 4.75m to claim the silver medal on countback over Tina Sutej, who won her second bronze medal this year after finishing third at the World Indoor Championships.
Wilma Murto: "After the World Championships, I felt like there is so much more to come, so I am thankful now. This competition was great. My dreams came true. I knew it had been in me for a long time and I just needed this day to come".
Women's hammer throw:
Bianca Florentina Ghelber from Romania led from the first round with 72.22m. She maintained the lead and increased her winning mark to 72.72m in the sixth round. Ewa Rozanska won the silver medal with 72.12m. Italian record holder Sara Fantini claimed the bronze medal with 71.58m.
Bianca Florentina Ghelber: "I am very happy that I won a gold medal because my family is here with me. I had all throws over 71 metres. This was very important for me".
Sara Fantini: "This season was surprise after surprise. It was an amazing season for me. This medal is the top. I achieved two Italian records. I am very happy to get here. I came here to win a medal. I have to admit that I hoped to do better because of my qualification mark. I am very proud of my team, my teammates and my coach. This medal means a lot to me".
Men's triple jump final:
Pedro Pablo Pichardo from Portugal leapt to 17.50m in the second round to win the European gold medal completing the Grand Slam of titles after the Olympic title in Tokyo with 17.98m and the World title with 17.95m.
Pedro Pablo Pichardo: "I want to say thank to the Portuguese people for all the support. I am happy with the gold medal. It looks easy but it is not. This is the result f my had work. My dream is continue winning titles. Jonathan Edwards was my age when he broke the word record. My season is not over yet. I am going to keep trying to do a very good jump. This was a good title to achieve, and one I was looking forward to achieve."
Andrea Dallavalle won the silver medal with 17.04m in the fifth round one month after finishing fourth at the World Championships in Eugene.
Andrea Dallavalle: "I had two faults in the first two jumps, so I made my life really difficult. I had to show a good jump, not pushing too much to avoid a third foul. After the third jump of 16.81m I knew I had a good chance to get a medal. I tried to push the full mode, ad it came, this very special silver medal. I knew the fault jumps were very far, but they wee just fault. I had to push until the end and the silver was the best performance I could have achieved tonight"
Jean Marc Pontvianne from France claimed bronze medal with 16.94m in the third round beating Tobia Bocchi from Italy (16.79m).
110 metres hurdles semifinals:
European Under 23 champion and world bronze medallist Aslar Martinez won the first semifinal in the 110 metres hurdles in 13.25..
Reigning European champion Pascal Martinot Lagarde won the second semifinal with 13.35 ahead of Swiss record holder Jason Joseph (13.45).
Enrique Llopis from Spain improved his PB to 13.30 to win the third semifinal in 13.30 ahead of world under 20 record holder Sasha Zhoya (13.46).
Women's heptathlon:
Belgian star Nafissatou Thiam ended the first day as the overninght leader with 4063 points ahead of her compatriot Noor Vidts (3849 points) and Anouk Vetter from the Netherlands (3824 points).
Annik Kaelin from Switzerland won the 100 metres hurdles in 13.23 beating world indoor champion Noor Vidts (13.29) and two-time Olympic and world champion Nafissatou Thiam (13.34).
Thiam set a championship record by clearing 1.98m in the high jump. The Belgian star added one cm to her own event record set in Zurich in 2014.
Thiam has brought her tally to 2285 points and leads by almost 200 points over Vidts (2097 points) and world indoor silver medallist Adrianna Sulek from Poland (2080 points).
Thiam threw 14.95m to maintain her lead with 3143 points. Sulek moved into second place with 2886 points with a throw of 14.18m. Sulek was just four points clear of Vidts, who wh finished ninth in the shot with 13.86m. Anouk Vetter moved to fourth with 2843 points with herthrow of 15.68m.
Carolin Schaefer won the opening heat in the 200 metres with 24.16. Thiam finished third with 24.64. Vetter clocked the fastest overall time with 24.00 beating Swiss heptahlete Annik Kaelin (24.14). With this result Vetter moved up to third in the overall standing.
Men's discus throw qualifying round :
World champion Krjstian Ceh threw the discus to 69.06m in the qualifying round to improve the championship record of 68.87m set by now retired discus thrower Piot Malachowski with 68.87m in 2010.
Ceh could become the first athlete to throw beyond the 70 metres barrier in the history of the European Chhmpionships. This year the Slovenian thrower improved his national record to 71.27m at the Wanda Diamond League meeting in Birmingham and threw over the 71 metres twice more with 71.23m in Szekesfehrvar and 71.13m at the World Championships in Eugene.
Krjstian Ceh: "My coach told me that I am in still in very good shape even after the World Championships. I don't have that good feeling but I still managed to throw a secure throw, which is also a championship record. Aftter winning the world title I hope to win a European title too, so I can throw even further in the final".
In the final Ceh will take on Lithuanian discus throwers Andrius Gudzius (66.70) and Mykolas Alekna (65.48m) and Olympic champion Daniel Stahl from Sweden (66.39m).
Women's triple jump qualifying round:
Neele Eckard Noack from Germany set the best qualifying mark in the women's triple jump with 14.53m. Olympic silver medallist Patricia Mamona from Portugal and Maryna Beck Romanchuk from the Ukraine also reached the final easily with 14.45m and 14.36m respectively.
Women's 400 metres hurdles:
Carolina Krafzik from Germany set the fastest qualifying time in the women's 400 metres hurdles with 54.32 to win the third heat ahead of 2017 European Under 20 champion Yasmin Giger from Switzerland (56.69). Krafzik, who set a seasonal best of 55.73 before these championships, moved up to fifth on the European seasonal list.
Carolina Krafzik: "The order of my coach was to run a PB, to show what I am capable of doing, This will give me a good position for the semifinal. I also wanted to know how my shape is. The heat was very impressive. I was not aware that I was 30 metres ahead of the others. The goal was to get a PB. The atmosphere is great. I am enjoying it very much".
-->