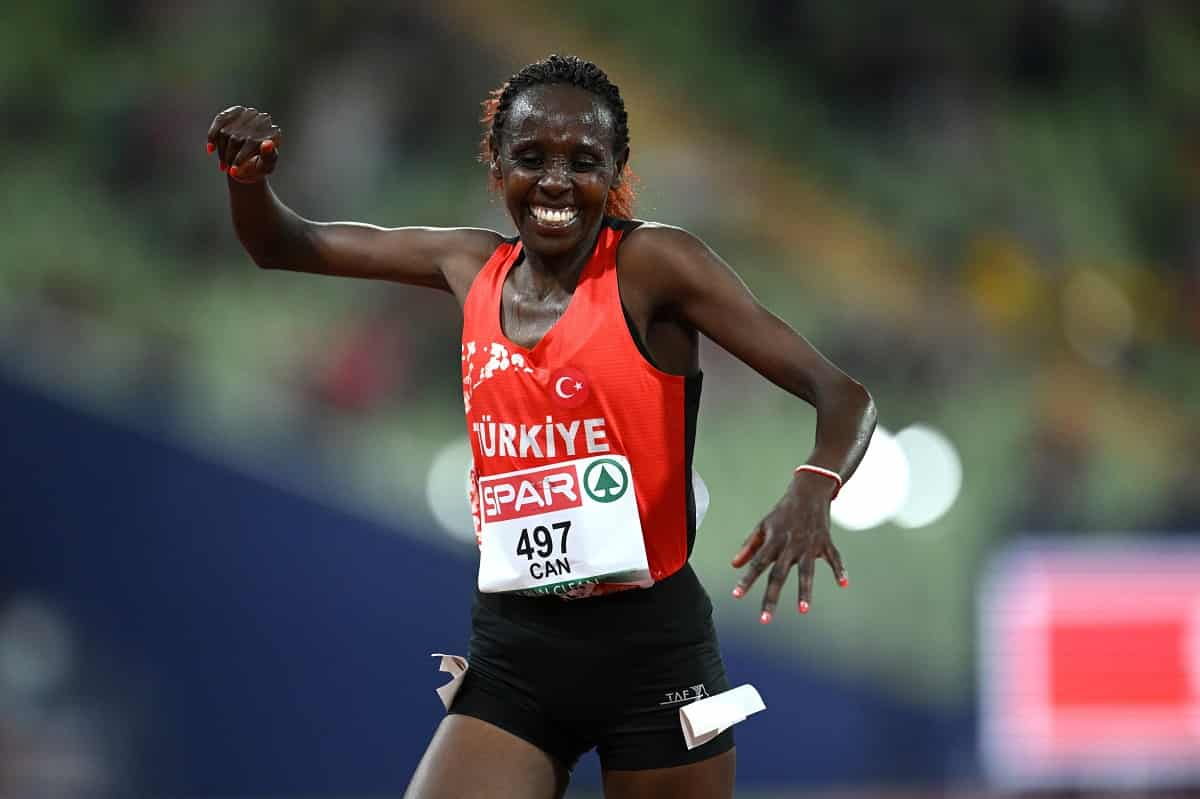 Yasemin Can from Turkey won her second European gold medal in the 10000 metres on the opening day of the European Athletics Championships at the Olympic Stadium in Munich. The Turkish athlete of Kenyan origin broke away with seven laps to go.
Can, who had scored the 5000m/10000m double at the European Championships in Amsterdam 2016, crossed the finish-line in 30:32.57 to finish ahead of Eilish McColgan, who won the European silver medal in 30:41.05 two weeks after claiming gold at the Commonwealth Games in Birmingham. The Scottish runner, who is the daughter of former 10000m world champion Liz McColgan, ran neck and neck with Israel's Lonah Salpeter for seven laps before pulling away with 200 metres to go.
Salpeter claimed bronze medal in a national record of 30.46.37 one month after finishing third in the marathon at the World Championships in Eugene. Germany's Konstanze Klosterhalfen finished fourth in 31:05.21 beating Selamawit Teferi, who set her PB of 31:34.03. Teferi is the wife of Maru Teferi, who won the European silver medal in the marathon on the inaugural day of these European Championships.
Yasemin Can: "It is very important result for me because I did not start at the World Championships, so I am hungry for competition. I want to try the double in the 5000 metres. I was starting the kick at 3000 metres. I was worried they will get over me, but I had a good feeling and I managed it. This year is really good for me. We will see what is coming up for me".
Men's shot put:
Filip Mihalievic from Croatia improved his seasonal best 21.88m in the sixth round to win the European gold medal in the men's put. Mihaljevic wn the second medal for Croatia today after Matea Pavlov Kostro's second place in the women's marathon.
Armin Sinancevic from Serbia led from the first round with 21.07m and improved to 21.24m in the third round. Mihaljievic moved from fifth to first with 21.27m in the third round and extended his lead to 21.53m in the fourth round and 21.88 in the sixth round.
Filip Mijalievic: "I have been working hard all year and it paid off. It was a tough competition, and very emotional. It was a tactical event, mentally and my mind was strong. It was a great battle. I gave it my absolute everything".
Tomas Stanek moved to second place with 21.26m in the fourth round.
Sinancevic produced his best throw of the day with 21.39m in the fifth round to overtake Stanek and backed up this result with 21.32m in his sixth round. Nick Ponzio from Italy placed fourth with a best throw of 20.98m in the fifth round beating reigning European champion Michal Haratyk (20.90m), Konrad Bukowiecki from Poland (20.74m) and Leonardo Fabbri from Italy (20.72m).
Women's shot put:
Jessica Schilder from the Netherlands won the European gold medal in the women's shot put setting her 11th eleventh national record of the season with 20.25m.
Last year's European Indoor champion Auriol Dongmo from Portugal won the silver medal with a national record of 19.82m. Jorinde Van Klinken won the second medal for the Netherlands by finishing third with 18.94m just a few hours after competing in the discus throw qualifying round.
Schilder took the lead with 19.47m in the first round before improving her Dutch record of 19.84m she set in the Diamond League meeting in Chorzow on 6 August.
Jessica Schilder: "This is really like a dream. I did not expect this to happen at the end of the season. I did not expect it tonight because the qualification in the morning did not go so well. I just needed a little more, an extra push, and it happened. I am especially happy for Jorinde, as she she did a great job. I am so excited the podium with her".
Men's marathon:
German marathon runner Richard Ringer won the gold in the men's marathon at the Odeonsplatz in Munich on the first day of the 2022 European Athletics Championships.
Ringer overtook Israel's Maru Teferi in a dramatic sprint in the final 20 metres to cross the finish-line in 2:10:21. Teferi claimed silver medal in 2:10:23. Israel's Gashaw Ayale took bronze medal in 2:10:29 ahead of Germany's Amanal Petros (2:10:39). Nicolas Navarro from Spain finished fifth with 2:10:52 ahead of Yimer Getahun.
Israel won the team gold medal with the aggregated time of 6:31:48 ahead of Germany (6:35:52) and Spain (6:38:44).
Richard Ringer: "I would have never thought that this team spirit could be strong and help so much, like at 35 km and 36 km, with all the pain you feel. Every marathon is a surprise. I am the champion of Europe. I started as a 5 km runner. This is why I finished strong"
Women's marathon:
Poland's Alexanda Lisowska won the European gold medal in the women's marathon gold medal in 2:28.36. Lisowska had a gap of 11 seconds at 41 km, but Matea Pavlov Kostro reduced her gap to six seconds to win the silver medal in 2:28:42. Former hockey playet Nienke Brinkman claimed the bronze medal edging Miriam Dattke with the same time of 2:28:42 in the final sprint.
German won the team gold medal with a total time of 7:28:48 ahead of Spain (7:39.25) and Poland (7:40.54).
Alexandra Lisowska: "Before the race, I did not believe this could happen and I still cannot believe it right now that I am the European Champion, even though I was fully prepared for this and I knew I was considered as one of the favourites, especially after setting the Polish record last year".
Men's decathlon:
World champion Kevin Mayer slowed to a jog in the third 100 metres heat and crossed the finish-line in 11.67 and decided to withdraw from the competition. Mayer made three fouls in the long jump in Berlin 2018 and bounced back one month later with a world decathlon record in Talence.
Kevin Mayer: "It's really hard to do two decathlon in three weeks. I did everything I could to be competitive again but I stopped before the injury happened. I could feel it growing and growing. I gave a lot to become the world champion. I did not expect to win there. It was a bonus and it gave me the chance to come here and be competitive. I took my shot. I did not want to miss it but even before Eugene I had a little strain in my leg"
Ehammer won the 100 metres in 10.56 before setting a championship record of 8.31m in the long jump one month after the bronze medal in this discipline at the World Championships in Eugene with 8.16m. Two-time European decathlon champion Daley Thompson set the previous best decathlon performance with 7.93m in Stuttgart 1986. Ehammer was just 14 cm off the decathlon world best of 8.45m he set when he finished third at the Hypo Meeting in Goetzis. The world indoor silver medallist scored 2102 points after the first two events.
Italian indoor record holder Dario Dester was ranked second with 1828 points after 10.81 in the 100 metres and 7.46m in the long jump. Dester improved his PB to 14.56m in the shot put to close the gap on Ehammer to 246 points after three events. Ehammer threw to 14.24m to take his total score to 2845 points. Dester scored a total tally of 2591 points.
Ehammer finished second in the high jump with 2.08m and won the 400 metres in 47.40 to end the first day with 4661 points. Dester is ranked second with 4327 points after clearing 2.02m in the high jump and running the 400 metres in 47.90. Dester has scored 49 points more than in the first day of the Multistars in Grosseto, where he set his PB of 8109 points. Sander Skotheim is ranked third with 4324 points. The Norwegian athlete won the high jump with 2.11m and produced 10.98 in the 100m, 7.56m in the long jump, 13.65m in the shot put and 48.27 in the 400 metres.
Men's triple jump:
Olympic and world champion Pedro Pablo Pichardo set the best qualifying mark of 17.36m. Emmanuel Ihemeje from Italy leapt to 17.20m coming close to his PB by just six cm. Italy also placed two more jumpers in the final. Andrea Dallavalle needed just one jump of 16.83m into a headwind of -1.3 m/s to reach the final with the fourth best mark. Tobia Bocchi completed a great day for Italian triple jump by qualifying with 16.55m into a strong headwind of -2.6 m/s.
Men's 1500 metres heats:
Olympic 1500m champion Jakob Ingebrigtsen started his title defence in the 1500m heats by winning his heat in 3:38.48 ahead of Ismael Debjani (3:38.96) and Ignacio Fontes (3.39.00). Michal Rozmys claimed the second heat in 3:37.36 holding off Pietro Arese from Italy (3:37.96) and Neil Gourles from Great Britain (3:38.07).
Men's 400 metres heats:
Leonard Spitz won the first heat in 45.46. Italian record holder Davide Re took the win in the second heat with the fastest qualifying time of 45.26 edging his training partner Ricky Petrucciani from Switzerland by just seven thousandths of a second. Benjamin Lobo Vedel from Denmark won the the third heat with a national record of 45.50. Thomas Jordier from France won the fourth heat in 45.39. Pavel Maslak qualified with his seasonal best of 45.92.
Women's 400 metres heats:
Iga Baumgart Wigan from Poland set the fastest qualifying time with 51.09m, followed Amandine Brossier from France (51.26) and Laviai Nielsen from Great Britain (51.60).
Women's pole vault:
Reigning European outdoor champion Ekaterini Stefanidi needed three attempts to clear the opening height of 4.40m before securing her spot in the final with a first-time clearance at 4.50m.
Men's long jump qualifying round:
Olympic champion and defending European champion Miltiadis Tentoglou did not reach the automatic qualifying mark of 8.05m, but he got through with a leap of 7.94m. World indoor silver medallist Thobias Montler set the best qualifying mark of 8.06m.
-->