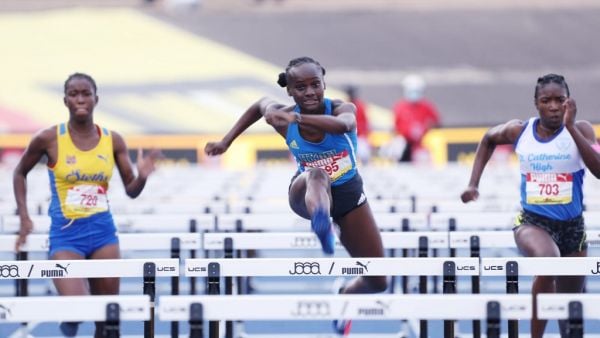 Jamaica's Kerrica Hill won the gold medal in the 100 metres hurdles setting a championship record of 12.77 on the final day of the World Under 20 Championships at the Pascal Guerrero Stadium in Cali. Hill moved up to fifth on the world all-time list. Hill's compatriot Alexis James improved her PB to 12.87 to claim the silver medal. Anna Toth from Hungary took the bronze medal setting a national record of 13.00.
Hill, a student at Hydel High School, ran the third leg of the Jamaican team, who won the 4x100 relay gold in a world-leading time of 42.59.
Kerrica Hill: "I did not expect a championship record. I expected some records but I was just focused on winning. My success last night was inspiring because it helped me come out here and do my very best".
Hill's win crowned a very successful edition for the Jamaican team, that placed second in the medal table behind the United States with a total of 16 medals (six gold, seven silver and three bronze). Jamaica dominated women's sprint with the wins achieved by Tina Clayton in the 100 metres, Brianna Lyston in the 200 metres and in the 4x100 relay.
Ethiopia won four medals in the space of just 65 minutes on the final day in the women's 1500 metres, in the men's 800 metres, in the women's 5000 metres and in the men's 3000 metres steeplechase.
Women's 1500 metres:
Birke Haylom claimed the women's 1500 metres in a championship record of 4:04.27, beating Brenda Chebet and defending champion Purity Chepkirui, who improved their PBs to 4:04.64 and 4:07.64 respectively.
Birke Haylom: "It's the first time I won a medal for my country. It's a huge honour for me".
Men's 800 metres:
Ermias Girma from Ethiopia won the metres 800 metres in 1:47.36 a few days after finishing second in the 1500 metres. Girma improved his PB to 1:44.36 in Lokeren earlier this summer. Heithem Chenitef won the silver medal in a lifetime best of 1:47.65. Ethan Hussey from Great Britain took bronze in 1:47.65 holding off Kacper Lewalski (1:47.84). Pre-event favourite Noah Kibet from Kenya, who finished third at last year's World Under 20 Championships in Nairobi and won the world indoor silver medal in Belgrade last March, had to settle with seventh place with 1:48.50.
Women's 5000 metres:
Medina Eisa from Ethiopia won the women's 5000 metres in 15.29.71 edging her compatriot Melknat Wudu (15:30.06) and Uganda's Prisca Chesang (15:31.17). Agate Caune finished fourth in a lifetime best of 15:43.56.
Men's 3000 steeplechase:
Ethiopia claimed gold and silver in the men's 3000 metres steeplechase. Samuel Duguna launched his sprint to win the gold medal in 8:37.92 ahead of his compatriot Samuel Firewu (8:39.11).
Samuel Duguna: "I am elated. The weather conditions made the race a bit difficult. It was a bit hot, so when the race picked up, it was challenging. This medal is for my country, all the Ethiopian people".
Women's high jump:
Estonia's Karmen Bruus cleared 1.95m to win the women's high jump. Britt Weerman won the silver medal in a Dutch record of 1.93 beating European Under 18 champion Angelina Topic on a countback.
Bruus, who finished seventh at the World Athletics in Eugene with a lifetime best 1..96m at the age of 17, needed two attempts to clear 1.85m and 1.93m and trailed Topic and Weerman when the bar was raised at 1.95m. Bruus cleared 1.95m on her third attempt to win the gold medal.
Karmen Bruus: "That third attempt was a lot of pressure, but I did not change anything on it. I just gave all I had. That was enough".
Women's triple jump:
Uzbekstan's 15-year-old Sharifa Davronova set a PB and a world under 20 lead of 14.04m to claim the world under 20 gold medal. Sohane Aucagos from France won silver with 13.38m. Tiana Boras from Australia took third place with 13.30m.
Men's discus throw:
German's Marius Karges took a surprising win in the men's discus throw with 65.55m beating his compaMika Sosna, who had to settle with silver medal with 63.88. Sosna broke the world under 20 record last June with 71.37m. Karges overtook Sosna with a throw of 63.91m in the fourth round and extended his lead with 65.55m on the final round. Mykhaylo Brudin from Ukraine improved his PB to 63.30m to win the bronze medal.
Women's 4x400 relay:
The US team formed by Mekenze Kelley, Shawnti Jackson, Akala Garrett and Roisin Willis clocked 3:28.06 to claim gold in the women's 4x400 relay ahead of Jamaica (3:31.59) and Great Britain (3:31.86).
Men's 4x400 relay:
The US quarter formed by Steven McElroy, Ashton Schwartzman, Charlie Bartolomew and Will Summer won the gold medal in the men's 4x400 relay in 3:04.47 beating Jamaica (3:05.72) and Canada (3:06.50).
The US Team won the medal table with 15 medals (seven gold, four silver and four bronze) ahead of Jamaica (six gold, seven silver and three bronze) and Ethiopia (six gold, five silver and one bronze).