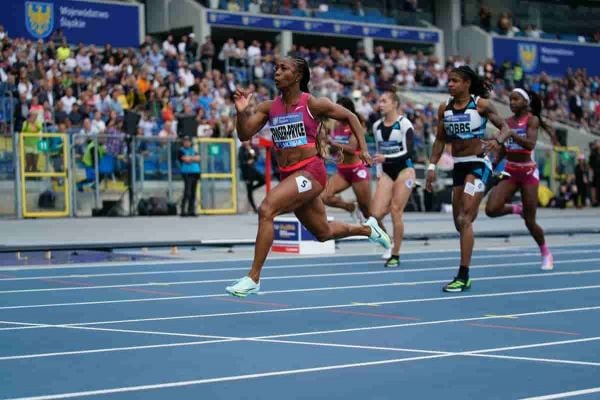 The Memorial Kamila Skolimowska at Silesia Stadium in Chorzow, the first ever Diamond League meeting to take place on Polish soil, was highlighted by nine meeting records and six Polish all-comers records.
Five-time 100m world champion Shelly Ann Fraser Pryce improved her fastest time in the world this year in the women's 100 metres by 0.01 to 10.66 to win for the second consecutive year on the blue track of the Slaski Stadium in Chorzow.
Shelly Ann Fraser Pryce: "I always come into races expecting to run fast. Last year I set a meeting record here. Now it is a Diamond League and it is a lot more competitive with many top athletes. I came here prepared it may be cold or raining, but it was not so bad. It actually got warmer later in the day. Last year I felt a lot of pressure on me and this year I decided to just have fun. It is amazing to be this consistent. I am always excited to compete and see what I can do".
Aleia Hobbs dipped under the 11 seconds with 10.94 to take second place ahead of Marie Josée Ta Lou (11.00). Gina Luckenkemper from Germany was the best European sprinter in fourth place in 11.10 ahead of Olympic 4x100 champion Briana Williams from Jamaica (11.11).
Women's 200 metres:
World 200 metres champion Shericka Jackson won the women's 200 metres in 21.84 ahead of world 400 metres champion Shaunae Miller Uibo from Bahamas (22.35) and world 4x100 gold medallist Jenna Prandini (22.39).
Shericka Jackson: "The race went according to plan. I just wanted to execute, focus on my lane and not look at what my rivals were doing. I approach all my races like that. I am not thinking about the world record".
Men's pole vault:
Pole vault world record holder Armand Duplantis from Sweden set the meeting record of 6.00m in the first attempt before clearing 6.10m at the third time of asking.
Armand Duplantis: "When I woke up today, I was like – it is a little unfortunate with the weather. Especially because the last two days, the temperature was like 32 degrees, sunny and warm. But it is as it is. It would be nice to have that today. I like the way I was able to jump today. I don't think I could have jumped very much higher today. I did not have enough speed to get even higher. The last one I had, it was a really good technical jump. I cannot complain at all. There are not so many places where it is colder and I still jump 6.10m. The 6.10m sounds nice. There was no special reason for this height. I was even surprised to jump 6.10m and I did not know how much higher I could go".
Sondre Guttormsen cleared 5.73m in his first attempt to take second place beating world bronze medallist Ernest John Obiena on countback.
Men's 400 metres hurdles:
World champion and Olympic bronze medallist Alison Dos Santos claimed his fifth Diamond League race of the season setting the meeting record of 47.80. Khalliffah Rosser took second place in 48.30 beating world championships fourth placer Wilfried Happio from France (48.74).
Alison Dos Santos: "We had some small celebrations after the World Championships, but nothing big because I still have some events ahead of me. I really want to win the Diamond Trophy"
Women's 400 metres:
World 400m hurdles silver medallist Femke Bol stormed to a win in the women's 400 metres improving the meeting record to 49.75. Bol also improved the Dutch record set by her friend and training partner Lieke Klaver with 50.18 at the World Championships in Eugene. Natalia Kaczmarek from Poland ran her first ever race under the 50 seconds to finish second in 49.86. Olympic and world finalist Candice McLeod took third place in 50.22.
Femke Bol: "It feels a bit strange now to run without the hurdles on the way, but it is amazing to break the 50 seconds barrier. I knew I had it in my legs, but it great to finally do it. Natalia pushed hard in the final metres and competition always helps you perform better. I don't know yet if I will do both the flat and the hurdles at the European Championships. I need to talk to my coach to decide on that. We still have a strong relay team and we want to do well in that after the disqualification in Eugene".
Women's 100 metres hurdles:
Olympic champion and world bronze medallist Jasmine Camacho Quinn set a meeting record of 12.34 to edge Olympic silver medallist Kendra Harrison (12.37). USA's Tia Jones and Poland's Pia Skrzyszowska improved their PBs to 12.49 and 12.51. Skzyszowska had previously won the heat in 12.58 beating Harrison (12.64) and Nia Ali (12.78)
Jasmine Camacho Quinn: "It was not technically my best race. I felt that I did not execute well, but I will take the win. The conditions were not the best, but that's the beauty of our sport. I have been having some issues with my Achilles tendon, so I ran in 400 metres spikes and bandages. I am not sure about the rest of the season, but I hope to continue competing"
Men's 100 metres:
World bronze medallist Trayvon Bromell claims his second win in this year's Diamond League season in 9.95. The US sprinter went to the top of this year's Diamond League standings. World silver medallist Marvin Bracy took second place edging Jamaica's Ackeem Blake with the same time of 10.00.
Trayvon Bromell: "It is my second year on the circuit and I am still learning. I try to be the best I can be. I didn't like my performance today too much, there were a lot of small details that could be improved. Being back on the circuit after the World Championships is just part of the job. I don't look at it as revenge for Eugene. The rest of the season I will just continue trying to improve".
Men's 400 metres:
World champion Michael Norman set a meeting record of 44.11 to score his second Diamond League of the season securing his spot in the Diamond League final. Three-time world championships medallist Kirani James from Grenada placed second in 44.55 beating world 4x400 relay champion Bryce Deadmon (44.68).
Michael Norman: "I controlled the race. I felt relaxed, pressure free, had fun. When I saw the atmosphere at the stadium, I was like wow. Pretty much like in Eugene. You could not hear the starter very much. It was a bit confusing, but it was fun. The next stop is Monaco. It is always nice to compete against the best athletes and Kirani is a big opponent"
Men's javelin throw:
Jakuk Vadlejch from Czech Republic threw the javelin to 86.68m in the fourth round to win his first Diamond League competition of the season. Julian Weber from Germany took second place with 84.94m in the second round.
Men's triple jump:
Andy Diaz won the men's triple jump with 17.53m in the second round to secure his qualifying spot for the Diamond League in Zurich. Diaz beat Olympic and world champion Pedro Pablo Pichardo, who leapt to 17.29m in the third round to finish second beating Zhu Yaming from China by 4 cm.
Andy Diaz: "I am very pleased with this performance. This is my first Diamond League win this summer. Despite the fact that it was cold, I was still able to jump as I was supposed to do. This was a very nice performance especially because I was able to manage the time and the momentum throughout this event. It is true that I did not have a good start, but I was able to do a good second jump and maintain my form after that. I really like the conditions and the atmosphere. It is a fast surface and I knew I could do something good. It had been great. I love it".
Women's shot put:
World Chase Ealey maintained her unbeaten streak in this year's Diamond League with a meeting record of 20.38m in the third round. Ealey had won three previous Diamond League competitions this season in Doha (19.51m), Oslo (20.13m) and Stockolm (20.48m).
Chase Ealey: "After the World Championships I felt it would be hard to be in top shape so soon and come right to my best. I remain motivated and I want to break the US record at the Diamond League final. The ring was wet after the rain today, but the conditions were not a big problem. I have always enjoyed coming here"
Jessica Schilder from the Netherlands improved her PB to 19.84m in the second round to take second place. Sarah Mitton followed her win at the Commonwealth Games in Birmingham earlier this week with a third place in Chorzow with 19.44m.
Men's shot put:
Tom Walsh was leading with a throw of 21.70m until the final round, when world and Olympic silver medallist Joe Kovacs threw 21.79m to overtake his rival from New Zealand. World bronze medallist Josh Awotunde threw 21.35m in the fifth round to take third place ahead of world championships finalist Nick Ponzio (20.81m).
Men's hammer throw:
Five-time world champion Pawel Fajdek set the Diamond League record with a throw of 81.27m in the second round to win the Polish clash against Olympic champion Wjchiech Nowicki, who produced a best throw of 79.19m in his fourth round.
Women's hammer throw:
USA's Janee Kassanavod went to the lead with a throw of 74.89m in the second attempt and maintained the lead until the final round, when world champion Brooke Andersen snatched the lead with a throw of 75.16m.
Women's 1500 metres:
Diribe Welteji from Ethiopia won the women's 1500 metres with a meeting record of 3:56.91 ahead of world 5000 metres champion Gudaf Tsegay (3:58.18) and Hirut Meshesha (4:00.93).
Women's 3000 metres:
Double Olympic 5000m and 10000m champion Sifan Hassan from the Netherlands claimed her first Diamond League race of the season in the women's 3000 metres with 8:39.27.
Women's 800 metres:
World Indoor champion Ajée Wilson chased down Sage Hurta on the home straight to score her first Diamond League win of the season in 1:58.28 securing her spot in the Diamond League final in Zurich.
Hurta finished second in 1:58.40 ahead of Eugene world championships finalist Anita Horvat, who improved her PB to 1:58.96. Elena Bellò from Italy equalled her PB to 1:58.97 to take fourth place.
Women's high jump:
Safina Sadullayeva from Uzbekhstan, who finished fifth at the World Championships in Eugene, cleared 1.92m in her first attempt to take the first Diamond League win of her career beating world indoor champion Yaroslava Mahuchik. Kateryna Tabashnik from the Ukraine took third place with 1.88m beating world bronze medallist Elena Vallortigara, Marija Vukovic, Iryna Gerashchenko and Nadezhda Dubovitskaya.
Mahuchik cleared 1.92m in her third attempt and opted to pass 1.95 before failing three attempts at 1.98m.
Men's long jump:
World Championships fifth placer Steffin McCarter set a meeting record of 8.09m in the first round, but Olympic champion Miltiadis Tentoglou moved to the lead with 8.13m in the fifth round. Maykel Massò leapt to 8.09m in the fourth round to take third place. There were no jumps over the 8 metres barrier in the Final 3 and Tentoglou sealed his third Diamond League win this season.
Women's javelin throw:
World bronze medallist Haruka Kitaguchi from Japan clinched her second Diamond League win this season with a throw of 65.10m in the last throw of the competition in the final 3. World record holder Barbora Spotakova improved her PB to 62.29m to take second place. Liveta Jasunaite from Latvia finished third with a throw of 61.79m in the first round.
-->