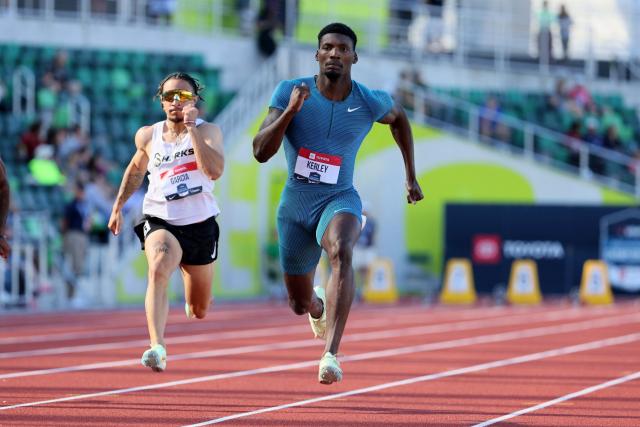 Olympic 100m silver medallist Fred Kerley clocked an easy 9.83 with a tailwind of +1.5 m/s in the second heat to set the fastest time of the 100 metres first round and a world leading time so far this year on Day One of the USATF Championships. Kerley improved his PB set in last year's Olympic final by 0.01. The Texas-born sprinter improved on the previous fastest time in the world this year set by Kenya's Ferdinand Omanyala with 9.85 in Nairobi.
Cravont Gillespie clocked the second fastest time with 10.07. Reigning world champion Christian Coleman won his heat in 10.08, but he does not need to run all three rounds at the USATF Championships in Eugene, as he has the bye as the reigning world champion in Doha 2019.
Watch USATF Outdoor Championships live stream
Christian Coleman: "I feel pretty good for a preliminary round and so I am pretty excited to try to put it all together tomorrow. Even though the 100m is the shortest race in track and field so it seems easy, I feel l like it's super hard. There are so many opportunities to mess up. You have got to be perfect at this level".
Brandon Carnes won the fourth heat in 10.10 edging out olympic 200m silver medallist Kenneth Bednarek with the same time. Micah Williams advanced to the semifinal after finishing third in 10.11.
Women's 100 metres heats:
The biggest upset of the first day of the USATF Championships came from the women's 100 metres where Sha'Carri Richardson crashed out of the heats after finishing fifth in the third heat in 11.31, the 23rd quickest time of all heats. Richardson, who clocked the fifth time in the world this year with 10.85 in New York, will have another chance to qualify in the 200 metres. Tamari Davis won this heat in 11.04 beating Jenna Prandini (11.18).
Aleia Hobbs ran the fastest time of the day with 10.88 beating Tamara Clark (10.94) and world 60m indoor bronze medal Marybeth Sant Price (10.99). Twanisha Terry won the second heat in 10.92 beating Celera Barnes (11.02) and Olympic seventh placer Teahana Daniels (11.05). Melissa Jefferson won the fourth heat in 11.04 holding off Brittany Brown by 0.02.
Final women's hammer throw:
Brooke Andersen threw to 77.96m in the fourth round to win the women's hammer throw ahead Janee Kassanavoid (76.04m) and Annette Echinwoke (73.76m). Andersen also produced her second best throw of 77.91m in the third round and two more throws over the 76 metres (76.30m and 76.14m). DeAnna Price, who has the bye as a reigning world champion in Doha, finished fourth with 73.07m.
Final women's long jump:
Quanesha Burks won the women's long jump with a wind assisted 7.06m in the opening round beating NCAA indoor and outdoor long and triple jump champion Jasmine Moore (6.80m) and Tiffany Flynn (6.69m).
Final men's discus throw:
Andrew Owens won the men's discus throw with 63.31m ahead of Dallin Shurts (62.32m) and Sam Mattis (62.25m).
Women's 800 metres:
Olympic champion Athing Mu ran away from the rest of the field and eased into the finish-line in the first heat in 2:01.24 in the 800 metres. Mu set the fastest time in the world so far this year clocking 1:57.01 in the Wanda Diamond League in Rome. This year's world indoor champion Ajée Wilson ran the fastest qualifying time of all heats clocking 2:00.37.
Women's 400 metres hurdles:
Last year's Olympic champion and world record holder Sydney McLaughlin cruised through to the next round by winning the first heat in 54.11 with a big gap on Ashley Spencer (55.79). McLaughlin set the fastest time in the world this year with 51.61 in Nashville.
Sydney McLauughlin: "That was a really good race just to see where my fitness was at because I hadn't raced in two weeks".
Reigning world champion and three-time Olympic medallist Dalilah Muhammad, who picked a harmstring injury, has received a waiver from the USATF exempting her from competing at the US National Championships this weekend and received her bye to the World Championships.
Men's 400 metres heats:
Olympic 4x400 relay champion Michael Norman ran the only sub-45 seconds time of the men's 400 metres clocking 44.72 beating Bryce Deadmon (45.31). Norman set the fastest time in the world this year clocking 43.60 at the Prefontaine Classic.
Randolph Ross, who won the NCAA title in 44.13, comfortably won the second heat in 45.66. The other two heats were won by Vernon Norwood with 45.34 and Elija Godwin with 45.42.
Women's 400 metres heats:
Thirteen-time world champion Allyson Felix won the first 400 metres heats in 52.30. Jayde Stepter clocked the fastest time of all heats with 51.05.
Allyson Felix: "It's tough. I think more than physically just mentally, emotionally all of that. That's the biggest struggle. It's bitter- sweet for sure. I feel so ready.I don't think I have anything left to give. When I start to feel that, I know it's time".
Men's 800 metres heats:
Donovan Brazier won the second heat setting the fastest time of the day with 1:46.49 despite a bursitis in his right foot. Brazier has a bye into the World Championships as the defending world champion.
High school senior Cade Flatt finished second in 1:46.53 to reach his first semifinal at a National Senior Championship.
Men's 1500 metres heats:
Last year's Olympic finalist Cole Hocker faded to sixth in the men's 1500 metres first heat in 3:39.57 and did not get through to the final. The former Oregon athlete led the race until the last 50 metres but he was overtaken by Yared Nuguse, Eric Holt, Reed Brown, Brett Meyer and Vincent Ciattei. Nuguse won the heat in 3:38.99 edging Holt by 0.01.
Women's 1500 metres heats:
Heather MacLean finished first in the first heat in 4:07.96 beating world indoor silver medallist Ellie St. Pierre and Hellen Schlachtenhaufen, who clocked the same time of 4:08.52. Sinclaire Johnson won the slowest heat in 4:14.43 ahead of Karissa Schweizer (4:14.80). Cory McGee took the win in the third heat in 4:10.39 ahead of Josette Noris (4:10.47).
-->