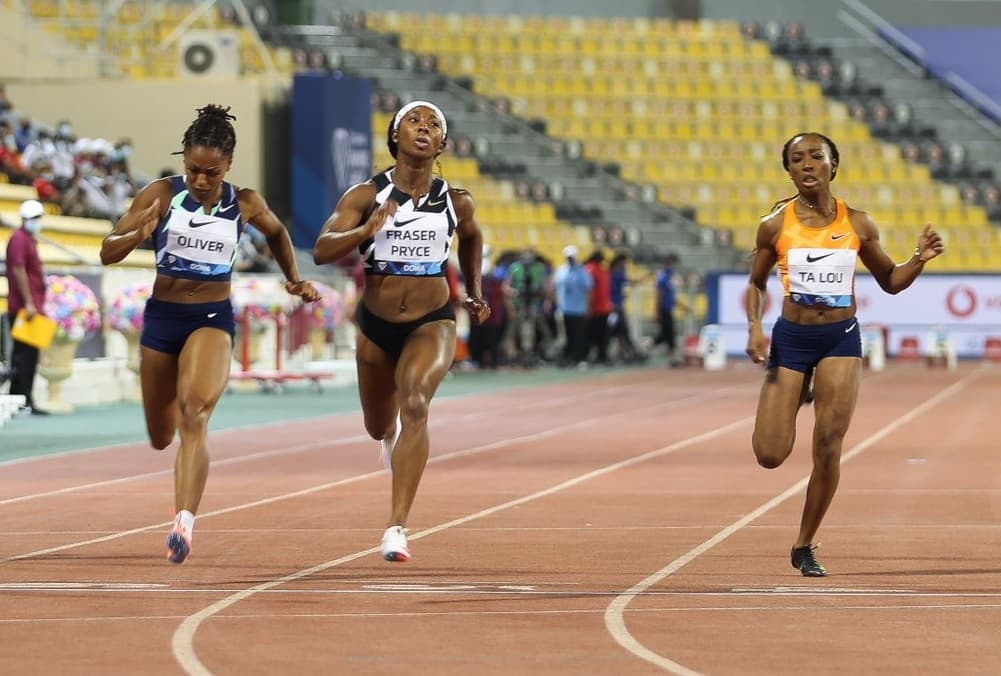 The Paris Diamond League meeting in the Charlety Stadium will be highlighted by Shelly Ann Fraser Pryce in the women's 100 metres, Devon Allen in the men's 110 metres hurdles, André De Grasse in the men's 200 metres and Yaroslava Mahuchik in the women's high jump.
Women's 100 metres:
Watch Paris Diamond League live stream
Jamaican sprint legend Shelly Ann Fraser Pryce will face Marie José Ta Lou, Ajla Del Ponte and Ewa Swoboda in the women's 100 metres on the fast Paris Charlety track.
Fraser Pryce won three Olympic gold medals and nine world titles, but she is still hungry for new goals. She won in the 100m in the Continental Tour Gold in Nairobi clocking the third-fastest time in her career, just seven-hundredths of a second off her PB of 10,60 in Lausanne last August. With this performance, she is the third-fastest sprinter in history behind Florence Griffith Joyner (10.49) and Elaine Thompson Herah (10.54).
The "Pocket Rocket" also won the 200 metres in 22.41 at the Prefontaine Classic in Eugene in her first appearance on the Diamond League circuit this year.
She gave birth to her first child in 2017 and came back by winning the 100m world title in Doha 2019.
Ta Lou is a familiar face to French athletics fans, as she was a member of the Stade Francais Paris and will receive support from the Ivorian Community. She won two world silver medals in the 100m and 200m in London 2017, the world indoor silver medal in the 60m in Birmingham 2018 and the world 100m outdoor bronze medal in Doha 2019. At the Olympic Games in Tokyo 2021 she equaled the African 100m record with 10.78 in the heats before finishing fourth in the final in 10.91.
Ewa Swoboda will make her debut on the Diamond League circuit this year one week after winning the Polish title in a wind-assisted 10.99. Swoboda broke the 7 seconds barrier clocking 6.99 in the 60m at the Polish Indoor Championships and finished fourth in 7.04 in the World Indoor Championships in Belgrade.
Olympic 4x100 relay bronze medallist Darryil Neita showed her good form this year by winning two Continental Tour 100m races in Hengelo in 11.19 and Turku in 11.10.
Ajla Del Ponte won the European Indoor Championships in 7.03 in the 60 metres in Torun last year and finished fifth in the Olympic 100m final in Tokyo after improving the Swiss record to 10.91 in the heats. She made her come back from injury with a wind-assisted 11.16 in Geneva last week.
The line-up is completed by 200m world finalist Gina Bass from Gambia, who won the African 100m title last week, and 2016 Olympic finalist Michelle Lee Ahye from Trinidad and Tobago, who won the 100m in the Continental Tour meeting in Bydgoszcz.
Men's 110 metres hurdles:
Devon Allen takes on the best French specialists. Allen set the third-fastest time in history in the 110m hurdles with 12.84 in New York last Sunday, missing Aries Merritt's world record by just 0.04. The hurdler from Arizona reached his second consecutive Olympic final in Tokyo finishing fourth and won the Diamond League title in Zurich last September. He finished the 2021 season with his first sub-13 seconds time in Zagreb where he clocked 12.99.
Allen is not the only hurdler with a sub-13 seconds time. Frenchman Pascal Martinot Lagarde will make his come back from a calf injury. Martinot Lagarde won the fourth world indoor medal of his career in the 60 metres hurdles when he finished second to Grant Holloway in Belgrade. The 30-year-old Frenchman won the European 110m hurdles in Berlin 2018, the world bronze medal in Doha 2019 and four European Indoor medals. He set the French outdoor record clocking 12.95 in Monaco in 2014.
The other French hurdlers lining up are Wilhelm Belocian, European Indoor gold medallist in the 60 metres hurdles in Torun 2021, and rising star Sasha Zhoya, who won the European Under 20 title in Tallin and the World Under 20 gold medal in Nairobi in 2021 setting the world under 20 record with 12.72. Zhoya will make his Diamond League debut one week after clocking 13.48 in Geneva in his second race over 106 cm hurdles. The French contingent is completed by Just Kwaou Mathey, who has already secured the qualifying time for the World Championships in Eugene by clocking 13.30 in Geneva last weekend.
The line-up is completed by 2018 world indoor champion and last year's Olympic finalist Andy Pozzi from Great Britain, Damian Czykier, who recently improved the Polish record to 13.25 at last week's National Championships, last year's European Under 23 champion Asler Martinez from Spain, Aaron Mallett, who clocked 13.22 in Turku, and Jason Joseph, European Under 23 gold medallist in 2019 and Swiss record holder with 13.12, and Rafael Pereira, who won the South American indoor title and clocked 13.28 in Chorzow this year. The heats will get underway at 20.11, while the final is scheduled at 21.44.
Women's 400 metres:
Shaunae Miller Uibo will compete in France for the first time since 2011 when she won the world under 18 title in Villeneuve d'Ascq near Lille in the 400m at the age of 17. The Bahamian star won two consecutive Olympic 400 metres titles in Rio 2016 and in Tokyo 2021 setting an area record of 48.36 and two world silver medals in Beijing 2015 and Doha 2019. In her first two Diamond League races of the season Miller Uibo finished third in the 400m in Doha in 51.84 and fourth in the 200m in 22.48 in Rome.
Miller Uibo will face a Polish trio formed by 400m European champion Justyna Swiety Ersetic, Natalia Kaczmarek and Anna Kielbasinska, who won the Olympic 4x400 silver medal in Tokyo with a national record of 3:20.53. Kaczmarek won the 400m in two Continental Tour Gold meetings in Ostrava in 50.16 and Chorzow in 50.40. Kielbasinska set her seasonal best of 50.38 in Ostrava.
Another athlete to watch is Fiordaliza Cofil from the Dominican Republic, who improved her PB to 50.38 at the Meeting Ibero Americano in Huelva in 50.38. Cofil will be looking to follow in the footsteps of her compatriot Marileidy Paulino, who won in last year's edition of the Paris meeting.
The hopes of French fans are carried by Tokyo Olympic semifinalist Amandine Brossier and 400 metres hurdles champion Shana Grebo.
Men's 400 metres:
World and Olympic champion Steven Gardiner will run his first Diamond League 400m race since 2019, when he won in Monaco. Gardiner set the sixth-fastest time in history clocking 43.48 at the World Championships in Doha 2019. Gardiner set his seasonal best of 44.22 in Baton Rouge on 23 April.
Gardiner will face 2018 European champion Matthew Hudson Smith, who clocked 44.35 in Eugene breaking the British record held by Iwan Thomas and could attack Thomas Schoenlebe's European record of 44.33 set in 1987.
Men's 200 metres:
Olympic 200 metres champion André De Grasse will chase his second consecutive Diamond League win this week just two days after claiming a close victory in the 100m in rainy conditions in Oslo in 10.05. De Grasse set the Canadian record of 19.62 in the Olympic final in Tokyo and finished second in the Diamond League in Zurich in 19.72. He will run in the Paris Diamond League meeting for the first time in his career.
De Grasse will face Luxolo Adams from South Africa, who finished second in two Diamond League races this season in Rabat and Rome, Benjamin Azamati from Ghana, who improved the national record of 9.90 in Austin last March, Italy's Olympic 4x100 relay champion Eseosa Desalu, who finished third in Rabat and fourth in Rome, Alexander Ogando from Dominican Republic, who won the 400m in Chorzow in 44.68 and set a 200m PB of 20.07 this year, Olympic 200m semifinalist Yancarlos Martinez, Frenchmen Mouhamado Fall and Amaury Golitin, who set his PB of 20.25 in Geneva last Saturday.
Women's 100m hurdles:
Last year's Diamond League champion Tobi Amusan starts as the favorite after setting her seasonal best of 12.57 set in Turku last Tuesday. The Nigerian hurdler will face this year's world indoor champion Cyrena Samba Mayela from France, who clocked a wind-assisted 12.72 in the Doha Diamond League meeting last May, double European indoor champion and Olympic finalist Nadine Visser from the Netherlands, European indoor silver medallist Cindy Sember from Great Britain, who finished fourth in Eugene in 12.69, European under 20 champion Ditaji Kambundji from Switzerland, who improved her PB to 12.77 in her home city Berne, Pia Skryszowska from Poland, who won the National Championships in her lifetime best of 12.62 last weekend, Laeticia Bapté from France, who clocked 12.80 in Geneva last weekend,
Men's pole vault:
Former Olympic champion Renaud Lavillenie will go up against Thiago Braz Da Silva, who won two consecutive Olympic medals (gold in Rio 2016 and bronze in Tokyo 2021). The pole vault is the traditional highlight of the Paris meeting.
Lavillenie won seven times at the Meeting de Paris in front of his home fans from 2009 to 2014 and in 2016, when this event was held at the Stade de France in St. Denis.
The other French vaulters in the field are Valentin Lavillenie, who won the European Indoor silver medal in Torun 2021 with 5.85m and finished fourth at the World Indoor Championships in Belgrade 2022 with 5.80m, 18-year-old Frenchman Anthony Ammirati, who won the European Under 20 gold medal in Tallin 2021, and Thibaut Collet, who improved his PB to 5.82m in Prague. Collet is coached by his father Phillippe, who set his lifetime best of 5.94m indoors in 1990.
Braz Da Silva cleared 5.91m in Rouen and won the world indoor gold medal in Belgrade with 5.95m.
The line-up features Ben Broeders from Belgium, who cleared 5.82m in Prague this year, Kurtis Marshall from Australia, Commonwealth Games champion in Gold Coast 2018, and Ersu Sasma from Turkey, who set the national record clearing 5.80m last week, and Harry Coppell, British record holder with 5.85m.
Women's high jump:
The women's high jump line-up features four women with a PB over the 2.00 metres barrier. World Indoor champion Yaroslava Mahuchik leads the line-up with her PB of 2.04m set at the World Championships, where she won the silver medal. The 20-year-old Olympic silver medallist will chase her third consecutive Diamond League win this season after claiming victories in Eugene with 2.00m and Rabat with 1.96m. The Ukrainian jumper is the only jumper to have cleared 2.00m this season.
Mahuchik will renew her rivalry against Tokyo Olympic silver medallist Nicola Olyslagers (née McDermott) from Australia, who won in Paris Charlety with 1.98m last year. Olyslagers set her seasonal best of 1.96m in Turku last Tuesday.
Double heptathlon Olympic champion Nafissatou Thiam will make her first appearance in the high jump this season. The Belgian star cleared the barrier twice in her career with 2.02m in Talence in 2019 and 2.01m in Goetzis in 2017 in two world-class heptathlon competitions.
The line-up also features Iryna Gerashchenko, fourth at the Olympic Games in Tokyo last year, Italy's Elena Vallortigara, who finished sixth at the World Indoor Championships in Belgrade with 1.92m and second to Olyslagers in Turku with her seasonal best of 1.94m, 2017 world champion Yuliya Levchenko and Katheryna Tabashnik from the Ukraine, 2010 world under 20 champion Marija Vukovic from Montenegro, who set her seasonal best of 1.95m this year, and France's Solène Giquel, a 1.90m performer and daughter of former high jumper Jean Charles Giquel, who won the European Indoor silver medal with 2.35m in Paris Bercy 1994.
Men's triple jump:
Three of the seven triple jumpers, who have leaped to over the 18 metres barrier, are lining up in Paris Charlety. Reigning Olympic champion Pedro Pablo Pichardo, who jumped a PB of 18.08m, will face Olympic and world bronze medallist Fabrice Zango from Burkina Faso, who set the world indoor record leaping to 18.07m in Aubière and is coached by former French triple jump star Teddy Tamgho. Zango set a seasonal best of 17.09m in Andujar and won the African title with a wind-assisted 17.34m last week.
Double Olympic champion and four-time world champion Christian Taylor will make his seasonal debut in the Diamond League after recovering from an Achilles tendon injury. The US star came close to Jonathan Edwards' world record when he won the world title in Beijing in 2015 with 18.21m and won his second consecutive Olympic gold medal in Rio de Janeiro 2016.
The Cuban contingent is represented by Jordan Alejandro Diaz and Andy Diaz, who hold the best two performances in the world with 17.76m and 17.64m respectively. The line-up is rounded out by the three best French triple jumpers Benjamin Compaoré, who set a seasonal best of 17.06m in Montgeron this year, 2017 European Under 20 bronze medallist Melvin Raffin and Jean-Marc Pontvianne.
Women's discus throw:
The women's discus throw is set to be a thrilling event as it features the entire podium of the Olympic Games in Tokyo. Olympic champion Valarie Allman will face silver medallist Kristin Pudenz from Germany and bronze medallist Yaime Perez from Cuba and Sandra Perkovic, who won two Olympic gold medals, two world titles and five European titles.
Allman improved the North American record with 71.46m in La Jolla, setting the 15th best performance in history. It was the farthest throw in the world in almost 30 years. In the Diamond League she won the Final in Zurich with 69.20m in 2021 and the first two meetings of the 2022 season in Birmingham (67.85m) and Eugene (68.35m). The US thrower finished third in last year's edition of the Paris Charlety meeting.
Perkovic won four times in Paris and claimed six consecutive Diamond League Trophies from 2012 to 2017. The Croatian star won the 45th Diamond League competition of her career in Oslo with 66.82m on Thursday beating Allman.
French 42-year-old Melina Robert Michon won two silver medals at the World Championships in Moscow 2013 and at the Olympic Games in Rio de Janeiro 2016.
Hammer throw events:
France boasts two world-class hammer throwers Quentin Bigot and Alexandra Tavernier. The French Athletics Association decided to add two hammer throw competitions to the programme of the Wanda Diamond League meeting in Paris Charlety. Hammer throwers will make their debut at the Paris Charlety meeting.
Men's hammer throw:
Bigot won the world silver medal in Doha 2019 and threw over the 80 metres twice with 80.14m in Forbach and 80.55m in Chorzow.
The Frenchman will take on Wojciech Nowicki, Olympic champion in Tokyo with 82.52m and European champion, and Pawel Fajdek, four-time world champion and Olympic bronze medallist, and Mykhaylo Kokhan from Ukraine, fourth at the Olympic Games in Tokyo with 80.39m.
Nowicki threw four times over the 80 metres this season in Nairobi (81.43m), Bydgoszcz (80.28m), Chorzow (81.58m) and at the Polish Championships (80.90m). Fajdek took the win in the Oslo Diamond League meeting with 80.56m.
French hopes are also carried by Yann Chaussinaud, who improved his PB to 77.34m last weekend, and Jean Baptiste Bruxelle, who won the world under 20 in Nairobi with 77.70m.
Women's hammer throw:
Alexandra Tavernier holds the French record with 75.38m and won two major international medals (bronze at the World Championships in Beijing 2015 and silver at the European Championships in Berlin 2018). The French thrower will face Tokyo Olympic bronze medallist Malwina Kopron from Poland and Krista Tervo, who set the Finnish record with 74.40m in Leiria.
Women's javelin throw:
Olympic silver medallist Maria Andrejczyk from Poland will battle against Kelsey Lee Barber from Australia, who won the world title in Doha and the Olympic bronze medal. Andrejczyk set the third-best all-time performance with 71.40m in Split last year. The line-up features Berlin 2018 European silver medallist Nikola Ogrodnikova and world record holder Barbora Spotakova, Greek rising star Elina Tzengko, who won the world under 20 silver in Nairobi and is ranked third in the world seasonal list with 65.40m, Eda Tugsusz from Turkey, who finished fourth at the Olympic Games in Tokyo with 64.00m
Men's 5000 metres:
Olympic 10000 metres and world 3000 metres gold medallist Selemon Barega will run his third 5000m this season after finishing third in Eugene in 13:07.30 and fourth in Rome in his seasonal best of 12.54.87. The Ethiopian runner will face four more athletes, who boast a sub-13 minutes PBs: Muktar Edris, double world 5000m champion in London 2017 and Doha 2019, Nibret Melak, who clocked a lifetime best of 12:54.22, Addisu Yihune, who clocked a PB of 12:58.99 in Hengelo last year and a seasonal best of 13:02.10 in Grosseto, Thierry Ndikumwenayo from Burundi, who broke the 13 minutes for the first time this year in Rome with 12:5939.
The other athlete to watch is European 10000m bronze medallist Yemaneberhan Crippa from Italy, who clocked 13:04.95 in the 5000m in Rome and 27:16.10 in the 10000m in London last May.
Women's 3000 metres steeplechase:
Winfred Yavi from Barhein starts with the fastest time in the world this year with her PB of 8:58.71 set, when she finished second at the Prefontaine Classic in Eugene. She will renew her rivalry against Mekides Abebe, who finished third in Eugene with 9:03.26.
The other top names lining up are world under 20 silver medallist and Olympic finalist Zeerfe Wondemagegn and 17-year-old Sembo Alemayehu, who improved the world under 18 record to 9:18.98 in Hengelo this year and 31-year-old European indoor 3000 metres silver medallist Alice Finot from France.
Men's 800 metres:
Nijel Amos, who is ranked third in the all-time list with 1:41.73 set at the London Olympic Games, will clash against European indoor champion and Olympic bronze medallist Patryk Dobek from Poland, who clocked 1:44.49 this season in Chorzow, the French trio formed by Olympic finalist Gabriel Tual, Benjamin Robert and 2017 world champion Pierre Ambroise Bosse, and Morocco's Moad Zahafi, who leads the world list with 1:43.69.
Men's triathlon:
World decathlon record-holder Kevin Mayer will line up against world silver medallist Maicel Uibo from Estonia in a triathlon competition that includes the shot put, long jump and the 100 metres.
Mayer, who won his second Olympic silver medal in Tokyo 2021, improved his PBs in the 110m hurdles to 13.55 and in the shot put to 17.08m in his previous appearance in a triathlon competition at the Paris Charlety meeting in 2019. The other combined events specialists lining up are Arthur Prevost, Teo Bastien, and Makenson Gletty from France and Benjamin Hougardy from Belgium.
Men's 100 metres:
Jimmy Vicaut, who set the previous European 100m record with 9.86 at the Paris meeting in 2015, will headline the 100m line-up that features Mouhamadou Fall and Amaury Golitin, who clocked 10.08 in Geneva last week, French-based Hassan Taftian from Iran, who set the national record of 10.03 in Paris Charlety in 2018, French 18-year-old rising star Jeff Erius, European Under 20 silver medallist in 2021, and Henricho Bruintjes from South Africa, a Commonwealth Games silver medallist in Gold Coast 2018.
Watch Paris Diamond League live stream
-->