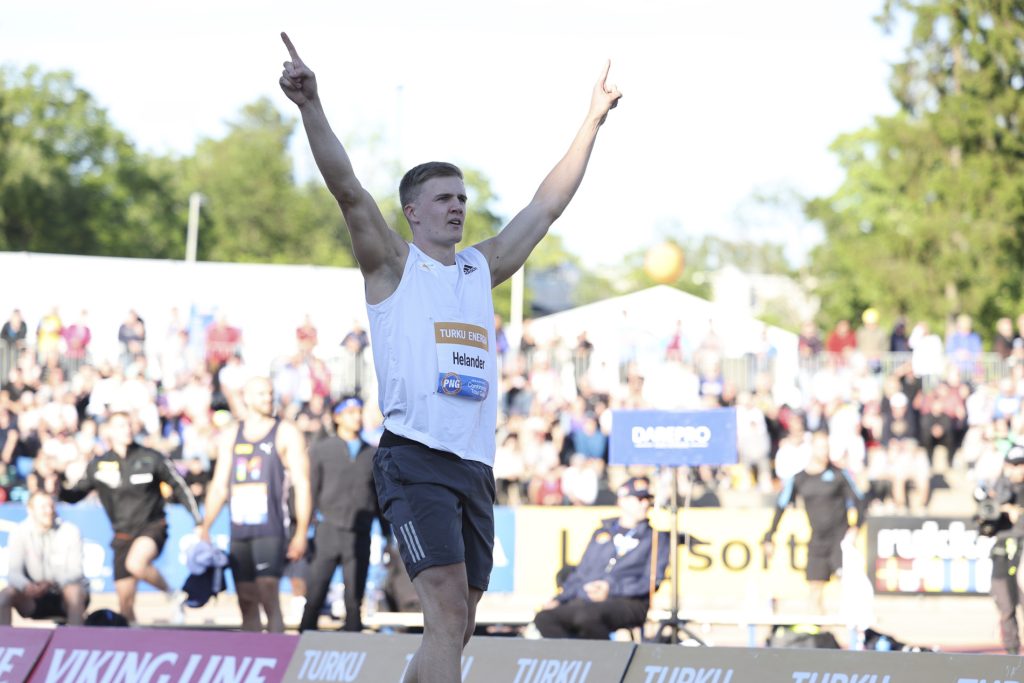 Olympic and world champion Daniel Stahl improved his seasonal best to 70.62m in the opening round to win the men's discus throw on a warm evening in front of 10000 enthusiastic fans at the Continental Tour Gold meeting in Turku. Stahl improved his own meeting record of 69.23m.
European Under 23 champion and record holder Kristjan Ceh had to settle with third place with 67.76m in the sixth round after nine consecutive wins, including three Diamond League competitions in Birmingham, Rabat and Rome. Ceh produced his first valid throw of 64.69m in the third round after two fouls. Stahl backed up his first throw with with a 67.75m in the fourth round. After two more fouls Ceh threw the discus to 67.76m to move into second place.
Former world champion Andrius Gudzius from Lithuania threw 68.09m to overtake Ceh as runner-up.
Olympic bronze medallist and Austrian record holder Lukas Weisshaidinger threw over the 67 metres with 67.16m. It was one of the best discus throw competitions in the past decade with four athletes throwing beyond the 67 metres barrier.
Daniel Stahl: "My first throw was rhythmic and explosive. It was an emotional competition, as my mother comes from Turku. The goal is to push in every round. It was fun to do my victory lap after that".
Men's javelin throw:
Oliver Helander from Finland threw the javelin to 89.83m to take a surprising win.
Chopra threw the javelin to 86.92m in the first round, but it did not last long, as Helander set his lifetime best with 89.83m. Olympic champion Neeraj Chopra from India made a successful come-back by improving his national record to 89.30m in the second round. World champion Anderson Peters moved into third place with a throw of 86.45m in the second round and improved to 86.60m in round five. Chopra made three fouls before ending the competition with 85.85m.
Keshorn Walcott from Trinidad and Tobago finished fourth with 84.02m beating Julian Weber on countback.
Helander is coached by 2007 world champion Tero Pitkamaki. He set his previous lifetime best of 88.02m in 2018.
Oliver Helander: "That was close to a perfect throw. I felt good during the warm-up. My progress had been hampered by a shoulder problem. I am health now. I am grateful for all the work my coach has done".
Seven of the nine meeting records were set in track events.
Men's 400 metres hurdles:
Double Olympic finalist Rasmus Magi from Estonia smashed his PB in the men's 400m hurdles to 47.82, the first time of his career under the 48 seconds barrier. Magi smashed his previous PB of 48.11 in the Olympic final in Tokyo. Magi moved up to sixth in the European all-time list.
Former European Under 23 champion Wilfried Happio finished second in 49.12 ahead of Italy's Mario Lambrughi, who clocked 49.21.
Rasmus Magi: "I was very confident, but I just wanted to make a smooth race. I knew that I was in good shape. My form is not perfect yet. The goal is to reach the final at the World Championships in Eugene. I will run my next race in Oslo on Thursday"
Men's 800 metres:
Five athletes ran faster than the previous meeting record of 1:45. European Under 20 record holder Max Burgin from Great Britain set the fastest time in the world this year with 1:43.52 to win the men's 800 metres ahead of 4x400 Olympic silver medalliist Tony Van Diepen from the Netherlands (1:44.24), Olympic finalist Gabriel Tual from France (1:44.68), Collins Kipruto from Kenya (1:44.69) and Andreas Kramer from Sweden (1:44.75).
The pacemaker led the field clocking 49.22 at the bell. Burgin took the lead and pulled away in the second lap and held on to cross the finish-line first becoming the fourth fastest British 800m runner in history behind legends Sebastian Coe, Steve Cram and Peter Elliott.
Max Burgin: "I suffered today, but I am happy to set a PB. This was just my second race of the season, but I am now feeling very confident for the British Championships and the World Championships after that".
Women's 800 metres:
Italy's Elena Bellò won the women's 800 metres in 1:59.84 dipping under the 2 minutes barrier for the second time in the past five days. Bellò improved her PB to 1:58.97 in the Rome Diamond League meeting last Thursday. Ellie Baker from Great Britain took second place in 2:00.66 ahead of Katharina Trost (2:00.80).
Elena Bellò: "I am very happy that I broke the 2 minutes barrier for the second time after setting my PB in the Rome Diamond League meeting. The pace in the first lap was very fast and I felt a bit tired. I managed to win the race and this makes me confident. I will now return home to train for the World Championships in Eugene".
Women's 100 metres hurdles:
Last year's Diamond League champion Tobi Amusan edged out Jamaica's Britany Anderson by 0.02 in a seasonal best of 12.57 in a close photo-finish. Amusan improved the meeting record by 0.01.
Nadine Visser, who won in Turku two years ago in 12.68, finished third in 12.72.
Tobi Amusan: "I thank God for giving me the chance to win the race. I had some problems, but I am really happy with the race"
Women's 100 metres:
Olympic 4x100 relay bronze medallist Darryil Neita cruised through to a comfortable win in the women's 100 metres final in 11.10 after breaking the meeting record with 11.09 into a headwind of -0.8 m/s in the heats.
Men's 110 metres hurdles:
US hurdler Aaon Mallett improved his seasonal best to 13.22 to win the men's 110 metres hurdles ahead of Polish outdoor and indoor record holder Damian Czykier (13.32) and David King from Great Britain (13.46).
Aaron Mallett: "I had a better start in the final. I am competing a lot. I have to maintain the form for the US Championships in Eugene".
Women's 400 metres hurdles:
Double World University Games champion Ayomide Folorunso from Italy won her first Continental Tour Gold race in the women's 400 metres hurdles race in a meeting record of 54.73. Folorunso dipped under the 55 second barrier for the second time this season after clocking 54.88 in Rome.
Ayomide Folorunso: "I am tired but I am happy with the race. Today the goal was to finish in the top 3 or even win. I am happy that I managed to repeat a time under the 55 seconds barrier. It's an important step to continue improving. This performance is the result of the good work with my team".
Women's high jump:
Olympic silver medallist Nicola Olyslagers cleared her seasonal best of 1.96m to win the women's high jump. Olyslagers had a clean sheet at 1.86m and 1.90m. She passed at 1.92 before clearing 1.94m in the second attempt and 1.96m at the first time of asking. The Australian star failed her three attempts at 1.99m. Elena Vallortigara briefly took the lead with a seasonal best of 1.94m in her first attempt, but Olyslagers was the only jumper to clear 1.96m.
Vallortigara took second place on countback over 2017 world silver medallist Yuliy Levchenko, who improved her best performance this year. Ella Junnilla from Finland finished fourth with 1.92m to beat Olympic fourth placer Iryna Herashchenko on countback.
Women's hammer throw:
Finnish record holder Krista Tervo threw to 74.34m in the sixth round to take the win in the women's hammer throw. Olympic bronze medallist Malwina Kopron from Poland took an early lead with 71.93m in the first round, but Hanna Skydan responded with 73.11m in the fourth round. Tervo equalled Skydan's distance in the fifth round, but it was enough for second place on countback. Tervo produced her winning mark in the final throw of the competition, missing her own Finnish record by just six centimetres. Italian record holder Sara Fantini finished fourth with 71.36m.
Women's pole vault:
Australia''s Nina Kennedy set a meeting record of 4.65m in the first attempt. Wilma Murto from Finland took second place with a seasonal best of 4.60m.
Women's triple jump:
World silver medallist Shanieka Ricketts from Jamaica opened the competition with 14.10m and improved to 14.35m in the second round to hold on her leading position. Neja Filipic came close with a jump of 14.26m in the sixth round.
Men's triple jump:
Brazil's 2018 world indoor bronze medalist Almir Dos Santos won the men's triple jump with 16.90m beating Italian champion Tobia Bocchi, who leapt to 16.68m. Two-time Olympic champion Christian Taylor, who is coming from a serious Achilles tendon injury, finished sixth with 16.04m.
Men's 100 metres:
Former African Games champion Raymond Ekevwo won the 100 metres in 10.23 into a headwind of -0.2 m/s beating Joris Van Gool (10.38).
Men's 3000 metres steeplechase:
Abraham Seme from Ethiopia took the win in the 3000 metres steeplechase setting a meeting record of 8:14.87. Frederick Ruppert from Germany finished runner-up in 8:15.58 ahead of Topi Raitanen from Finland (8:19.34).
-->