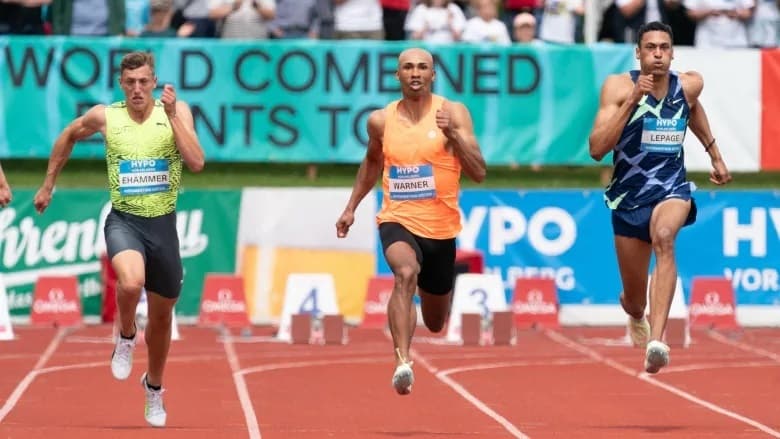 Olympic champion Damian Warner won the men's decathlon at the Hypo Meeting in Goetzis for a seventh time in his career with 8797 points. Olympic silver medallist Anouk Vetter became the first Dutch winner in the women's heptathlon in Goetzis with a world leading score and a national score of 6693 points.
Men's decathlon:
Ehammer ended the first day as the overnight leader with a margin of just two points over Warner after setting the world decathlon best of 8.45m in the long jump, but the Canadian took the lead at the start of the second day by winning the 110 metres hurdles in 13.48.
Warner led after six events with 5677 points. Overnight leader Simon Ehammer equalled his seasonal best with 13.75 to bring his total to 5643 points. Finley Gayo from Switzerland clocked 13.86 to move up to third place in the overall standing with 5272 points.
Lindon Victor from Grenada produced a big throw of 54.85m in the discus to move up third with 6242 points. The Grenadan athlete missed the long-standing meeting record by just 30 cm.
Warner threw the discus to 48.24m to extend his lead over Ehammer to 265 points with a total of 6511. Ehammer produced a best throw of 36.98m.
The positions of the top six athletes remained the same after the pole vault.
Ehammer equalled his PB with 5.10m to finish second. Warner also tied his PB by clearing 4.90m to maintain a solid lead of 204 points over Ehammer in the overall standing. Victor cleared 4.70m to hold on his third place with 7061 points. World silver medallist Maicel Uibo moved up from 11th to 7th with a 5.30m clearance.
Heavy rain started to fall before the javelin throw. World decathlon champion Nicklas Kaul from Germany won the javelin throw with 69.29m in his strongest event to move into fifth place with 7466 points. Victor produced the second best throw with 63.93m. Warner threw to 58.62m to hold on his lead with a total tally of 8108 and had a margin of 243 points over Ehammer, who set a PB of 55.98m.
Warner ran 4;38.65 in the 1500 metres to end the competition with 8797 points, the third best performance of his career.
Damian Warner: "I am happy with the win, but the points don't make me happy. Goetzis is my favourite meeting. A win is a win at the end of the day. I have a great season ahead. I am in full preparation for the World Championships in Eugene"
Ehammer totalled 7865 points after nine events with a lead of just seven points over Lindon.
The Grenadan athlete clocked 4.55.00 in the 1500 metres to finish ahead of Ehammer, who ran 5:08.51. Victor overtook Ehammer in the overall standing to take second place with 8447 points. Ehammer broke his own Swiss record with 8377 points.
Kaul crossed the finish-line first in the 1500m in 4:16.31 to finish fourth with 8303 points ahead of his compatriot Kai Kazmirek, who set his best mark since 2019 with 8272 points. Rik Taam improved his PB by more than 100 points to finish sixth with 8246 points.
Women's heptathlon:
European Under 23 champion Adrianna Sulek leapt to 6.28m in the long jump to hold on her leading position with 4877 points. Olympic silver medallist Anouk Vetter won the long jump with 6.47m on countback over Kendell Williams to close the gap to just 37 points on Sulek. Williams also jumped 6.47m to keep her third place in the overall standing with 4824 points. Annik Kaelin from Switzerland, who won the Multistars in Grosseto breaking the national record with 6398 points this year, jumped 6.41m to move from seventh into fourth with 4704 points.
Vetter opened the javelin throw with 47.14m which would have enough to overtake Sulek. Vetter improved to 51.39m in the second round before breaking Nafissatou Thiam's meeting record with 59.81m in the third round to move up into the lead with 5891 points. Laura Ikauniece from Latvia and olympic bronze medallist Emma Oosterwegel were the only other athletes to throw over the 50 metres barrier with 53.93m and 52.53m. Sulek was ranked second with 5519 after a throw of 38.66m. Kaelin threw to 45.74m to bring her total tally to 5482 points.
Vetter went nto the 800m with a 372-point and her 2:21.56 was enough to secure the win with 6693. Vetter added four points to the Dutch record she set last year at the Olympic Games when she won the silver medal.
Anouk Vetter: "The win and the national record are very special for me. I was not sure that I would have been able to compete because I had a small injury problem during the high jump. The atmosphere was fantastic. The fans gave me strength".
Sulek won the 800m race in 2:13.80 ahead of Oosterwegel (2:14.50). The Polish heptathlete set three individual PBs during the weekend in the 200m with 23.86, in the high jump with 1.92m and in the shot put with 13.79m.
Vanessa Grimm from Germany moved into third place improving her PB to 6323 points. Grimm was ranked fifth after setting her long jump PB with 6.31m and moved into third place with her 2:15.83 in the 800m.
Annik Kaelin from Switzerland finished fourth with 6301 points one month after winning at the Multistars in Grosseto with the national record of 6398 points. Oosterwegel took sixth place with 6265 ahead of Holly Mills (6260). Katarina Johnson Thompson finished seventh with 6174, as she completed her first heptathlon competition since the World Championships in Doha 2019.
-->