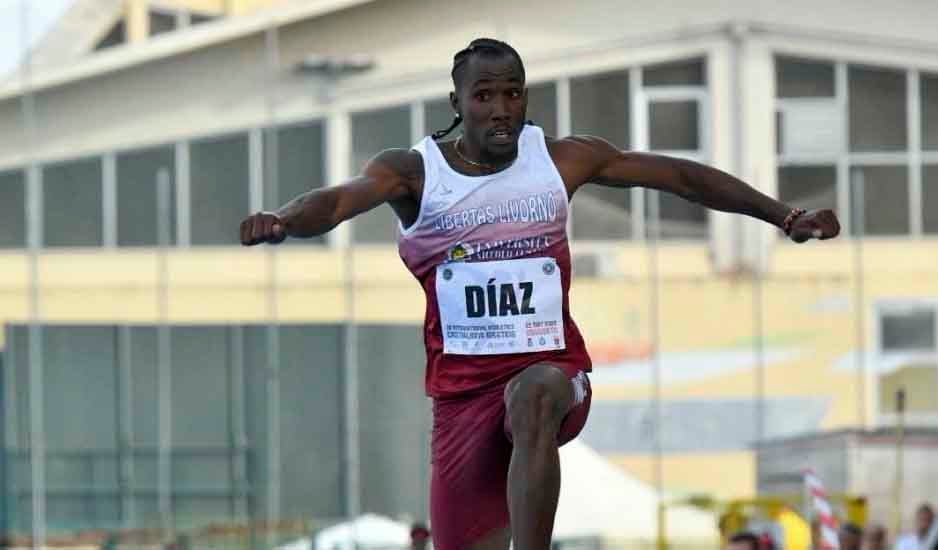 Cuba's Andy Diaz leapt to 17.64m in his first attempt with a tailwind of +0.3 m/s to set the world-leading mark in the men's triple jump at the Castiglione meeting at the Carlo Zecchini Stadium in Grosseto, a World Athletics Continental Tour Challenger meeting on May 22.
Diaz, who trains in Castelporziano near Rome under the guidance of Fabrizio Donato and Andrea Matarazzo, produced two more jumps over the 17 metres leaping to 17.05 in the second round and 17.45m in the third round. Diaz finished fourth at the World Under 20 Championships in Eugene 2014 and seventh at the World Championships in London 2017.
Fang Yaoqing from China took second place with 16.81m to beat Olympic silver medallist Zhu Yaming by 1 cm.
African 100m record holder Ferdinand Omanyala from Kenya came from behind to beat Arthur Cissé from Ivory Coast by 0.04 in 10.11. Olympic 4x100 relay champion Eseosa Desalu finished third with 10.33. Omanyala improved the meeting record set by Marcell Jacobs in 2019 with 10.31.
Omanyala won the 200m A race improving his PB to 20.50 into a headwind of -0.3 m/s, but Sri Lanka's Yusun Abeykoon ran faster in the B race clocking 20.37. Italian sprinter Chituru Ali improved his second PB this week clocking 20.64 just a few days after clocking 10.18 in the 100m in Savona last Wednesday.
Olympic fifth-placed Zane Weir avenged his defeat against Nick Ponzio in Savona in the men's shot put with 21.07m. Ponzio also produced a throw over the 21 metres with 21.04m.
World Under 20 indoor record holder Larissa Iapichino started her outdoor season with a winning mark of 6.58m in the women's long jump into a headwind of -0.6 m/s in her first attempt. Iapichino beat Romania's Florentina Lusco by 3 cm in a close competition.
Ethiopian under 20 runner Addisu Yihune won a good-quality 5000m race in a lifetime best of 13:02.10 ahead of Ugandan athletes Peter Maru (PB 13:08.89) and Oscar Chelimo (13:11.16).
Netsanet Desta from Ethiopia took the win in the women's 1500m in 4:04.55 beating Italian 800m specialist Elena Bellò, who improved her PB to 4:05.09. Under 18 runner Mebriht Mekonnen set her lifetime best in third place with 4:05.45. Brenda Chebet finished fourth setting her PB with 4:05.50. Federica Del Buono set the second-fastest time in her career with 4:05.58.
Algeria's Yassine Hathat claimed the win in the men's 800 metres with 1:45.13 beating Italian middle-distance runner Catalin Tecuceanu, who clocked 1:45.52 and world silver medallist Amel Tuka (1:46.15).
World indoor fourth placer Lobo Vedel from Denmark won the men's 400 metres improving his PB to 45.52 ahead of world under 20 silver medallist Luis Aviles (46.00).
The Italian 4x100 relay formed by Zaynab Dosso, Dalia Kaddari, Irene Siragusa and Vittoria Fontana tested their form before the World Championships in Eugene with 43.21.
Germany scored two wins in women's sprint with Lisa Marie Kwaye in 100m in 11.38 into a headwind of -0.9 m/s and Alica Schmidt in the 400m with 52.32 ahead of 400m hurdles specialist Ayomide Folorunso (52.66). Crystal Morrison from Jamaica won the 100 metres hurdles in 13.12.
Iryna Gerashchenko won the women's high jump clearing 1.90m. Lene Retzius from Norway set the national record of 4.52m to win the women's pole vault. Reynold Banigo took the win in the men's long jump with 7.94m.
-->