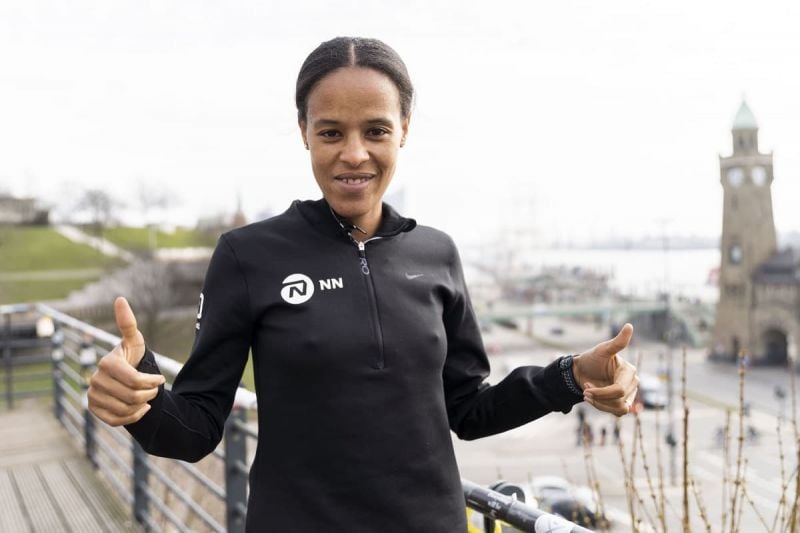 Yalemzerf Yehualaw, who has smashed the world 10 k record just a few days ago, now sets her sights on her marathon debut. The 22-year-old Ethiopian has chosen the Haspa Marathon Hamburg on 24th April for her first race at the classic distance. This was announced by organizers during a press conference in Hamburg today. Germany's biggest spring marathon returns to its traditional date for the first time since 2019 and looks likely to come back with a bang. Yalemzerf Yehualaw clearly has the potential to run a very good first marathon. Organizers of the Haspa Marathon Hamburg expect a total of 20,000 runners including races at shorter distances on 24th April. Online entry is still possible at: www.haspa-marathon-hamburg.de
"We are thrilled to have Yalemzerf Yehualaw, one of the most exciting marathon talents of the world, on the start line of the Haspa Marathon Hamburg," said chief organizer Frank Thaleiser.
Yalemzerf Yehualaw, who improved the world 10 k record by a huge margin of 24 seconds to 29:14 last Sunday in Castellón, Spain, is also the world's second-fastest half-marathon runner. She clocked 63:51 in Valencia last October. Additionally at the World Half Marathon Championships in 2020, she won the bronze medal. Her half marathon PB suggests that she has the potential to run spectacular marathon times as well in the future.
"I am really happy to be able to run my marathon debut in Hamburg. My coach Tessema suggested to me to go to Hamburg for my debut since he ran here himself," said Yalemzerf Yehualaw. Tessema Abshero ran his lifetime best in Hamburg back in 2008 when he was fourth with 2:08:26. It was the only time he clocked a sub 2:10 time during his career. Organizers showed Yalemzerf Yehualaw the Hamburg course and she then said during the press conference: "I am looking forward to this race and want to break the course record." Fellow-Ethiopian Meselech Melkamu holds the current Hamburg course best with a time of 2:21:54 from 2016.
The fastest woman runner on Hamburg's start list is Priscah Jeptoo. The Olympic silver medallist from London 2012 has a PB of 2:20:14. While this personal record is ten years old more recently the Kenyan ran 2:24:16 in Valencia in 2019.
Two former winners of the Haspa Marathon Hamburg are returning to the race. Gadise Mulu will start as the defending champion. The Ethiopian took first place last September when the race was held in a much smaller format and with only a few elite runners due to the pandemic. Gadise Mulu improved significantly in Hamburg when she broke 2:30 for the first time and clocked 2:26:20. Dibabe Kuma is the other Hamburg winner who comes back to the race. The Ethiopian was the winner in 2019, when she ran 2:24:41. She has a PB of 2:23:24.
Deborah Schöneborn heads the national elite entries of the Haspa Marathon Hamburg. The 27-year-old ran surprisingly well in the Olympic marathon in Sapporo last summer, where she finished 18th. She was the fifth fastest European athlete in this race. Deborah Schöneborn has a personal best of 2:26:55 and aims to qualify for the European Championships this summer.
More information about the Haspa Marathon Hamburg and online entry is available at: www.haspa-marathon-hamburg.de
Photo credit: Haspa Marathon Hamburg / Hoch Zwei
-->