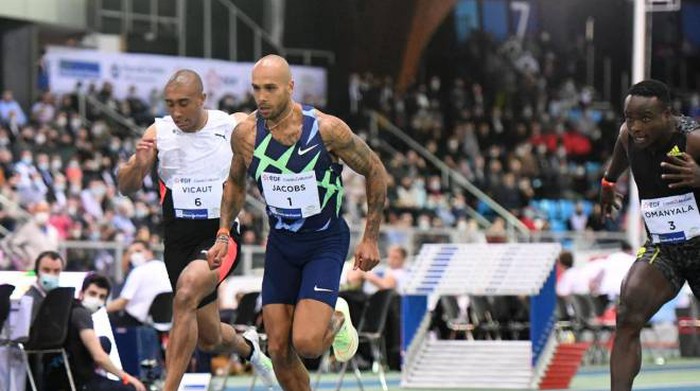 Last year's 100m and 4x100 relay Olympic champion Marcell Jacobs won his second consecutive Italian indoor title in the 60 metres in Ancona repeating exactly the same time of 6.55 clocked last year at this event. Jacobs had previously won the heat in 6.58. Jacobs competed for the first time on Italian soil since his Olympic gold medal in Tokyo in a European record of 9.80. Former 100m European Under 23 champion Giovanni Galbieri finished second in 6.62.
Marcell Jacobs: "I am not entirely happy with my race, but it was important to win the title in front of my Italian fans and honour the Italian Championships. I want to thank those who came here to attend this event. I hope to compete in Madrid next Wednesday and in Belgrade on 7 March in the same venue as the World Indoor Championships"
Zaynab Dosso broke the Italian Indoor record in the women's 60 metres clocking 7.16. The two-time Italian 100m champion had already equalled the long standing national record held by Marisa Masullo this winter clocking 7.19 twice at the Orlen Cup in Lodz and in the heat of these national championships.
Zaynab Dosso: "I made some mistakes in the heats and in the final. I want to continue improving my record in each race. I want to perform well in Belgrade. It's going to be a very important event for me".
Nick Ponzio won his second Italian title in the men's shot put with 21.34m a few months after winning at the National outdoor Championships in Rovereto. Ponzio produced two more throws over the 21 metres with 21.26m and 21.03m. Zane Weir finished runner-up with 20.87m beating his training partner Leonardo Fabbri (20.40m).
Sveva Gerevini broke the Italian indoor pentathlon record with 4451 points, improving her own mark of 4434 points set in Aubière four weeks ago. The 25-year-old Italian combined events specialist improved two PBs in the 60m hurdles with 8.38 and in the long jump with 6.34m. She also jumped 1.74m in the high jump, threw 11.85m in the shot put and clocked 2:12.16 in the 800m.
Sveva Gerevini: "It's always special to set a national record. Unfortunately I picked a small foot injury during my attempt at 1.74m and I felt pain during the following events. I could have done better, especially in the 800m where I ran three seconds slower than in Aubière, but I am happy with my performances in the long jump and in the 60m hurdles".
European Indoor bronze medallist Paolo Dal Molin won his third Italian indoor title in the men's 60m hurdles clocking 7.61 in the final after setting the third fastest time in his career with 7.56 in the heats.
Paolo Dal Molin: "I was sure that I could run faster in the final but I stumbled at the start. I am happy because I am consistent. These results show that I am on the right way. I am still hungry. Before the World Indoor Championships I will compete in Madrid on 2 March and Paris on 6 March".
European Under 23 gold medallist Gaia Sabbatini won a thrilling women's 800m final setting the third fastest Italian indoor time in history with 2:01.07. Elena Bellò moved to fourth in the national indoor list with 2:01.45.
Dariya Derkach improved her indoor PB to 14.26m to win the women's triple jump setting the sixth best performance in the world this year. Derkach backed up the winning mark with a second leap of 14.13m. Derkach dedicated her win to Ukraine, her country of origin.
Olympic finalist Filippo Randazzo leapt to 8.00m in the men's long jump on his seasonal debut to win his first national indoor title following his six wins at the National outdoor Championships.
Elisa Maria Di Lazzaro won her third Italian indoor title in the women's 60m hurdles in 8.18 edging Luminosa Bogliolo by just 0.004 in close photo-finish.
Elena Vallortigara cleared 1.92m at the first time of asking to win the women's high jump before failing three attempts at 1.95m. Elisa Molinarolo won her second national indoor title in the pole vault with a clearance of 4.46m in her first attempt.
-->