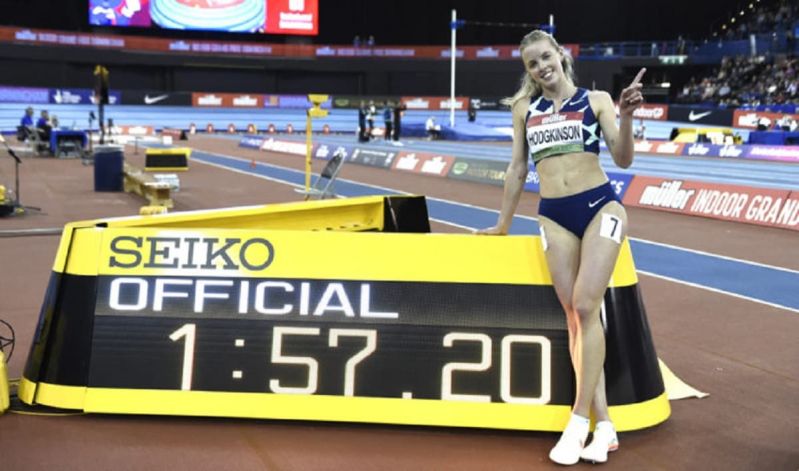 Armand "Mondo" Duplantis and Keely Hodgkinson set stadium records at the Muller Indoor Grand Prix at the Utilitia Birmingham Arena.
Men's pole vault:
Armand Duplantis set the world leading mark of 6.05m to win his fourth men's pole vault competition this season after Karlsruhe (6.01m), Berlin (6.03m) and Upssala (6.04m). The olympic gold medallist cleared his opening height of 5.61m and 5.81m in his first attempt before clearing 6.05m at the third time of asking. Duplantis narrowly missed a new world indoor record of 6.19m.
Armand Duplantis: "I have got mixed emotions. 6.05m is a good jump and result. I really wanted that 6.19m. I have expectations of myself and I know there are good conditions indoors, so I can break the world record. I want it so badly. Today I wanted to be aggressive with the heights that I chose. At the last few meetings I have had a few too many jumps, before attempting the world record and that makes a little tougher. I got a little more tired and I want to be in perfect shape when it comes to that 6.19m".
Former olympic champion Thiago Braz Da Silva from Brazil equalled his seasonal best of 5.81m to finish second. Ben Broeders set his seasonal best clearing 5.71m.
Women's 800 metres: Hodgkinson sets the British indoor record
Olympic 800m silver medallist Keely Hodgkinson triumphed in the women's 800 metres in 1:57.20 on her seasonal debut, breaking Jemma Reekie's national indoor record by 0.70. Hodgkinson already set the British outdoor record when she clocked 1:55.81 in the Olympic final in Tokyo. Hodgkinson moved to sixth in the world indoor all-time list and set the fastest ever indoor performance by a teenager. The British athlete ran the fastest indoor 800m since the world record of 1:55.82 set by Slovenia's Jolanda Ceplak at the European Indoor Championships in Vienna on 3 March 2002, the exact day when Hodgkinson was born. In the Austrian capital Hodgkinson broke he world under 20 indoor record with 1:59.03 last year.
Hodgkinson went through at the 400m in 58:58 and the 600m in 1:28:35 before covering the last lap in 28:08. She also improved the British all-comers record and the stadium record of 1:57.61.
Keely Hodgkinson: "I really wanted to try and front run. I have not done that in such a long time, so I wanted to get confidence with that. I did what I knew I had been doing in training and just ran the race. I was annoyed because I stumbled on the last corner and I feel like that might have cost a tenth of a second, but we will just correct the next time. I hope I can go quicker. I am really happy with this race. I was excited to get out there. It's almost like a bit of normality going back into racing. The other day I was looking up the world indoor 800m record, just because I was interested. It was set on the exact day I was born. I was not attempting the world record today. Maybe, one day".
Catriona Bisset from Australia set the national indoor record with 1:59.46 beating Natoya Goule (1:59.85).
Men's 60 metres hurdles:
Grant Holloway clinched his third consecutive win at this year's World Indoor Tour missing the meeting record by 0.03 with 7.41 following his victories in Staten Island (7.37) and Liévin (7.35). Andy Pozzi from Great Britain improved his seasonal best to 7.59 on the track where he won the world indoor title four years ago. Jarret Eaton finished third in 7.60.
Women's 60 metres: Thompson Herah wins in Birmingham for the third time
Five-time Olympic champion Elaine Thompson Herah claimed the third win of her career in the Birmingham Muller Indoor Grand Prix clocking 7.08 in her seasonal debut. Mujinga Kambundji from Switzerland finished runner-up improving her seasonal best by 0.03 to 7.11 on the track where she won the world indoor bronze medal in 2018. Darryil Neita from Great Britain improved her seasonal best by 0.02 to 7.13 in third place. World 200m under 18 record holder Amy Hunt continued her progress smashing her PB with 7.15. Molly Scott broke the Irish indoor record clocking 7.21.
Elaine Thompson Herah: "It's a good win. I wanted to go under seven seconds. My start is not the best, but I am working on that. I am taking it month by month to see where I am at. I am still thinking about the World Indoors"
Men's 60 metres:
World 200m champion Noah Lyles won his second World Indoor Tour Gold race of the season improving his lifetime best by 0.01 to 6.55. Lyles edged world indoor bronze medallist Ronnie Baker with the same time in a close photo-finish. Former NCAA 200m indoor champion Elijah Hall took third place with 6.56 beating Michael Rodgers by 0.02.
Women's high jump:
Eleanor Patterson from Australia followed up her Oceanian record of 1.99m in Banska Bystrica with her second consecutive win this week in the women's high jump with 1.97m. Patterson made three attempts at the outright PB of 2.00m.
Mariya Lasitskene took second place with 1.91m beating over Laura Zialor from Great Britain on count-back.
Eleanor Patterson: "I felt like I was close to 2.00m today and that's really exciting. I am really pleased with my start and I had my first ever indoor competition on Tuesday. Consistency is huge in this event. Before Tokyo last year I was jumping 1.96m a lot and I am inching my way up where I am comfortable and able to handle big situations".
Men's 1500 metres:
Olympic 1500m fourth placer Abel Kipsang launched his kick with 100m to go to take the win in the men's 1500 metres. Kipsang set his indoor PB of 3:34.57 and the fastest indoor 1500m by a Kenyan athlete for four years. The top seven runners set PBs. Fresh European indoor champion Adeel Mechaal improved his indoor PB with 3:35.30 to finish second ahead of Robert Farken from Germany (3:35.44) and George Mills from Great Britain (3:36.03) and Piers Copeland (3:36.12). The fast race produced two national indoor record set by Ossama Meslek from Italy (3:37.29) and Charles Grethen from Luxemburg (3:37.38).
Men's 800 metres:
Kenya's Collins Kipruto held off British Indoor record holder Elliot Giles by 0.03 to win the men's 800 metres in a seasonal best of 1:45.39. Only Mariano Garcia ran faster this winter at world level in Staten Island clocking 1:45.12. Giles set the second fastest time in history with 1:45.42. Former European Indoor champion Alvaro De Arriba from Spain took third place in a seasonal best of 1:45.82.
Women's 1500 metres:
Ethiopia's Dawit Seyaum won her second consecutive race this week in the 1500 metres with 4:04.35 following her victory in the 3000m in Liévin in 8:23.24. Seyaum finished second in her previous appearance at this meeting in 2020. She finished more than two seconds ahead of Sarah Healy, who set her outright PB of 4.06.94. Australia's sub 4 minutes performer Linden Hall finished third in 4:07.36.
Dawit Seyaum: "I am really happy with the victory and the crowd was good. My training is good and I am looking forward to running well this season"
Women's long jump:
Swede Khaddi Sagnia leapt to her seasonal best of 6.70m in her first attempt to win the women's long jump. Akela Jones from Barbados took second place with 6.52m to beat world indoor champion Ivana Spanovic Vuleta by just one cm.
Women's 1000 metres:
Last year's 800 metres European under 23 champion Isabelle Boffey from Great Britain won the women's 1000 metres with her PB of 2:38.25 ahead of former 1500m European outdoor champion Angelika Cichocka (2:38.57) and Germany's Katharina Trost (2:38.62). European 1500m Under 23 champion Gaia Sabbatini broke the Italian Indoor record clocking 2:38.67.
Men's 400 metres:
Former NCAA outdoor champion Kahmari Montgomery won the men's 400m in a solid 45.72 ahead of Olympic 4x400 relay bronze medallist Liemarvin Bonevacia (46.08). Montgomery clocked his fastest time since setting his indoor PB of 45.03 in 2019.
European under 20 champion Ed Faulds from Great Britain set the European indoor under 20 record clocking 46.16.
Women's 400 metres:
Multiple world and olympic medallist Stephanie Ann McPherson won for the third time in her career in the Birmingham meeting with 51.39. Lieke Klaver from the Netherlands finished a close second in 51.49 beating European 400m champion Justyna Swiety Ersetic (52.09).
Klaver clocked 23.43 at 200 metres, but McPherson launched her kick and came through to take the win, improving her previous PB set in 2018.
Women's 60 metres hurdles:
Zoe Sedney from the Netherlands narrowly got the win in the women's 60 metres hurdles in 8.02 edging European under 20 champion Ditaji Kambundji by 0.03. Mathilde Heltbech Steenberg placed third in 8.12.
-->