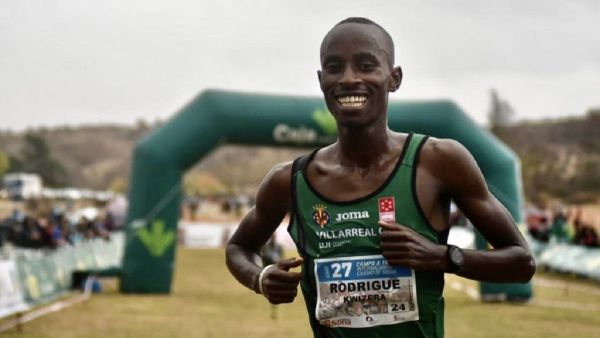 Rodrigue Kwizera from Burundi won his seventh cross country race of the season at the 41st edition of the Cross Internacional de Venta de Banos (the seventh Gold level meeting of the World Cross Country Tour Gold) in 32:30 holding off Ethiopia's Nibret Melak by seven seconds over the 10.575 km distance. The race was held in sunny weather conditions.
Albert Chemutai from Uganda finished a distant third in 33:04 beating 18-year-old Eritrean runner Merhawi Mebrathu by 17 seconds.
Carlos Mayo finished as the first Spanish athlete in fifth place followed by his compatriots Nassim Hassaous and Adel Mechaal.
Fifteen athletes were still in the leading pack after the second km. Kwizera went to the front after the first lap with his compatriot Thierry Ndikumwenayo, Albert Chemutai, Melak and Mebrathu, Hassaous, Carlos Mayo.
Kwizera pushed the pace after the second lap at halfway. Only Chemutai, Melak and Mebrahtu were able to keep the pace with Kwizera.
The 22-year-old Burundan runner stepped up the pace during the penultimate lap. Mebrathu began to lose ground.
Kwizera and Melak pulled away and ran neck and neck at the front at the bell after a split of 6:19 in the penultimate lap. The two African runners battled out in the final lap. Kwizera was running at the front and increased his pace. Melak was running on Kwizera's shoulders and tried to break away from Kwizera with 350 metres to go. Kwizera responded immediately to open a solid gap over Melak. Kwizera clocked 6:04 in the final lap to cross the finish-line in 32:30.
Jebitok wins the women's race
Twenty-year-old Kenyan 1500m specialist Edinah Jebitok took the win in the 7975m women's race in 28:44 beating Ethiopia's Likina Amebaw by over minute. Amebaw crossed the finish-line in 29:53 beating Emine Mechaal from Turkey. Spanish runners Laura Luengo and Bianca Fernandez finished respectively fourth and fifth.
The race started at a conservative pace. Carla Gallardo, Bianca Fernandez and Laura Luengo took the lead in the early stages. Jebitok and Amebaw were running in the middle of the pack.
Jebitok pushed the pace and none of her opponents were able to follow her. The Kenyan runner broke away from Amebaw and increased her lead to 38 seconds over Amebaw at the bell with a penultimate lap in 7:08. The Ethiopian runner built a gap of 1 minute over a quartet formed by Spanish runners Laura Luengo, Beatriz Alvarez and Bianca Fernandez and Emine Mechaal.
Jebitok opened up a huge lead during the final lap and crossed the finish-line in 28:44 with a gap of 69 seconds over Amebaw, who crossed the finish-line in 29:53.
In the close battle for third place Luengo pushed hard during the final lap. Alvarez and Fernandez lost the ground, but Mechaal overtook Luengo in the final stages of the race to clinch a close third place.
-->