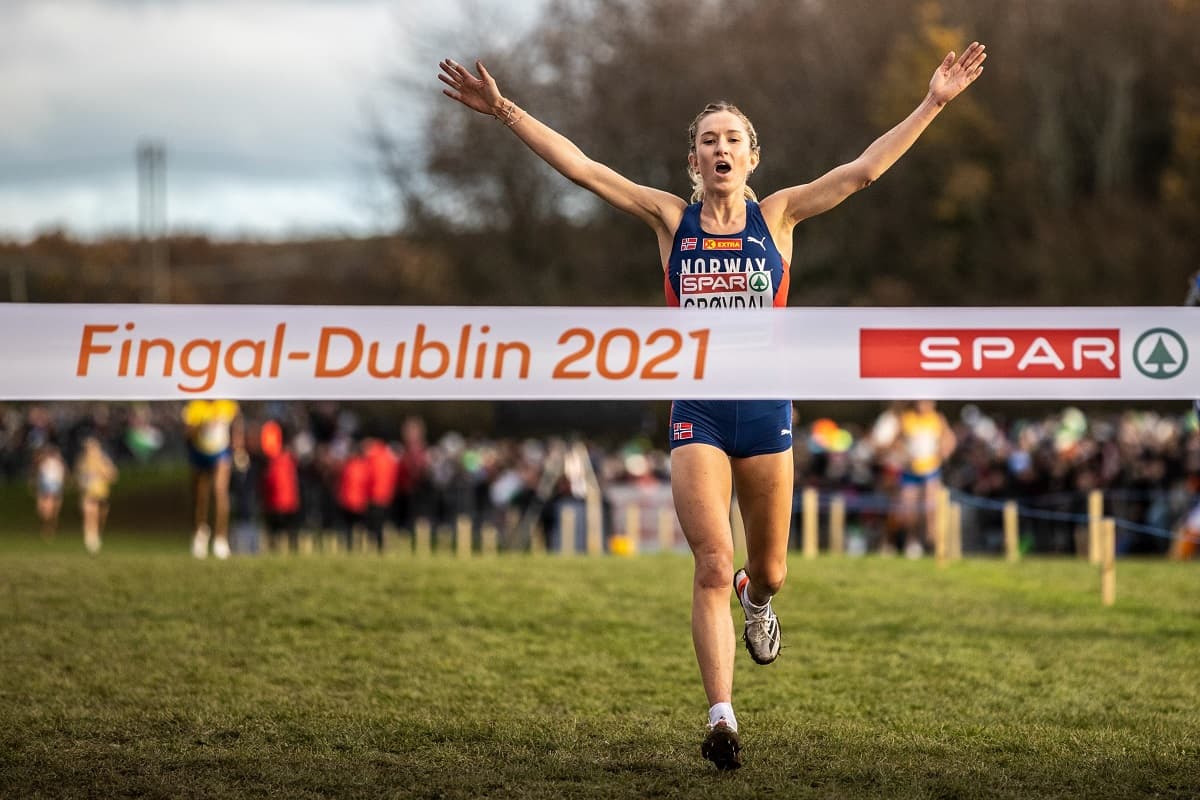 Karoline Bjerkeli Grovdal finally won her first senior European cross country title after finishing 3rd (2015, 2016, 2017, 2018) and 2nd in 2019 on Sunday in Dublin.
The Norwegian runner also completed the Norwegian double at the European Cross Country Championships by winning the women's senior 8k race in 26:34 twelve years after her triumph in the under 20 race, which were also held in Dublin but in a different venue. It was the last time Ireland hosted the European Cross Country Championships.
Grovdal beat 2017 European Cross Country silver medallist Meraf Bahta from Sweden (26:44) and 2017 European Under 23 champion Alina Reh from Germany (26:53).
Bahta and Kostanze Klosterhalfen went to the front in the early stages of the race. They pushed the pace but they were joined by Yasemin Can, 2019 bronze medallist Samwarit Mengstaeb from Sweden, Selamawit Teferi from Israel and Mekdes Woldu from France.
Woldu lost contact with the leading group. The five-women leading group stayed together at the front. Grovdal and Jessica Judd from Great Britain were running 20 metres back. Grovdal caught up with the leading group in the next km. Can dropped back.
Klosterhalfen pushed the pace at 5 km, while Grovdal was running on her shoulders. Forty metres behind Judd and Reh were running in fourth and fifth place. Before the sixth km Klosterhalfen dropped back. Grovdal and Bahta ran a head-to-head battle in the final 2 km. Grovdal launched the decisive kick with 500 metres to go to cross the finish-line in 26:34. Reh pulled away from Judd in the final km to take the bronze medal. Klosterhalfen finished fifth in her first appearance at these championships since Samorin 2017 where she finished second in the under 23 race behind Reh. Mengseab crossed the finish-line in sixth place.
Jessica Judd just missed out on the bronze medal, but Great Britain won the seventh gold team medal in the last ten editions. Jennifer Nesbit and Jessica Gibbon finished 10th and 11th to complete the British triumph with 25 points ahead of Germany (29 points). Sweden won their first ever team medal with 38 points.
Fionnuala McCormack finished ninth in 27:52 just one week after clocking 2:23:58 at the Valencia Marathon.
Four-time European Cross Country champion Yasemin Can from Turkey had to settle with 14th place.
Karoline Bjerkeli Grovdal: "I have won so many bronze and silver medals at European level, both on the track and cross country, so for me to take the gold means a lot. I am so happy for having been able to do that. It was a really tough and strong field, with so many good athletes on the starting line, so it is extra special to win gold. It was not until the last lap that I realised that I would be able to take the win. I am 31 now. Twelve years ago I took gold here in the under 20 race in Dublin. It was very special to take gold here in Dublin. This city has been good to me".
See the complete European Cross Country Championships results
-->