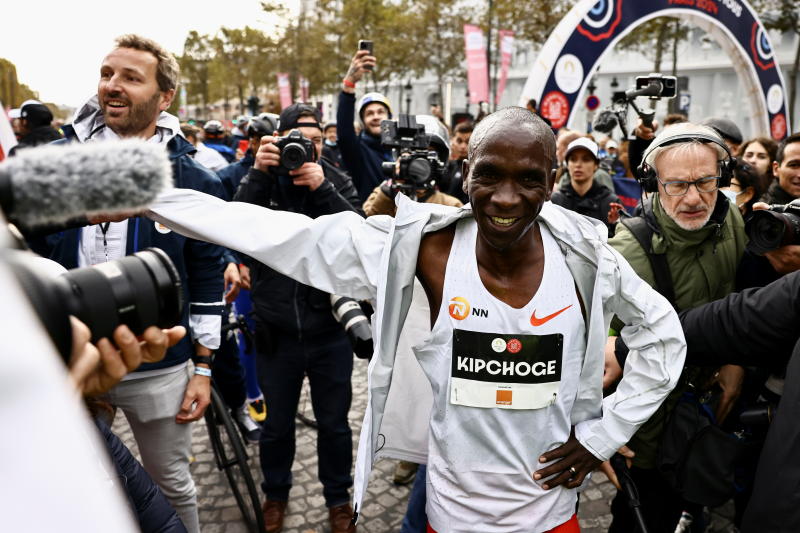 Two-time Olympic marathon champion Eliud Kipchoge took part in a mass pursuit race on the Champs Elysées, a special 5 km pursuit race organised by Paris 2024 to mark 1000 days to go to the Olympic Games in the French capital.
More than 3600 members of Paris 2024 and the Orange Running Team were split into five different groups based on ability. Participants set off before Kipchoge and raced on a course across Place de la Concorde and the Champs Elysées.
Kipchoge covered a longer distance and had to catch up with the rest of the runners. More than 1000 people finished ahead of Kipchoge were rewarded with a spot in the mass public marathon scheduled to be held on the same day and on the same course as the Olympic marathon race at the Olympic Games in Paris 2024.
Kipchoge was the last man to start the 5 km race, but he overtook more than half the field in 14:25.
"This is the first I am happy to have lost. My defeat is a victory for several hundred people to whom I look forward to meeting in 2024 here in Paris", said Kipchoge.
Organisers of the 2024 Olympic Games plan to hold a mass marathon race on the same day as the Olympic marathon. A separate 10 km race will be also held on the day of the Olympic marathon.
Kipchoge won the Olympic gold medal in Sapporo last summer in 2:08:38 finishing 80 seconds ahead of his nearest opponent Abdi Nageeye from the Netherlands, the largest winning margin in a men's Olympic marathon since 1972.
Kipchoge made a major breakthrough in his career at the 2003 World Championships in Paris St. Denis Stade de France, where he won the world title in the 5000m in 12:52.79 beating Kenenisa Bekele and Hicham El Guerrouj.
"I am happy to have done this race. The crowd was fantastic. At the end, it was fun to see people sprint and go all out to cross the finish-line. I am delighted to be heading to Paris, 1000 days before the start of the Paris 2024 Olympic Games for a truly exceptional challenge. It's open to everyone, whatever their level. This unique race is an outstanding illustration of what running is all about. It is accessible and open to everyone. On one of the world's most beautiful avenues. I look forward to sharing this moment with you and inspiring you to run, to give it your all, to push your limits; we see each other in 2024", said Kipchoge.
Those, who were not able to avoid being overtaken by Kipchoge, have still a chance to take part in the Paris 2014 mass race. More events are planned in the 999 days that remain between now and the Opening Ceremony of the Paris Olympic Games.