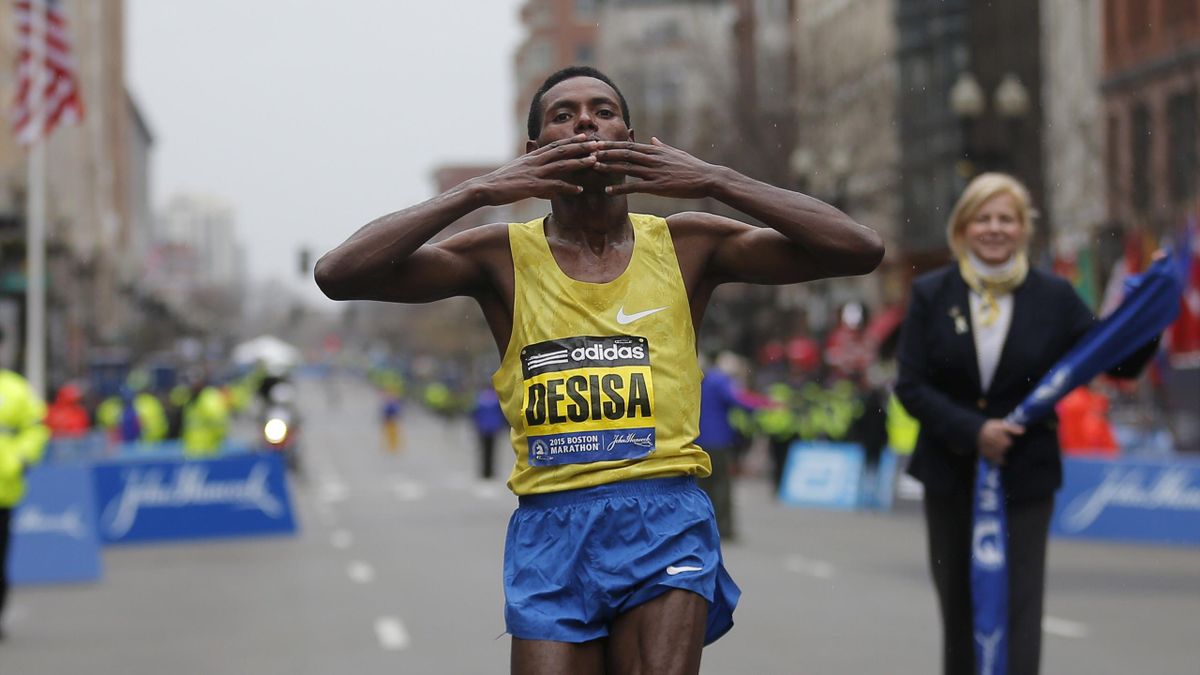 Twelve athletes with a sub-2:07 PB will run in the men's race at 125th edition of the Boston Marathon, a World Athletics Platinum Label Race and an Abbott World Marathon Majors race.
See Boston Marathon live stream and results
The line-up features Ethiopian runners Lelisa Desisa, two-time Boston Marathon champion in 2013 and 2015, winner in New York in 2018 and world gold medallist in Doha 2019, Lemi Berhanu, who won in Boston in 2016 and finished fourth in New York in 2017, Asefa Mengstu, who finished fourth in his PB of 2:04:06 in Dubai in 2018, Dejene Debela, second in Chicago in 2:05:46 in 2019, Kelkile Gezahegn, first in Frankfurt in 2018 in 2:06:37 and third in Rotterdam in 2018 in 2:05:56. The Kenyan challenge is led by Wilson Chebet, who finished second in 2014, third in 2015 and twice fifth in 2012 and 2017 in his past appearances in Boston and Benson Kipruto, who won the Prague Marathon last May in 2:10:16 and improved his PB to 2:05:13 in Toronto in 2019.
Leonard Barsotom from Kenya and Jemal Yimer from Ethiopia will make their debut in Boston after achieving good results in cross country and half marathon. Barsotom won the world cross silver medal in 2017, finished sixth at the World Half Marathon Championships in Gdynia and clocked 59:09 in the 2019 Valencia Half Marathon.
Yimer holds the Ethiopian half marathon record with 58:33 and finished fourth at the 2017 World Cross Country Championships in Kampala, at the 2018 World Half Marathon Championships in Valencia and fifth at the 2017 World Championships in the 10000m in London in 26:56.11. Yimer, who set his 10000m PB of 26:54.39 in Hengelo in 2019, dropped out of the 2020 Valencia Marathon, but he recently showed his good form clocking 1h00'30" at the Antrim Half Marathon.
Abdi Abdirahman is the top US runner in the field. Abdirahaman finished third at the New York Marathon in 2016 in 2:11:23 and fourth in Chicago in 2:08:56 in 2006. Eight of the top 12 finishers from the US Olympic Trials will also line-up in Boston.
Full Elite 2021 Boston Men's Field

Asefa Mengstu - 2:04:06 (Dubai, 2018) - Ethiopia
Lemi Berhanu - 2:04:33 (Dubai, 2016) - Ethiopia
Lelisa Desisa - 2:04:45 (Dubai, 2013) - Ethiopia
Benson Kipruto - 2:05:13 (Toronto, 2019) - Kenya
Wilson Chebet - 2:05:27 (Rotterdam, 2011) - Kenya
Filex Kiprotich - 2:05:33 (Daegu, 2019) - Kenya
Dejene Debela .2:05:46 (Chicago, 2019). Ethiopia
Kelkile Gezahegn - 2:05:56 (Rotterdam, 2018) - Ethiopia
Thomas Kiplagat - 2:06:00 (Seoul, 2019) - Kenya
Felix Kandie - 2:06:03 (Seoul, 2017) - Kenya
Tsedat Ayana - 2:06:18 (Dubai, 2020) - Ethiopia
Geoffrey Kirui - 2:06:27 (Amsterdam, 2016) - Kenya
Yuki Kawauchi - 2:07:27 (Otsu, 2021) - Japan
Jake Robertson - 2:08:26 (Otsu, 2018)..New Zealand
Bayelign Teshager - 2:08:28 (Los Angeles, 2020) - Ethiopia
Abdi Abdirahman - 2:08:56 (Chicago, 2006) - USA
Scott Fauble - 2:09:09 (Boston, 2019) - USA
Colin Bennie - 2:09:38 (Chandler, 2020) - USA
Scott Smith - 2:09:46 (Chandler, 2020) - USA
Stephen Scullion - 2:09:49 (London, 2020) - Ireland
Augustus Maiyo - 2:10:47 (Atlanta, 2020) - USA
Dylan Wykes - 2:10:47 (Rotterdam, 2012) - Canada
Parker Stinson…2:10:53 (Chicago, 2019)…….USA
Matt McDonald.2:11:10 (Chicago, 2019)…….USA
CJ Albertson…..2:11:18 (Chandler, 2020)……USA
Reid Buchanan .2:11:38 (Chandler, 2020)……USA
Jonas Hampton 2:12:10 (Atlanta, 2020)………USA
Tyler Pennel ……2:12:34 (Atlanta, 2020)………USA
Rory Linkletter…2:12:54 (Chandler, 2020) Canada
Jarrett Leblanc ..2:13:51 (Sacramento, 2018) .USA
Carlos Trujillo …2:14:21 (Chicago, 2012)… Guatemala
Luke Humphrey^…….2:14:39 (San Diego, 2011) ..USA
Nitendra Rawat Singh 2:15:18 (Guwahati, 2016)….India
Daniel Ortiz Perez…2:15:41 (Valencia, 2020)…Mexico
Luis Carlos Rivero …..2:15:43 (Seville, 2020)Guatemala
-->