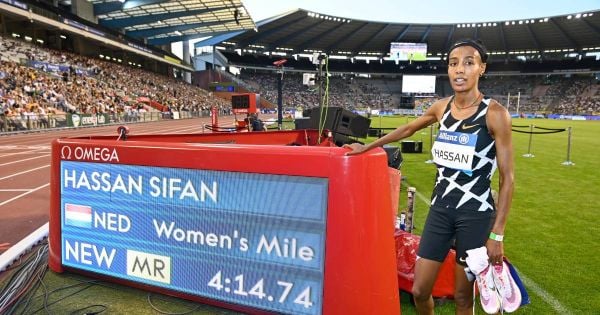 Armand Duplantis, Sifan Hassan and Michael Cherry broke meeting records at the 45th edition of the Memorial Ivo Van Damme at the King Baudouin Stadium in Brussels, the penultimate leg of the Wanda Diamond League. The top Belgian meeting was held in front of 28000 spectators.
See the full Brussels Diamond League meet results here.
Men's pole vault:
World record holder and olympic champion Duplantis had a clean sheet at 5.50m, 5.75m, 5.85m and 5.91m before improving his own meeting record to 6.05m at the third attempt, the 21st jump of his career over the 6.00m barrier.
Last year the Swede won at the Memorial Van Damme with 6.00m. The bar was raised to the world record height of 6.19m. Duplantis was close to clearing the bar in the second attempt.
Armand Duplantis: "I felt good. I was really close to the world record. That height demands perfection out of you. It is a game of centimetres and today I lost the game, but one of these days I am gonna take it. That for sure. I could not ask for better conditions. It was hot enough, there was no wind. All was perfect. It was just up to me. The crowd was unreal. I have not had such an amazing atmosphere during the competition in a really long time. All eyes were on me when I attacked the world record. It is a special feeling, really cool".
Olympic silver medallist Chistopher Nilsen cleared 5.85m on his first attempt to take second place to beat KC Lightfoot on countback. Nilsen and Lighfoot failed to clear their three attempts at 5.91m.
Women's Mile:
Double Olympic champion Sifan Hassan set the world seasonal best with 4:14.75, improving Faith Kipyegon's meeting record set in 2015 with 4:16.71. Hassan set the fifth fastest performance in history.
The Dutch star missed her own record of 4:12.33 by two seconds.
Sifan Hassan: "Since the start of the pandemic, we have not had a big crowd and I am so happy to see them. We have not experienced it for nearly two years, it makes you feel special. It's amazing. I really love it".
Axumawit Embaye finished second with 4:21.08 ahead of Linden Hall from Australia, who set the Oceanian record with 4:21.38.
Men's 400 metres:
This year's 4x400 olympic champion Michael Cherry won the men's 400m race in a PB of 44.03 breaking the meeting record held by Michael Johnson with 44.06 since 1998. Cherry finished fourth at the Olympic Games in Tokyo and won the 400m in Rovereto in 44"50 last Tuesday. Kirani James, who won the Olympic bronze medal in Tokyo beating Cherry by 0.02, finished second in 44.51 ahead of Isaac Makwala (44.83) and Liemarvin Bonevacia (45.00).
Michael Cherry: "I am very happy with my win and a good personal best of 44.03. It felt so good to race here. The crowd was amazing, the weather was nice. I had good competition here. I got the meeting record here in Brussels. I still have a few races to go, so no vacation for me yet. I still have the focus and try to be better each time".
Women's high jump:
Yaroslava Mahuchik, Mariya Lasitskene and Nicola McDermott all cleared 2.00m in the women's high jump. Lasitskene had a clean sheet clearing all heights until 1.98m in her first attempt. Mahuchik needed three attempts to clear 1.95m and got over 1.98m on her first try. The young Ukrainian jumper cleared 2.00m at the second attempt before a first-time clearance at 2.02m. McDermott needed two attempts to clear 1.98m before jumping 2.00m at the first time of asking. Lasitskene also cleared 2.00m on her first attempt. Lasitskene missed one attempt at 2.02m and passed to 2.04m. McDermott had two misses at 2.02m before failing a final attempt at 2.04m. Mahuchik failed her three attempts a 2.04m but she took the win. For the second time in Diamond League history three women have cleared 2.00m in the same competition. All three Olympic medallists have scored Diamond League wins since the Olympic Games in Tokyo. Lasitskene won in Lausanne, McDermott prevailed in Paris and now Mahuchik claimed the victory in Brussels.
Yaroslava Mahuchik: "Today was perfect. The conditions were so good, the crowd was amazing. They were so loud and were cheering for everyone. I had such an amazing time and I try to enjoy myself for every jump. I am happy when I can jump and then to win here is a great feeling. Next week I will compete in Zurich. I hope to win there and then a bit of vacation for me".
Men's 100 metres:
Olympic silver medallist Fred Kerley claimed the win in the men's 100m in 9.94. Trayvon Bromell took second place with 9.97 edging Michael Norman by 0.01. Olympic semifinalist Ferdinand Omurwa from Kenya finished fourth with 10.02. Kerley becomes the first sprinter to win over the 100m, 200m and 400m in the Wanda Diamond League.
Women's 200 metres:
Olympic silver medallist and world under 20 champion Christina Mboma took the first Diamond League of her career on her debut in the circuit dipping once again under the 22 seconds barrier with 21.84. Mboma came through to edge Olympic 100m bronze medallist Shericka Jackson, who also clocked a sub-22 seconds barrier with 21.95. Reigning world champion Dina Asher Smith improved her seasonal best to 22.04. Sha'Carri Richardson finished a distant fourth in 22.45.
Christine Mboma: "I was really excited to run here in Brussels. It was my first Diamond League experience and it was exciting to be able to win against such a strong field".
Women's 5000 metres:
Francine Nyonsaba held off Ejgayehu Taye in a close sprint into the finish-line setting a national record of 14.25.34. Taye took second place with 14:25.63 beating two-time world champion Hellen Obiri (14:26.23) and Margaret Chelimo Kipkemboi, who improved her PB to 14:27.12 in fourth place. The top seven runners dipped under 14:32 for the first time in a 5000m race.
Men's 1500 metres:
Oceanian record holder Stewart McSweyn from Australia overtook a fading Mohamed Katir in the final straight to win the 1500m in 3:33.20: Oliver Hoare finished second in 3:33.79 ahead of Michal Rozmys from Poland (3:33.96) and Abel Kipsang from Kenya (3:34.08).
Women's 100 metres hurdles:
European Indoor champion Nadine Visser from the Netherlands edged 2018 Commonwealth champion Tobi Amusan by eight thousandths of a second in a very close women's 100m hurdles with the same time of 12.69. Olympic bronze medallist Megan Tapper from Jamaica took third place in 12.77 beating Cindy Sember by 0.02.
Men's 400m hurdles:
Olympic bronze medallist Alison Dos Santos from Brazil headed into next week's Wanda Diamond League final with a win in 48.23 ahead of Kyron McMaster (48.31) and Yasmani Copello (48.45).
Women's 800 metres:
Jamaica's Natoya Goule won a thrilling women's 800m race in 1:58.09 holding off Olympic silver medallist Keely Hodginson (1:59.16) and Jemma Reekie (1:58.77)
Men's long jump:
Rushval Samaai took the early lead with 7.95m in the first round. Steffin McCarter and Filippo Randazzo were the other qualifiers for the Final 3 with 7.93m and 7.89m. McCarter saved his best for last claiming the win in the Final 3 with 7.99m ahead of Samaai, who took second place with 7.89m in the sixth round. Randazzo fouled his final attempt.
Men's 800 metres:
Olympic silver medallist Ferguson Rotich won the non-scoring men's 800 metres in 1:43.81 ahead of Elliot Crestan (1:45.24) and Cornelius Tuwei (1:45.29).
-->