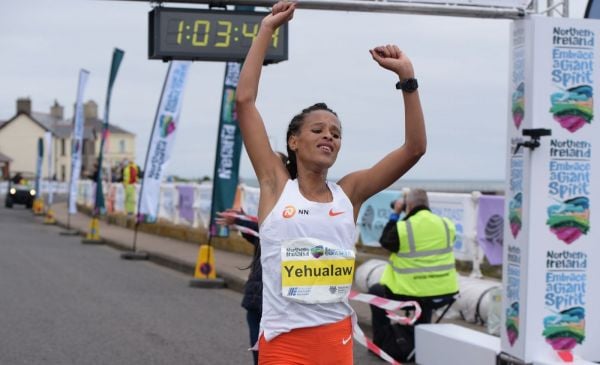 Ethiopia's Yalemzerf Yehualaw smashed the women's World half marathon record on Sunday at the Antrim Coast Half Marathon in Larne, Northern Ireland.
The 22-year-old Yehualaw clocked an amazing 1:03:44 to shave 18 seconds from the previous world half marathon record of 1:04:02 held by Kenya's Ruth Chepngetich. Yehualaw took 57 second off her personal best set in Istanbul earlier this year when Chepngetich set the then world record.
Kenya's 19-year-old Jane Nyaboke who took second place in Larne finished 6 minutes behind the winner in 1:09:45. Great Britain's Britain's Rose Harvey concluded the podium with 1:10:29 with Georgie Schwiening fourth (1:11:13).
"This was a dream come true for me," 22-year-old Yehualaw told BBC Sports. "I have tried twice before to break the world record but it didn't happen, but I'm so happy it happened today in Larne."
In the men's race It was an Ethiopia's Jemal Yimer claimed the wictory in a sprint finish in 1:00:30 just one second ahead of his compatriot Tesfahun Akalnew (1:00:31) and two seconds ahead of Kenya's Shadrack Kimining (1:00:32).
Top Results women
| Rank | Name | Nationality | Race Time |
| --- | --- | --- | --- |
| 1 | Yalemzerf YEHUALAW | ETH | 1:03:44 |
| 2 | Vane NYAMBOKE | KEN | 1:09:45 |
| 3 | Rose HARVEY | ENG | 1:10:29 |
| 4 | Georgie SCHWIENING | ENG | 1:11:13 |
| 5 | Fionnuala ROSS | NIR | 1:13:10 |
| 6 | Ann-Marie MCGLYNN | NIR | 1:13:13 |
| 7 | Becky BRIGGS | ENG | 1:13:32 |
| 8 | Jessica CRAIG | NIR | 1:14:49 |
| 9 | Chloe RICHARDSON | ENG | 1:14:58 |
| 10 | Aoife KILGALLON | IRE | 1:15:07 |
Top Results men
| Rank | Name | Nationality | Race Time |
| --- | --- | --- | --- |
| 1 | Jemal YIMER | ETH | 1:00:30 |
| 2 | Tesfahun AKALNEW | ETH | 1:00:31 |
| 3 | Shadrack KIMINING | KEN | 1:00:32 |
| 4 | Marc SCOTT | GB & NI | 1:00:35 |
| 5 | Nigel MARTIN | ENG | 1:03:22 |
| 6 | Ryan CREECH | IRE | 1:03:26 |
| 7 | Paul O'DONNELL | IRE | 1:03:37 |
| 8 | Ross SKELTON | ENG | 1:03:40 |
| 9 | Yalemzerf YEHUALAW | ETH | 1:03:44 |
| 10 | Stephen SCULLION | IRE | 1:03:54 |
-->