Solomon Mutai and Betesfa Getahun opt for Vienna, organizers expect Green Light

Posted by:
Watch Athletics
Wednesday, 11 August 2021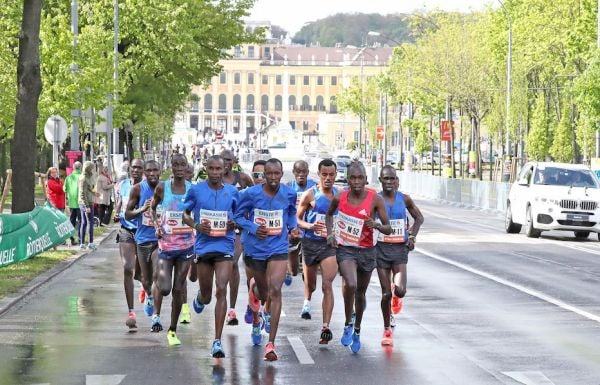 As things stand in Austria the Vienna City Marathon will go ahead on 12th September. It is one month to go tomorrow and organizers do not expect any drastic rule changes that would limit outdoor events in the coming weeks. Since 1st July the Austrian government has allowed all events to go ahead, no matter how many people are involved. The Vienna City Marathon could be one of the first major international marathons to take place since the start of the pandemic in March 2020. Organizers, who are working closely with the city to provide the required hygiene concept, have today released a number of elite runners for the men's event. Among those who will feature in Austria's number one road running event is Uganda's Solomon Mutai and Betesfa Getahun of Ethiopia, who has a personal best of 2:05:28.
It was in Vienna where Kenya's Olympic Champion Eliud Kipchoge famously broke the two-hour marathon barrier in October 2019 in a race co-organized by the same team that is in charge of the Vienna City Marathon. Almost exactly two years after this phenomenal performance by Eliud Kipchoge Vienna plans to stage a marathon again.
Adding races at shorter distances a total of 24,900 athletes have so far registered for the Vienna City Marathon, which will be spread over two days with some of the shorter events taking place on Saturday. Online entry for this World Athletics Marathon Label Road Race is still possible until next Sunday at: www.vienna-marathon.com
"With their incredible performances and elegantly smooth running styles elite runners belong to the Vienna City Marathon. We are really happy that even in these extraordinary circumstances this year we will be able to present world-class sport on the streets of Vienna," said Race Director Wolfgang Konrad.
Betesfa Getahun heads the current start list with a personal best of 2:05:28. The 22-year-old Ethiopian ran this time when finishing fourth in his marathon debut in Amsterdam in 2019. Since Vienna will only be his second marathon he will be eager to improve his PB. Among his rivals will be Kenyans Bethwell Rutto and Edwin Kosgei who clocked personal bests of 2:07:41 and 2:07:51 respectively in this year's Siena Marathon. Solomon Mutai, who took a bronze medal in the 2015 World Championships' marathon, will have the advantage of knowing the course when he returns to the Austrian capital. The Ugandan placed third in the Vienna City Marathon with a personal best of 2:08:25 in 2019.
A strong Japanese team will feature in the Vienna City Marathon: Kento Kikutani improved his personal best to 2:07:26 this February in Otsu where he finished ninth. Yuta Koyama (2:08:46), Koki Yoshioka (2:10:13), and Daiji Kawai (2:10:50) are the other three Japanese who currently train for the race in Vienna.
Regarding mass participation, organizers look ahead with confidence. "We are really happy with the interest runners are showing for our event. This is a great boost for all our activities. Two and a half years after the most recent Vienna City Marathon we are ready to go again. When we organized smaller running events recently we already got a great response from the running community," said Kathrin Widu, the Managing Director of the Vienna City Marathon. A recent anonymous survey among runners entered for the race showed that over 92.7 % of them will compete in the Vienna City Marathon fully vaccinated.
For more information please visit: www.vienna-marathon.com or contact Andreas Maier (Press Officer): [email protected]
-->