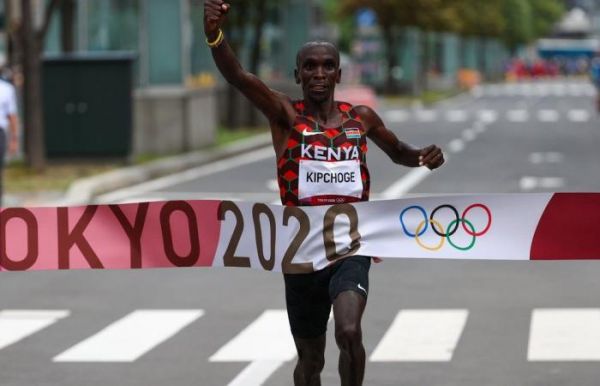 Eliud Kipchoge became the only third man to successfully defend an Olympic marathon gold medal by winning the 42 km race at Odori Park in Sapporo. Only marathon legends Abebe Bikila from Ethiopia in Rome 1960 and Tokyo 1964 and East German Waldemar Cierpinski in Montreal 1976 and Moscow 1980 have managed the feat of winning back-to-back Olympic marathon titles.
Kipchoge broke away at 31 km and built a lead of more than one minute before crossing the finish-line in 2:08:38 with a gap of 1:20, the widest margin in an Olympic marathon since Frank Shorter's title in 1972.
Kipchoge broke the world record with 2:01:39 in Berlin in 2018 and won 10 consecutive races over a five-year period which included wins at most of the world's most prestigious races.
Eliud Kipchoge: "I have fulfilled the legacy by winning the marathon for the second time, back to back. I hope to help inspire the new generation. It means a lot for me, especially at this time. It was very hard last year, with the Olympic Games postponed. I am happy for the local organising committee who made this race happen. It is a sign that shows the world we are heading in the right direction to a normal life".
A big group of 50 runners started at a conservative pace going through the first 5 km in 15:17 and the 10 km in 30:53 on pace for a 2:10 pace.
South Africa's Stephen Mokoka led a leading pack of 23 winners, which reached the halfway mark in 1:05:13.
At the 27 km mark 12 runners remained in the leading group. Kipchoge dictated the pace with Belgian Bashir Abdi, Dutchman Abdi Nageeye, Lawrence Cherono from Kenya and Alphonce Simbu from Tanzania.
Eight men stayed in contention at 30 km mark (1:32:31). One km later Kipchoge broke away from the rest of the field and built a 27-second lead at 35 km. The Kenyan legend increased it to more than one minute at 40 km. Cherono, Ayad Lamdassem from Spain, Abdi and Nageeye battled it out for silver and bronze. Nageeye claimed second place in 2:09.58 holding off Abdi by two seconds.
Abdi Nageeye: "I said so many times I wanted a top three, but I never made it. So today I was just focusing. When I reached 39 km, I just knew I would win a medal. I was feeling easy with three kilometres to go. I knew I had just nine minutes to run. It is unbelievable. I always believed in myself. I was a nomad. I packed my bags and trained in France, America, Ethiopia and Kenya. To stand on the podium with Eliud Kipchoge, the greatest of all time, it is amazing".
Japan is a lucky country for Bashir Abdi, who set the Belgian record with 2:04:49 in the Tokyo World Major Marathon in 2020 and now reaches the podium in his seasonal best of 2:10:00 beating Lawrence Cherono by two seconds. Ayad Lamdassem finished fifth in 2:10:16 ahead of Japan's Suguru Osako (2:10:41), Alphonce Simbu (2:11:35) and US Galen Rupp (2:11:41).
Bashir Abdi: "The last three kilometres were very hard because I had cramps. My training partner Nageeye motivated me. I am really happy he finished in second place and I am really happy with the bronze. He said: 'You have to go". If he was not here today, it would have been a difficult last three kilometres".
Tokyo Olympics men's Marathon top results: See full results here
| | | | |
| --- | --- | --- | --- |
| POS | ATHLETE | COUNTRY | MARK |
| 1 | Eliud KIPCHOGE | KEN | 2:08:38 |
| 2 | Abdi NAGEEYE | NED | 2:09:58 SB |
| 3 | Bashir ABDI | BEL | 2:10:00 SB |
| 4 | Lawrence CHERONO | KEN | 2:10:02 SB |
| 5 | Ayad LAMDASSEM | ESP | 2:10:16 SB |
| 6 | Suguru OSAKO | JPN | 2:10:41 SB |
| 7 | Alphonce Felix SIMBU | TAN | 2:11:35 SB |
| 8 | Galen RUPP | USA | 2:11:41 SB |
| 9 | Othmane EL GOUMRI | MAR | 2:11:58 |
| 10 | Koen NAERT | BEL | 2:12:13 SB |
| 11 | Mohamed Reda EL AARABY | MAR | 2:12:22 |
| 12 | Nicolas NAVARRO | FRA | 2:12:50 SB |
| 13 | Maru TEFERI | ISR | 2:13:02 |
| 14 | Goitom KIFLE | ERI | 2:13:22 |
| 15 | Jeison Alexander SUAREZ | COL | 2:13:29 |
| 16 | Tachlowini GABRIYESOS | ART | 2:14:02 |
| 17 | Morhad AMDOUNI | FRA | 2:14:33 SB |
| 18 | Hamza SAHLI | MAR | 2:14:48 SB |
| 19 | Shaohui YANG | CHN | 2:14:58 |
| 20 | Eyob GHEBREHIWET FANIEL | ITA | 2:15:11 SB |
-->