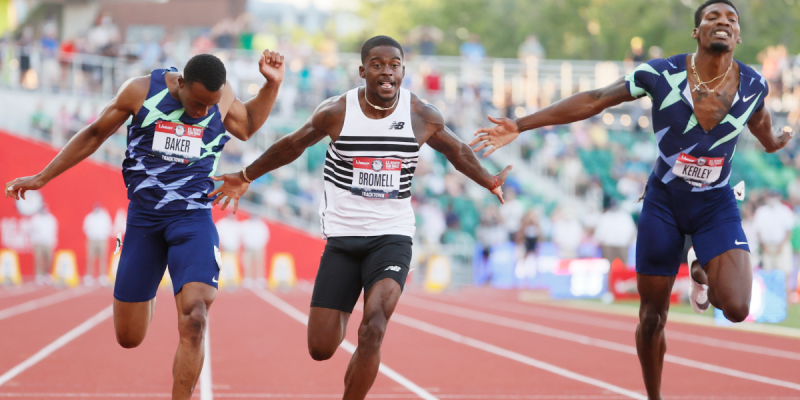 The Muller Grand Prix in Gateshead has attracted a combined number of 148 world and Olympic medallists and 41-Tokyo bound members of the British team for this summer's Olympic Games.
The line-up of the seventh leg of the Wanda Diamond League features Elaine Thompson Herah in the women's 200 metres, Johannes Vetter in the men's javelin, Trayvon Bromell in the men's 100 metres and heptathlete Katarina Johnson Thompson and Malaika Mihambo in the women's long jump.
The Gateshead meeting is scheduled 17 days before the start of the Olympic athletics competition on 30 July.
See the live stream and results here.
Men's 100 metres:
Trayvon Bromell set the world seasonal best of 9.77 last June and won the US Olympic Trials final in 9.80. The 2016 World indoor champion will be looking to bounce back from fifth place in 10.01 at the Wanda Diamond League in Monaco last Friday.
Bromell will take on 2019 world 400m bronze medallist Fred Kerley, who finished third at the US Trials in Eugene with a PB of 9.86, 200m Olympic and world silver medallist André De Grasse from Canada, who won two consecutive 200m races in Oslo in 20.09 and Szekesfehrvar in 19.97, Isiah Young, who clocked 9.89 this year, 2021 British champion Chijindu Ujah and 2014 European 200m champion Adam Gemili from Great Britain.
Bromell is not worried about his fifth place in Monaco.
Trayvon Bromell: "I just want to focus on getting some runs in. I don't look at Monaco and be like mad. Obviously, I had some technical issues. It was probably one of the worst days for a sprinter and I ran 10.01. I can't be mad at that".
Women's 200 metres:
Elaine Thompson Herah start was the favourite in the women's 200 metres. The double Olympic champion won two European 100m races in Lignano Sabbiadoro in 11.03 into a headwind of -1.3 m/s and 10.71 in the Continental Tour in Szekesfehervar. The Jamaican star will face Blessing Okagbare, who clocked 10.89 in the 100m in Szekesfehervar, Tamara Clarke, who finished fourth in the 200m at the US Olympic Trials in 21.98, and Jamaica's Natasha Morrison, who clocked 10.87 in the 100m in Kingston this year.
Men's javelin throw:
Johannes Vetter came close to Jan Zelezny's world record of 98.48m set 25 years ago in Jena with his impressive throw of 97.76m at the Continental Tour meeting in Chorzow last September. The 28-year-old German javelin thrower threw 96.29m to win the competition by 11 metres at the European Team Championships in Chorzow last May. Vetter won the world title in London in 2017 the last time he competed in Great Britain.
Two javelin throw world records were set on British soil. British javelin thrower Steve Backley set the world record with 90.98m at the Crystal Palace in London in 1990. Czech legend Jan Zelezny broke the world record of 95.66m in Sheffield in 1993.
Johannes Vetter: "I have good memories of competing in England. My world title in 2017. I won my world title in the Olympic Stadium in London and there is always good support at British meetings from their knowledgeable crowd".
Vetter will face 2012 Olympic champion Keshorn Walcott from Trinidad and Tobago, who threw 89.12m in Kuortane, reigning world champion Anderson Peters from Grenada, German thrower Julian Weber, who took third with 84.35m in Lucerne
Women's 400 metres hurdles:
Reigning 400m European Indoor champion Femke Bol will clash against 2015 world silver medallist Shamier Little for the third time in the past ten days. Bol is unbeaten in five 400m hurdle races and clocked 52.37 in Stockholm to clock the fourth-fastest time in history. Little, who finished fourth at the US Trials in Eugene, set the fifth-fastest time in history with 52.39.
Two days later Bol won in Szekesfehervar in 52.81 beating Little by 0.04.
The line-up also features this year's Jamaican Trials champion Janieve Russell, 2018 European champion Lea Sprunger from Switzerland, 2016 Olympic bronze medallist Ashley Spencer and 2020 British champion Jessie Knight.
110m hurdles
Olympic champion Omar McLeod will be looking to bounce back from the disappointment at the Jamaican Trials, where he finished eighth in the final. He hit the first hurdle with his lead foot and never got back into contention. He was not selected for the Jamaican Olympic team and will not defend his Olympic title.
Omar McLeod: "In the morning I am heartbroken. In the morning I had a severe cramp before the race. I just didn't know what to do. When my name was not on the list, i was heartbroken. I have proven that over and over. I went into the championships as a world leader. I was competing well. I was competing well. I was going to treat the trials just the same. I thought I could run potentially a Jamaican record or world record. I had nothing else to prove. I was ready to defend my title".
McLeod will face world indoor gold medallist Andy Pozzi from Great Britain, Ronald Levy (Jamaican Trials winner), Rasheed Broadbell (PB 13.10 this year), US Freddie Crittenden (Pan American silver medallist in 2019 in Lima) and European Indoor bronze medallist Paolo Dal Molin, who broke the Italian 110m hurdles record with 13.27 at the National Championships in Rovereto.
Women's long jump:
Reigning world heptathlon champion Katarina Johnson Thompson will make her come back in the women's long jump seven months after tearing her Achilles tendon. KJT, who broke Jessica Ennis Hill's British heptathlon record with 4981 points in Doha two years ago, holds a PB of 6.92m in the long jump and leapt to 6.85m in the Birmingham Diamond League in 2019.
The British star will take on world outdoor champion Malaika Mihambo from Germany, who set her seasonal best of 7.02m in Stockholm, but he had to settle with second place in the new-format Final 3, when her final jump of 6.77m was bettered by Ivana Spanovic's 6.88m jump in the sixth round.
The line-up also features Maryna Bekh Romanchuk from Ukraine and Khaddi Sagnia from Sweden, who finished first and third at the European Indoor Championships in Torun 2021, Abigail Irozuru and Jazmin Sawyers, who won the British titles in 2020 and 2021, US Talliah Brooks (PBs 6.78m in the long jump and 12.61 in the 100m hurdles) and Fatima Diame (PB 6.82m in Castellon in 2021).
Men's 3000 metres:
Stewart McSweyn is looking to continue his good period of form after winning the Dream Mile in Oslo in a new Oceania record of 3:48.37 and finishing fourth in the 1500m in 3:29.51 in Monaco. McSweyn will face Mohamed Katir, who returns to Gateshead where he won the 5000m in the first leg of the 2021 Diamond League season in the North-Eastern British city with 13:08.52 on 23 May. Katir broke the 3:30 barrier in the 1500m for the first time in his career in Monaco last Friday with 3:28.52.
The line-up also features Jacob Krop, who clocked 7:30.07 in Oslo, and Italian record holder Yeman Crippa, who narrowly missed his national record over the 3000m distance with 7:41.41 in Nembro.
Women's pole vault:
Holly Bradshaw will jump in front of her home fans after breaking two British records with 4.82m in Huelva and 4.90m at the British Championships in Manchester. Bradshaw will take on the world and Olympic silver medallist Sandi Morris, who finished third at the US Trials with 4.60m in Eugene, Swedish record holder Michaela Mejer (4.83m) and Roberta Bruni, who improved the Italian record to 4.70m this year, Finland's Wilma Murto (4.62m) and Olivia Gruver (two-time NCAA champion in 2017 and 2018).
Three world records were set in Gateshead by Daniela Bartona with 4.14m in 1995, Yelena Isinbayeva with 4.82m in 2003 and 4.87m in 2004.
Men's triple jump:
European Indoor champion Pedro Pablo Pichardo from Portugal leads the field with his world seasonal best of 17.92m set in Szekesfehervar last week. The other top names are Italy's Tobia Bocchi, who won the Italian title with 17.14m in Rovereto, Benjamin Williams from Great Britain (17.27m), Pablo Torrijos from Spain (17.09m) and Tiago Pereira from Portugal (16.97m).
Men's 800 metres:
Olympic bronze medallist Clayton Murphy leads the line-up with his 1:43.17 set at the US Open Trials. Murphy will face Bryce Hoppel and Isaiah Harris, who finished third and fourth at the US Olympic Trials, and 2019 world silver medallist Amel Tuka from Bosnia and Herzegovina.
Emsley Carr Mile:
The Emsley Carr Mile dedicated to the editor of the News of the World is set to be an all-British battle between European bronze medallist Jake Wightman, who improved his PB to 3:29.47 in the 1500m in Monaco last year, and Elliot Giles, who broke Sebastian Coe's 800m British Indoor record with 1:43.63 at the World Indoor Tour meeting in Torun in 2021 and improved his outdoor 800m PB to 1:44.05 in Stockholm.
Women's Mile:
Winnie Nanyondo from Uganda, who finished fourth in the 800m at the World Championships in Doha 2019 and set a seasonal best of 4:00.84 in the 1500m. will face Kate Grace, who won the 800m in Oslo and improved her PB to 1:57.36 in Stockholm.
Women's 100m hurdles:
The women's 100m hurdles race is a re-match between Nadine Visser and Cindy Sember, who finished first and second at the European Indoor Championships in Torun last March. The line-up also features 2015 world champion Danielle Williams, who clocked a lifetime best of 12.32 at the Anniversary Games in London in 2012.
-->