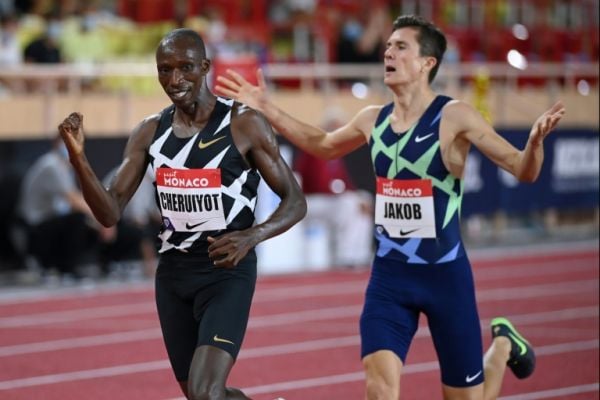 Ten reigning world champions, eleven world seasonal leaders and six world leaders will be in the spotlight at the 35th edition of the Herculis EBS meeting in Monaco, the sixth leg of Wanda Diamond League.
Monaco has lived up to its reputation as the home of middle-distance running in the most recent years. World records were set by Beatrice Chepkoech in the women's 3000m steeplechase with 8:44.32 in 2018, Sifan Hassan in the mile with 4:12.33 in 2019 and Joshua Cheptegei in the 5000m with 12:35.36 in 2020.
Watch Monaco Diamond League live stream
Women's 1500 metres:
Hassan returns to Monaco as reigning world 1500m and 10000m champion. The Dutch star started her season with a world record of 29:06.82 in the 10000m in Hengelo. Five days later the Dutch runner won the 1500m in the Diamond League in Florence with 3:53.63 beating Faith Kipyegon, who set the Kenyan record with 3:53.91. Hassan will take on Kipyegon on the Monaco track.
The line-up also features Ethiopian 20-year-old middle-distance runner Freweny Hailu, who set her PBs with 3:57.33 in the 1500m and 1:57.57 in the 800m in Chorzow, Winnie Nanyondo, who finished fourth in the 800m at the World Championships in the 800m in Doha, and Clara Maggean, European Indoor bronze medallist in the 1500m in Glasgow 2019.
Men's 1500 metres:
Timothy Cheruiyot will be aiming to win the men's 1500m at the Monaco Herculis meeting for the fourth time in his career after claiming victories in 2018 (3:28.41), 2019 (3:29.97) and in 2020 (3:48.45). The 2019 world champion bounced back from his fourth place at the Kenyan Olympic Trials to win the Stockholm 1500m race in 3:32.45.
Cheruiyot will face 1500m and 5000m European outdoor champion Jakob Ingebrigtsen from Norway, who set the European Under 20 record with 3:31.18 in Monaco in 2018 and improved his PB to 3:28.68 in 2020. In this year's edition of the Diamond League Ingebrigtsen won the 1500m in Gateshead in 3:36.27 and set the European 5000m record with 12:48.45 at the Golden Gala in Florence, but he was forced to pull out from the Bislett Games Dream Mile due to a sore throat.
Jakob's elder brother Filip will also line up one week after improving his PB to 7:34.00 in the 3000m in Oslo. Filip set his 1500m PB with 3:30.01 in Monaco in 2018 beating Jakob.
Australia's Stewart McSweyn will make an attempt to break his national 1500m record of 3:30.51 set in the Doha Diamond League meeting last September. In this year's edition of the Wanda Diamond League McSweyn finished second in Doha in 3:31.57 and won the Oslo Dream Mile in 3:48.57 ahead of world 1500m bronze medallist Marcin Lewandowski, who set the Polish record with 3:49.11 in the Norwegian race. The line-up also features reigning 1500m world indoor champion Samuel Tefera from Ethiopia, Mohamed Katir from Spain, who won the 5000m in Gateshead in 13:08.52 and finished fourth at the Golden Gala in Florence in 12:50.79.
Men's 400 metres hurdles:
Karsten Warholm will run his first 400m hurdles race since breaking Kevin Young's world record with 46.70 at the Bislett Games in Oslo. Warholm won the 400m hurdles race in Monaco in 47.10 last year. The Norwegian star will not clash against Raj Benjamin, who pulled out of the Monaco meeting after winning the US Olympic Trials final in 46.83.
Warholm will clash against Brazil's Alison Dos Santos, who set two South American records clocking 47.38 in Oslo and 47.34 in Stockholm, Kyron McMaster from the British Virgin Islands, who improved his PB to 47.50 in Walnut and European Under 23 champion Wilfried Happio.
Karsten Warholm: "The 400m hurdles world record was a huge relief, We have been talking about it for two or three years now. It was important for me to be the first to improve Kevin Young's old mark. It was a relief as well as a moment of emotions. Monaco has a very fast track".
Men's 100 metres:
The top three finishers from the 100m finals of the US Olympic Trials – Trayvon Bromell, Ronnie Baker and Fred Kerley will clash against South Africa's Akani Simbine from South Africa, who broke the African record with 9.84 in Szekesfehervar, Olympic and world 200m silver medallist André De Grasse, who won the 200m in Oslo in 20.08 and Szekesfehrvar in 19.97, European 60m Indoor champion Marcell Jacobs, who broke the Italian record with 9.95 in Savona and finished second in Stockholm in 10.05, 0.02 sec behind Baker, former European Under 20 champion Filippo Tortu, who set the European fastest time last year with 10.07, and European record holder Jimmy Vicaut from France.
Bromell clocked the fastest time in the world this year with 9.77 last June in Florida and won the US Olympic Trials in 9.80.
Trayvon Bromell: "I came to Monaco in 2015 for the relay camp and since then, I have always dreamt of racing here. I know that tomorrow's line-up is a great one. It might be the line-up at the Olympic Games. Every race, I get out there and do what I can do, my goal is always to send a message of hope to the little girls and boys watching me".
Women's 200 metres:
It's shaping up as one of the best women's 200m races of the season. Shelly-Ann Fraser Pryce starts with the fastest time among the entrants with her recent PB of 21.79 set at the Jamaican Olympic Trials and clocked the second-fastest time with 10.63 in the 100m. The Jamaican sprint legend will take on Olympic 400m champion Shaunae Miller Uibo, who clocked a seasonal best of 22.03 in the 200m and won the 400m at the Monaco Herculis in 2018 with 48.97.
Shelly-Ann Fraser: "I am having a lot of fun this year, breaking the 10.70 barrier has helped me a lot to gain confidence in my technique. I am delighted to be in Monaco, things have been great so far for me. The most important lesson I learned as an athlete is to take one step at a time. I just focus on what I want to achieve and not on people's expectations. Tomorrow I am hoping to improve the time I ran in Kingston".
The line-up also features three-time world medallist Marie Josée Ta Lou, who won the 100m in Oslo in 10.91 and finished second in Szekesfehervar with 10.86, Blessing Okagbare, who clocked 10.89 in Szekesfehervar, and US Tamara Clark, fourth at the US Trials in 21.98.
Men's 800 metres:
The 800m promises to be a very fast race. Nijel Amos will be aiming to win the 800m in Monaco for the second time in his career The Botswanan middle-distance star set the meeting record with 1:41.83 in 2019. Amos will take on three athletes, who have already dipped under 1:44 this year, including world bronze medallist Ferguson Rotich, who won in the Stockholm Diamond League in 1:43.84, Clayton Murphy, who won the US Trials final with 1:43.17, European Indoor champion Patrik Dobek from Poland, who improved his PB to 1:43.73. The other athletes to watch are world championships fourth placer Bryce Hoppel, who set his PB with 1:43.23 in Monaco last year, Emmanuel Korir, who holds a 800m PB with 1:42.05 and finished sixth in the 400m at the 2019 World Championships, Elliot Giles, who finished third in Stockholm in 1:44.05 and won in Szekesfehervar in 1:44.89, Amel Tka, who won in Monaco in 2015 in 1:42.51, and Benjamin Robert from France, who clocked his PB with 1:44.53 in 2021.
Women's 800 metres:
Cuba's Rose Maria Almanza and Natoya Goule, who clocked the second and third-best time in the world this year in the Stockholm Diamond League with 1:56.28 and 1:56.44, will line up in Monaco in what is expected to be a very fast race.
US Kate Grace will run her third Diamond League in the past ten days after finishing first in Oslo in 1:57.60 and third in Stockholm in her career-best of 1:57.36.
British middle-distance stars Jemma Reekie and Laura Muir will make an attempt to improve their seasonal best times set in Walnut with 1:58.27 and 1:58.46. The other names to watch are 800m world champion Halimah Nakaay (second in Oslo in 1:58.70), Habitam Alemu (second in Hengelo in 1:58.16), Australia's Catriona Bisset, who set the Oceania record with 1:58.09, and Renelle Lamote, who finished third in Chorzow with 1:58.09.
Women's 3000m steeplechase:
The spotlight will be on Kenya's Beatrice Chepkoech, who set the world record with 8:44.32 in Monaco in 2018. She also set the world all-time best in the 5 km in the Monaco Run with 14:43. Chepkoech will clash against her compatriot Hyvin Kyeng, who won the Kenyan Olympic Trials in Nairobi and in the Stockholm Diamond League race in 9:04.94 beating reigning European champion Gesa Felicitas Krause, who set her seasonal best with 9:09.13 and will be also running in Monaco. Emma Coburn, world champion in London 2017 and bronze medallist at the Olympic Games in Rio de Janeiro 2016, will make her European debut after winning the US Trials title in 9:09.41.
Men's 3000m steeplechase:
The men's 3000m steeplechase field features five of the top eight from the 2019 World Championships. The line-up is led by Lemecha Girma from Ethiopia, who won the world silver medal in 8:01.36 in Doha 2019. Girma will face this year's Kenyan Trials winner Abraham Kibiwott, Bikila Tadesse Takele, who holds the fastest time this year among the entrants with 8:09.27, Benjamin Kigen, who set his PB of 8:05.12 in Monaco in 2019, Frenchman Djilali Bedrani, who set his PB of 8:05.23 at the 2019 World Championships in Doha, US specialist of Kenyan origin Hilary Bor and Ahmed Abdelwahed, who improved his PB to 8:12.04 at the Golden Gala in Florence.
Women's triple jump:
Double world champion Yulimar Rojas recently missed Inessa Kravets's world outdoor record by just 7 cm with an impressive jump of 15.43m in Andujar. Rojas could attack the meeting record held by Caterine Ibarguen with 15.31m since 2014. She is aiming to win in Monaco for the third time in her career after claiming two victories in 2019 with 14.98m and 2020 with 14.27m.
Yulimar Rojas: "I am in the best shape of my life. In Monaco, I always want to show the best performance possible. I try to improve all the time. We will see what can happen, but it gives me a lot of confidence for the future"
Rojas will come up against Jamaican triple jumpers Shanieka Ricketts and Kimberly Williams, who finished second and fourth at the 2019 World Championships in Doha, Patricia Mamona from Portugal and Spain's Ana Peleteiro, who finished first and second at the 2021 European Indoor Championships in Torun, Cuba's Liadagmis Povea, who improved her lifetime best to 14.93m, Senni Salminen, who set the Finnish record with 14.63m and won the Turku meeting with 14.51m, and Dariya Derkach, who set the qualifying standard for the Olympic Games with 14.47m at the Italian Championships in Rovereto.
Men's high jump:
World bronze medallist Ilya Ivanyuk and this year's European Indoor champion Maksim Nedasekau are joint world leaders this year with 2.37m. Nedasekau won the European Indoor gold medal in Torun last March with 2.37m and cleared this height in Szekesfehervar earlier this week. Ivanyuk won the first two Diamond League competitions of the season in Doha and Florence clearing the same height of 2.33m.
Gianmarco Tamberi will be returning to Monaco, where he set the Italian record of 2.39m a few minutes before suffering a serious ankle injury, which forced him to miss the Olympic Games in Rio de Janeiro. Tamberi won the European Indoor silver medal with 2.35m last March and finished third at the Golden Gala in Florence with 2.33m and fourth in Szekesfehervar with 2.30m.
Gianmarco Tamberi: "Tomorrow is my last chance before Tokyo so I want to give my all. My Italian spectators are really supportive. The atmosphere is always amazing when they are here. I love having this great connection with them. I am always trying to be a good role model. Track and field teaches you so many lessons. I could speak for five hours about what the sport has taught me".
The line-up is completed by Mikail Akimenko (world silver medallist with 2.35m), 2014 European silver medallist Andriy Protsenko from the Ukraine, 2018 Diamond League winner Brandon Starc from Australia, and Django Lovett, who won the Canadian title with 2.33m earlier this year.
Women's pole vault:
World seasonal leader Katie Naageotte takes on world outdoor champion Anzhelika Sidorova, reigning Olympic champion Ekaterini Stefanidi, world and Olympic silver medallist Sandi Morris, and Holly Bradshaw, who set the British outdoor record with 4.90m at the National Championships in Manchester at the end of June.
Nageotte set the world seasonal best of 4.95m at the US Olympic Trials. Sidorova won the Golden Gala in Florence with 4.91m
Morris will compete for the first time in Europe after finishing second in the Diamond League meeting in Doha with 4.84m and third at the US Trials with 4.60m.
Stefanidi is aiming to win in Monaco for the second time in her career after her victory in 2018 with 4.81m. The Greek pole vaulter set her seasonal best of 4.80m in Walnut and finished fourth in Doha with 4.74m and third in Florence with 4.66m.
The line-up also features this year's European Indoor champion Angelica Moser from Switzerland, Tina Sutej from Slovenia and Iryna Zhuk from Belarus, who hold the national record with the same height, Roberta Bruni, who improved the Italian record to 4.70m and Polina Knoroz, who cleared 4.75m this year.
Men's long jump:
Mitiadis Tentoglou, who leads the world seasonal list with 8.60m, will come up against world champion Tajay Gayle from Jamaica and world indoor champion Juan Miguel Echevarria from Cuba. Gayle won the Jamaican Trials with 8.23 and has a seasonal best of 8.27m, but he produced two wind-assisted over 8.50m this season. Echevarria set his seasonal best of 8.38m in Castellon. World decathlon record-holder Kevin Mayer will test his shape in his last competition before the Olympic Games. The other names to watch are 2017 world bronze medallist Rushval Samaai, US Marquis Dendy, second at the US Trials with 8.38m, Swede Thobias Montler, twice European indoor silver medallist in Glasgow 2019 and Torun 2021, and Italy's Filippo Randazzo, who won the Gateshead leg of the Diamond League ahead of Gayle.
Women's javelin throw:
Polish javelin thrower Maria Andrejczyk leads the entry list with her PB of 71.40m set at the European Throwing Cup in Split. Andrejczik will take on European champion Christin Hussong, who is ranked second in the world seasonal list with 69.19m, reigning world champion Kelsey Lee Barber and world record holder Barbora Spotakova.
-->