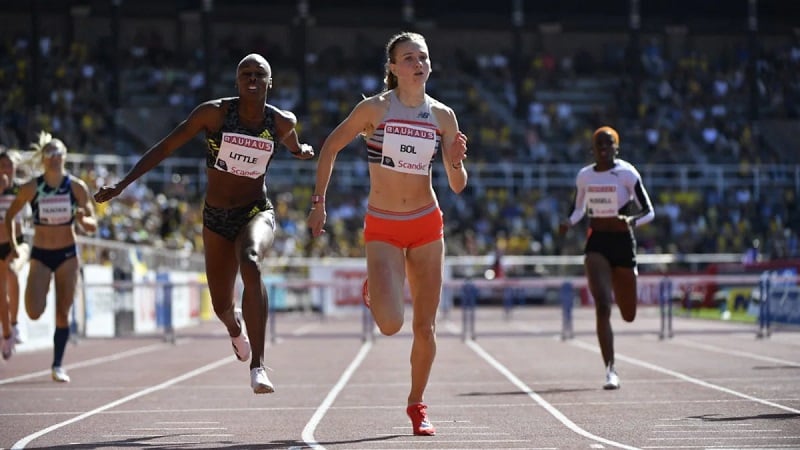 European Indoor champion Femke Bol took a close win in the 400m hurdles over US Shamier Little in 52.37 clocking the fourth-fastest time in history at the Stockholm Diamond League, Bauhaus Galan on Sunday.
She set her 12th national record this year missing Yuliya Pechonkina's European record by 0.03.
Little, who did not qualify for the Olympic Games after finishing fourth at the US Trials in Eugene, took second place setting the fifth fastest time in history with 52.39. Ukraine's Anna Ryzhikova also dipped under the 53 seconds barrier with 52.96 moving up to sixth in the world all-time list. Jamaican Trials winner Janieve Russell took fourth place with 54.08 ahead of Viktoriya Tkachuk from the Ukraine (54.30).
Femke Bol: "I am amazed. I am so happy. I improved my PB by one second, and I am already running PBs. I think running PBs is going to stop for now, but I hope to to keep on getting close to this time. I can't believe it. In two days I have another competition in Hungary with the same field, so it will be exciting".
See the complete Stockholm Diamond League meet results here.
Men's pole vault:
World record-holder Armand "Mondo" Duplantis had a clean sheet clearing all heights until 6.02m to improve his own meeting record by one cm. The Swede made three unsuccessful attempts at the world record height of 6.19m.
Double world outdoor champion Sam Kendricks finished second with 5.92m beating Renaud Lavillenie on countback. Ernest John Obiena from the Philippines cleared 5.82m on his first attempt to finish fourth ahead of Piotr Lisek on countback.
Armand Duplantis: "I feel good about today, being here with my family and friends, and everybody watching. I think it was really important for me to go out there and try to get over 6 metres, and then maybe take a few better shots at the world record, but overall 6.02m was a nice jump, so I can't complain so much. Stockholm is a special place for me. I have had some quite great results here in the past few years. It's like every time I come here, something good happens. I like being here"
Men's 400 metres hurdles:
Brazil's Alison Dos Santos set his third South American record this season with 47.34 a few days after clocking 47.38 in Oslo. Turkey's Yasmani Copello finished second with 48.19 ahead of Kemar Mowatt (48.75) and Rasmus Magi (48.81m).
"I have trained so hard for this competition, for the Diamond League in Monaco and for the Olympic Games," said Dos Santos. "I am feeling confident and I am very excited for the Olympic Games."
Men's 100 metres:
US Trials second placer Ronnie Baker won a close 100m race in 10.03 edging 2021 European Indoor champion Marcell Jacobs from Italy by 0.02 into a -0.8 m/s headwind. Jacobs clocked the fourth fastest time in his career with 10.05 beating Chijindu Ujah (10.10) and Isiah Young (10.13).
Women's high jump:
Yaroslava Mahuchik from Ukraine had a clean-sheet until 1.99m before clearing 2.01m in the first attempt and 2.03m at the third time of asking. The Ukrainian jumper made three unsuccessful attempts at the world leading height of 2.07m. Nicola McDermott set the Oceanian record with 2.01m in the second attempt before failing three tries at 2.03m. Eleanor Patterson cleared 1.96m in the second attempt before failing her tries at 1.99m.
Yaroslava Mahuchik: "I am very happy because 2.03 is a seasonal best. I tried 2.07m and I was so close but not today. I have one more competition before the Olympics at the European Under 23 Championships. I think I can jump high again. I am very very excited about the Olympic Games. The competition will be interesting because all the girls jump higher than 2 metres. I hope I can get a medal. All sportmen want it at the Olympics".
Men's discus throw:
Reigning world champion Daniel Stahl took the lead with 67.33m in the first attempt and improved his best mark to 68.64m. The Swede took the win in the Final 3 with 68.23m. Andrius Gudzius from Lithuania took second place with 66.97m ahead of European Under 23 champion Kristjan Ceh (66.62m) in the first five attempts. Ceh claimed second place in the Final 3 with 64.74m ahead of Gudzius (63.43m).
Daniel Stahl: "Today was really fun to throw in my hometown in front of my home fans and everyone. It was nice weather, the sun was shining. It is Swedish summer. It was really nice to have a home crowd, with 6000 people"
Men's long jump:
Reigning world champion Tajay Gayle took the win in the Final 3 jump-off with a seasonal best of 8.55m. Juan Miguel Echevarria jumped 8.29m in the first attempt before finishing second in the jump-off with 8.29m. Thobias Montler improved his PB to 8.23m.
Tajay Gayle: "I am very pleased and this was a reminder for the future that I can get into these regions, where I was and maybe even better. I am surprised I jumped that far because my feet has not really been responding well. I am very pleased with the result".
Women's long jump:
World champion Malaika Mihambo from Germany produced the best jump of the day by leaping 7.02m in in the third attempt, but Ivana Spanovic claimed the win in the Final 3 jump-off with 6.88m ahead of Mihambo (6.77m). Maryna Beck Romanchuk improved her seasonal best to 6.79m in the third attempt but she fouled her final attempt in the jump-off.
Women's 200 metres:
Olympic 400m bronze medallist Shericka Jackson from Jamaica won her first Diamond League race in the 200m with 22.10 into a headwind of -0.4 m/s ahead of Marie Josée Ta Lou from Ivory Coast (22.36). Beatrice Masilingi finished third setting the Namibian record with 22.65.
Men's 1500 metres:
World 1500m champion Timothy Cheruiyot claimed his fourth win in the Bauhaus Galan with 3:32.30 bouncing back from his fourth place at the Kenyan Olympic Trials. Ignacio Fontes from Spain finished runner-up improving his PB to 3:33.27 ahead of Ronald Kwemoi (3:33.53) and Ronald Musagala (3:33.99).
Men's 800 metres:
World bronze medallist Ferguson Rotich took the win in the men's 800m in 1:43.84 ahead of Marco Arop from Canada (1:44.00) and British indoor record holder Elliot Giles (1:44.05).
Women's 3000m steeplechase:
Former world champion Hyvin Kyeng set the meeting record of 9:04.34 to finish ahead of Gesa Felicitas Krause (9:09.13) and world record holder Beatrice Chepkoech (9:10.52).
Men's 400 metres:
Former Olympic champion Kirani James took a narrow win in 44.63 holding off Deon Lendore from Trinidad and Tobago (44.72), Liemarvin Bonevacia from the Netherlands (44.80), Vernon Norwood (44.83) and Will London (44.86).
Women's shot put:
Two-time Olympic champion Valerie Adams produced the best throw with 19.26m in the third attempt before winning the Final 3 with 18.65m.
Valerie Adams: "This was my first Diamond League since 2018. I have had two kids so I am very happy".
Women's pole vault:
Polina Knoroz took a surprising win with 4.71m on the second attempt to take the win in he women's pole vault. British record holder Holly Bradshaw finished second with 4.61m on countback over Iryna Zhuk, Angelica Bengtsoon and Angelica Moser.
-->