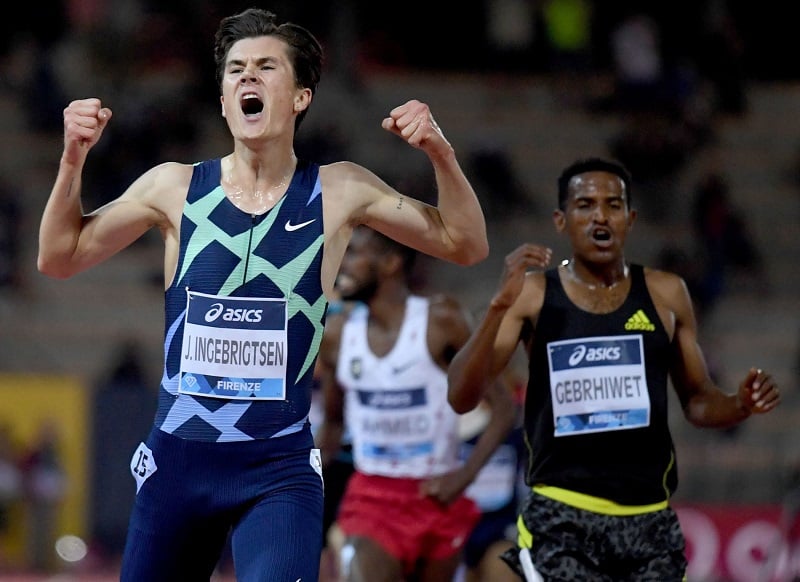 Four meeting records and four world leads were set in a fabulous edition of the Golden Gala Pietro Mennea, the third leg of the Wanda Diamond League meeting, at the Asics Firenze Marathon Stadium in Florence.
20-year-old Jakob Ingebrigtsen grabbed the headlines setting a European 5000m record a world seasonal best with 12:48.93. Sifan Hassan clocked an impressive world lead of 3:53.63 in the women's 1500m. Jasmine Camacho Quinn set a world lead and a meeting record in the men's 100m hurdles with 12.38. Omar McLeod equalled the meeting record in the men's 110m hurdles with 13.01. Soufiane El Bakkali clocked a world lead with 8:0854 in the men's 3000m steeplechase.
Men's 5000 metres:
Jakob Ingebrigtsen launched his kick in the final 200 metres to win the men's 5000m setting the European record and the world leading time with 12:48.45: Ingebrigtsen ran the first sub-13 minutes time of his career. The Norwegian star improved the previous European record of 12:49.71 held by Mouhamed Mouhrit since August 2000. Hagos Gebrhiwet finished second in 12:49.02 holding off Canada's Mo Ahmed (12:50.12) and Mohamed Katir from Spain (PB 12:5079), Canada's Justyn Knight (12:51.93), world record holder Joshua Cheptegei (12:54.69) and Birhanu Balew (12.57.71). Ingebrigtsen has chosen to run the 1500m at the Olympic Games, as the schedule at the Olympic Games does not allow the double.
Jacob Ingebrigtsen: "Today it was like winning a gold medal. It is pretty crazy. I was expecting a PB, because it has been two years since my last PB. I was most likely to run under 13 minutes, but the European record is incredible. Now I have to be able to win a medal. If I am able to win against the best runners, then I can also win at the Olympics. I do a lot of training, so I know I am able to run fast. At the same time, my main focus is not the 5 km but most of my training is for the 5 km, so for me to be able to run fast in the 1500m, I know that I am also able to run fast in the 5 km. I am always excited to race. I know from my training that i am able to run that fast to do it". I felt like I saved a lot of energy earlier in the race and I believe the guy that wanted to win the race the most, won at the end. That was me"
Women's 1500 metres:
Double World champion Sifan Hassan from the Netherlands won a close neck and neck race in the women's 1500m setting the meeting record and with 3:53.63. Olympic champion Faith Kipyegon improved her kenyan record to 3:53.91 to finish second ahead of Laura Muir, who clocked the second fastest time in her career with 3.55.63.
Kipyegon challenged Hassan on the final bend, but Hassan held off the Kenyan middle-distance runner in the final straight.
Canada's Gabriela Debues Stafford finished fourth setting her seasonal best with with 4:00.46.
Hassan will run the 5000m and the 10000m at the Olympic Games in Tokyo.
Sifan Hassan: "I am so happy and I am so tired. It was an amazing race. I did not prepare for speed. I trained more for the 10 km. I thought that Faith Kipyegon was going to win. At 800m we were so fast, but I tried to do my best. I got the meeting record, but for me it is not much about the meeting record. I am surprised about the time, even more that about my time. It is not my plan to run fast. I had hoped to run under 4 minutes".
Women's 100m hurdles:
Jasmine Camacho Quinn from Puerto Rico improved a 41-year-old meeting record with 12.38 to take the win ahead of Devynne Charlton from Bahamas (12.80) and European champion Elvira Herman from Belarus (12.85). The previous Golden Gala record had been held by Vera Komisova with 12.39 since the first edition of the meeting in 1980.
Jasmine Camacho Quinn: "Actually, I did much better than I thought I would. I was really nervous at the start. So all I could think when I was in the blocks was to have a good start, push really hard and be good to go. There was no point of getting worked up. It's a good system for my next races. I want to run faster, but I just take it as comes. I have been very consistent with my races. I am really excited, and I am looking forward to the Olympic Games this year. It will be like redemption from my fall in 2016. I am really excited. I am working hard, but I am really looking forward to it"
Women's 200 metres:
World 200m champion Dina Asher Smith broke the meeting record with 22.06 into a slight headwind. The British star clocked the second fastest time in the world. Only Shaunae Miller Uibo ran faster this year in the world with 22.03. Marie Josée Ta Lou from Ivory Coast took seocnd plce with 22.58 ahead of world bronze medallist Mujinga Kambundji (22.60) and Italy's Dalia Kaddari, who improved her PB to 22.86.
Dina Asher Smith: "My team and I know I am in good shape and I am happy to come out and run that today, but I know I can go quicker so I am excited to be able to go again. It was really important to do a good race here today. Obviosly, It's been really hard over the past year because of the pandemic. I am really proud to be able to put that kind of time. I definitely have more in me. I got my first international medal when I was only 17. Even though I am still quite young, I have quite a bit of experience for my age".
Women's pole vault:
Anzhelika Sidorova cleared 4.91m to take the win in the women's pole vault. Iryna Zhuk finished second with 4.71m ahead of olympic champion Katerina Stefanidi (4.66m). Angelica Bengtsson from Sweden finished fourth with 4.66m on countback over British record holder Holly Bradshaw and Venezuela's Robeilys Peinado.
Anzhelika Sidorova: "I found the competiton a little tough this evening. I was really nervous after not having had the best jump at the Diamond League in Doha, but today I wanted to show I could jump much higher. Now in pole vault every competition is so strong, with many great girls, who can jump very high".
Men's 110 metres hurdles:
Reigning olympic champion Omar McLeod set the fastest time in the world this year with 13.01 into a headwind of -0.1 m/s, equalling Allen Johnson's meeting record set in Rome in 1999. Andrew Pozzi from Great Britain finished second with 13.25 ahead of European Indoor champion Wilhelm Belocian (13.31).
Omar McLeod: "It feels good to be winning again. I am having fun again. It was a really good race. I put together a techiìnically sound race. I did not hit a hurdle. The weather is a bit shaky but we have to put up with this. The time is close enough to 13 seconds and I will get under 13 seconds. When the time is right"
Women's 400m hurdles:
European Indoor 400m champion Femke Bol won the third Diamond League win of her career in the women's 400m hurdles with 53.44, setting the third fastest time in the world this year. Only Sydney McLaughlin (52"83) and Shamier Little (53.12) ran faster than Bol in 2021.
The 21-year-old Dutch athlete had already won this race in the 2020 edition of the Golden Gala in the Olympic Stadium in Rome. European silver medallist Anna Ryzhikova finished second with her PB of 54.19 beating Jessica Turner from Great Britain (54.79).
Femke Bol: "I am really happy with this national record. I made a lot of mistakes, but the second half of the race was much better. I gained a lot of speed on the flat, but I have to find my rhythm over the hurdles. We have been working a lot on that. My main focus at the Olympic Games will be the hurdles and then later the 4x400 relay. Last year I won in Rome and I thought a lot about last year's win. I tried to bring back the atmosphere. This is such a nice stadium with a great atmosphere"
Men's high jump:
World seasonal leader Ilya Ivanyuk claimed the win the men's high jump with 2.33, beating Brandon Starc from Australia and 2021 European Indoor silver medallist Gianmarco Tamberi on countback in the men's high jump competition dedicated to the memory of 2004 Olympic finalist Alessandro Talotti, who passed away last May at the age of 40.
Two-time world champion Mutaz Barshim finished fifth equalling his PB with 2.30m
Gianmarco Tamberi: "It is so sad. Talotti left his wife and his son. Today it was fantastic to hear the applause from the crowd. I need to hear that and feel the audience. I want to thank everyone, who came and supported me. The competition was the real season opener. I have to learn a lot from what happened. Now I have to find the right technique. Physically I am already really good. I had to stop for two weeks. For precaution. I would have wanted to win, I still had energy to put into the game"
Women's long jump:
Malaika Mihambo took the lead with 6.82 in the third attempt after two fouls. Ivana Spanovic jumped 6.74m in the third round, but European Indoor champion Maryna Bekh Romanchuk moved ino second place with 6.79 in the fifth round. Spanovic leapt to 6.56m in the Final-3 jump-off to claim the 13th Diamond League win of her career.
Ivana Spanovic: "I have been off from the Wanda Diamond League for almost two years. Because of injuries and the situation of coronavirus. I am really happy that I am back".
Men's 3000m steeplechase:
Soufiane El Bakkali from Morocco won the 3000m steeplechase setting the fastest time in the world this year with 8:08.54. Bikila Tadesse Bekele finished runner-up with 8:10.56 beating Mohamed Titouft from Morocco (8:11.65). Italy's Ahmed Abdelwahed finished fourth with his PB of 8:12.04 beating Chala Beyo (8:12.35) and Osama Zoghlami (8:14.29). Conseslus Kipruto dropped out of the race.
Men's shot put:
Italian indoor record holder Leonardo Fabbri took the early lead setting his seasonal best and with 21.71m in the second round. Fabbri produced the best performance by an Italian shot putter in the Golden Gala (the previous best performance by a local athlete at this meeting was set by 1984 Olympic champion Alessandro Andrei in 1986 with 21.20m). Serbian record holder Armin Sinancevic produced his best put of 21.60m.
Walsh saved the best for last with 21.47m to clinch the win in the Final 3. Sinancevic posted 20.93m, while Fabbri ended the competition with 19.82m. Walsh took the win, but Fabbri goes home happy with the second best performance of his career.
Tom Walsh: "This new Diamond League final already worked in my favour twice, so I am happy with it. It's good that the Diamond League is trying something to showcase throws and horizontal jumps"
Leonardo Fabbri: "I gave everything I had to give. I am very satisfied.This is an amazing feeling. This competition stared in a perfect way with 20.97m This was my day, in my stadium. Winning was not the most important thing today, rather to have fun in front of my people"
Women's discus throw:
Two-time Olympic and world champion Sandra Perkovic improved her seasonal best to 67.70m and 68.31m (her best throw for almost three years) in the first two rounds. The Croatian thrower threw to 66.90m in the Final 3 to beat Yaime Perez, who produced a throw of 65.37m in the final round after setting her best throw of 66.82m in the first attempt. The Cuban thrower produced two more throws over the 66 metres 66.49m and 66.07m).
Perkovic sealed her fourth win at the Golden Gala and her 43rd career Diamond League meeting win.
German champion Kristin Pudenz took third place with 64.42m.
Sandra Perkovic: "I am back. This is my fourth competition in a row. In 2020 I was able to do only one competition. Doha was OK, but in France and in the Netherlands I could not find my rhythm. Today is my last competition for me before my preparation for Tokyo and I really wanted to show what I can. This new rule for the sixth attempt puts a big pressure on the leading athlete".
Men's 400 metres:
World silver medallist Anthony Zambrano claimed the first win of his career in the Diamond League with 44.76 beating Italian record holder Davide Re, who finished second with 45.80.
Anthony Zambrano: "This race turned out as I wanted because I just came from a series of events, and I still managed to run under 45 seconds".
Men's 100 metres:
World and olympic finalist Akani Simbine clinched a back-to-back win in the men's 100m with 10.08 holding off 2018 European 4x100 relay champion Chijundu Ujah by 0.02. Emmanuel Matadi finished third edging Yupun Abeykoon from Sri Lanka with the same time of 10.16.
-->