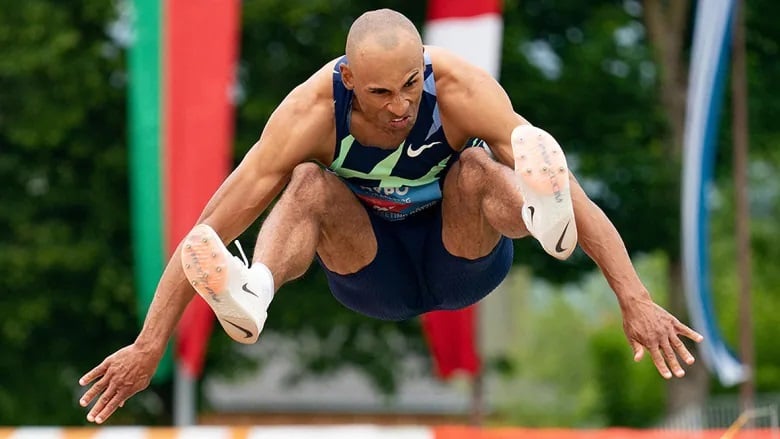 Damian Warner and Annie Kunz are the overnight leaders after the first day of the Hypo Meeting at the Moesle Stadium in Goetzis. Warner leads the men's decathlon with 4743 points ahead of his compatriot Pierce LePage (4421). Warner is on course to set his PB of 8795 points set in Goetzis 2018.
Kunz leads in the women's heptathlon by 27 points over Anouk Vetter with 3897.
See live stream, results and schedule here.
Five-time Goetzis winner Damian Warner got off to a very quick start clocking the fastest time in the 100 metres in 10.14, just 0.02 off his meeting record set in 2019. Warner's compatriot Pierce LePage finished second improving his lifetime best by 0.01 with 10.30.
Warner set a world all-time best in the long jump in a decathlon competition with 8.28m in his opening attempt in his first combined events competition since the 2019 World Championships in Doha to bring his total score to 2195 points.
The Canadian decathlete improved the previous best mark set by Ashton Eaton, who jumped 8.23 at the 2012 US Olympic Trials en route to his world record of 9039 points
Warner also improved Edrick Floreal's Canadian long jump record of 8.20m set in 1991 and set the fourth-best performance in the world in this discipline.
LePage leapt to 7.45m to defend his second place with 1945 with a small margin of 1 point over Switzerland's Finley Gaio, who improved his PB to 7.77m.
Former European decathlon champion Thomas Van der Plaetzen also set his lifetime best with 7.90m to take fourth place in the overall standing with 1849.
Reigning European Under 20 champion Simon Ehammer from Switzerland made three fouls in his favourite event, where he holds a PB of 8.15m. Reigning world outdoor champion Nicklas Kaul from Germany missed his PB by 2 cm with 7.25m.
Warner threw 14.31m in the shot put to maintain his overall lead with 2942 ahead of LePage (2692) and Gaio (2671). Vitaly Zhuk improved his PB by over 1 metre to 16.86m to move up into fourth place with 2657.
Warner equalled his PB with 2.09m in the high jump to remain on course to breaking the 9000 points barrier for the first time in his career. The three-time world championships medallist built up a lead of 334 points over his compatriot LePage, who cleared 2.00m. Van der Platzen cleared 2.09m to move up from eight into third place with 3453.
LePage clocked the fastest time in the 400m with 47.65, beating Warner who clocked 47.90. Warner ended the first day with 4743 points, 322 more than LePage.
Zhuk moved up from fourth into third with 4279 points ahead of Rik Taam from the Netherlands, who set his lifetime best with 48.13 to end the first day with 4257. Seven athletes from 4th to 10th place are divided by just 63 points in a close competition. World champion Nicklas Kaul is ranked 11th with 4126, but he has just 38 points less than his PB pace after five events. The German decathlete is a strong second-day performer and has a javelin PB of 79.05m.
Warner, who won the Olympic bronze medal in Rio de Janeiro 2016, is aiming to become the first decathlete to win the Hypo Meeting for the sixth time.
Damian Warner: "I have set the second-fastest time of my career in the 100m. I have always set fast times in Goetzis. Practice went pretty well, but I was not sure what to expect from my first race of the season. I have missed fans for almost two years. It felt too long. There were few people in the stadium but I had fun."
Women's heptathlon:
Taliyah Brooks from the USA set the fastest time in the 100m hurdes with 12.93 beating her compatriots Kendell Williams (13.11) and Annie Kunz (13.12) in the fifth heat. Marthe Koala won the fourth heat in 13.08 ahead of Cuba's Adriana Rodriguez (13.11). Kriszan set her PB with 13.31 edging out 2016 European champion Anouk Vetter by 0.04.
Adrianna Sulek from Poland won the high jump with her PB of 1.86m to take the lead in the overall standing with 2094 points ahead of Maria Huntington from Finland, who cleared 1.83m to bring her tally to 2075. European Indoor bronze medallist Xenia Krizsan moved up into third place with 2056 after jumping 1.80m. Brooks failed three attempts at the opening height of 1.74m.
US Annie Kunz won the shot put with 15.22m to take the overall lead with 2923. Krizsan improved her PB to 14.47m to move up into second place with 2881. Vetter improved her overall ranking to third place with 2855 after her best throw of 15.28m.
Four athletes scored more than 3800 points after four events. Kunz missed her PB by 0.01 to maintain her overnight lead with 3897. Vetter improved her 200m PB to 23.65 to move up into second place with 3870. Kriszan also clocked her lifetime best to 24.32 to end the first day in third place with 3831 ahead of Koala (3812).
Annie Kunz: "I was surprised about my performance. I am proud with my result in the hurdles. I have no expectations for tomorrow. I just want to execute the competitions well."
-->