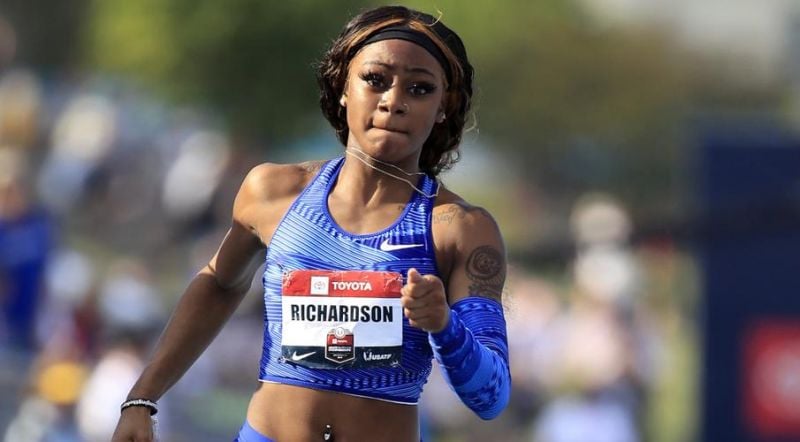 The 2021 Diamond League season starts from Gateshead in North-East of England with the Muller Grand Prix in Gateshead, which features ten reigning world or Olympic champions and a total of 100 global medallists.
Live stream, TV coverage / Results
Women's 100 metres:
World seasonal leader Sha'Carri Richardson will take on double 100m olympic champion Shelly-Ann Fraser Pryce, 200m world champion Dina Asher-Smith and three-time world medallist Marie Josée ta Lou in a star-studded 100m race. The four sprinters have never previously lined up against each other.
Fraser Pryce won the fourth world gold medal in the 100m in Doha in 10.71 ahead of Asher-Smith, who improved the British record to 10.83. The Jamaican sprint legend is on a winning streak of seven 100m races.
Asher Smith claimed the Diamond League title in the 100m in Brussels beating Fraser Pryce in 2019 and went on to win her first world title in the 200m in Doha. The British star has opened the 2021 season with a win in the 200m in Savona with 22.56 in her first race over this distance since her triumph in Doha.
Dina Asher Smith: "I am excited to be running at the Muller Grand Prix in Gateshead. It's going to be my first Diamond League in 2021 and my first meeting in the circuit since 2019 and I can't wait. It's been a long time coming. I am used to coming to fully stacked races. If you come to a Diamond League meeting, you have to be prepared. I am definitely a competitor. It is something that makes everything exciting. It is fun to compete against such talented women".
Sha'Carri Richardson became the sixth fastest sprinter in history with 10.72 in Miramar last April and clocked 10.74 and 10.77 on the same day in Walnut. The 21-year-old US sprinter made a winning start to her European campaign in Ostrava, where she clocked 22.35 in the 200m into a headwind of -1.1 m/s. Richardson, who set the 100m world under 20 record with 10.75 at the NCAA Championships in Austin 2019, has won ten consecutive 100m races since her eighth place at the 2019 US Championships in Des Moines.
Sha'Carri Richardson: "Every time I step on the track I want to make history. I wasn't expecting to run so fast so early on in the season, so I am excited by what's to come. I am excited to be here and I am ready to run fast. It's a shame about the weather but it won't be an excuse to impact my race. I want to put on a show ".
Marie Josée Ta Lou won two world silver medals in the 100m and 200m in London 2017 and the bronze medal in the the 100m in Doha 2019. The sprinter from Ivory Coast won three wind-assisted races in 2021 in Savona in 11.11 in the 100m (+3.4 m/s) and in Castiglione della Pescaia in the 100m in 10.96 (+4.0 m/s) and in the 200m in 22.88 (+4.9 m/s).
The line-up also features 2013 world 200m bronze medallist Blessing Okagbare from Nigeria, who won the 100m in the Eugene Continental Tour Gold meeting in 10.97, Natasha Morrison from Jamaica, who clocked the third fastest time in the world this year with 10.87, Javianne Oliver, who improved her 100m PB to 10.97 in Walnut, European 60m Indoor gold medallist Ajla Del Ponte from Switzerland, reigning 200m European Under 20 gold medallist Amy Hunt from Great Britain, last year's British 100m champion Imani Lansiquot, and three-time German 100m champion Tatjana Pinto.
Men's pole vault:
World record holder Armand Duplantis will take on double world outdoor champion Sam Kendricks. Duplantis will compete for the first time in Great Britain since he set the world indoor of 6.18m in Glasgow during the 2020 World Indoor Tour season.
The Gateshead competition reunites the entire podium of the 2019 World Championships in Doha, when Kendricks won the gold medal with 5.97 on countback over Duplantis. Piotr Lisek, who won the bronze medal in Doha, completes the Doha podium.
Duplantis has been undefeated since Doha 2019 and has extended his unbeaten streak to 23 consecutive wins with his 5.90m clearance in Ostrava, where he beat Kendricks (5.85m).
The line-up also features Harry Coppell, who improved the British record to 5.85m at the National Championships in Manchester last September, 2021 European indoor bronze medallist Valentin Lavillenie from France, US Cole Walsh (third in the Diamond League final in Zurich 2019 with 5.83m) and Ben Broeders, who set the Belgian record with 5.80m last year.
Women's high jump:
Three-time world outdoor champion Mariya Lasitskene will face Ukrainian rising star Yaroslava Mahuchik in a re-match of the 2019 World Championships in Doha. Lasitskene beat Mahuchik with 2.04m on countback in the Qatari capital. The Russian star has remained unbeaten in 14 competitions dating back to her third place in the match between Europe and the USA in Minsk in September 2019.
Mahuchik improved her PB by two cm to 2.06m in the Banska Bystrika indoor high jump meeting last February and won her first European Indoor title in Torun with 2.00m. The 19-year-old Ukrainian star won three Diamond League meetings in her career in Doha 2019 (1.96m), Monaco (1.98m) and Stockolm (2.00m) in 2020.
The line-up also features 2017 world bronze medallist Yuliya Levchenko from the Ukraine and Kamila Lichwinko from Poland, who finished fourth and fifth in the World Championships final in Doha.
Men's 1500 metres:
Reigning 1500m and 5000m European champion Jakob Ingebrigtsen starts as the favourite in a high-quality 1500 metres. The Norwegian star will run his first outdoor race of the season after breaking the European indoor record with 3:31.80 in Liévin and winning two European Indoor gold medals in the 1500m and 3000m in Torun. He set the European outdoor record with 3:28.60 in Monaco last year.
Jokob Ingebrigtsen: "I had a great time racing in Glasgow at the the European Indoor Championships a couple of years ago and I have also run a few times at the Olympic Stadium in London. I am hoping for another good experience in Great Britain. I have been training hard lately but I enjoy testing myself in competition and this meeting will be a good race to see where I am in the run-up to the Olympics".
Ingebrigtsen will face a tough race against Australian middle-distance stars Stewart McSweyn and Ollie Hoare. McSweyn improved his PBs last in the 1500m to 3:30.51 in Doha and in the 3000m to 7:28.02 in Rome in 2020. Hoare has been in good form this year and won two Continental Tour races in the 1500m in Eugene (3:33:54) and in Walnut (3:33.19).
Women's 1500 metres:
European outdoor champion Laura Muir will run her first 1500m race of the season on British soil after a successful period of training in the USA. The Scottish middle distance runner won two Continental Tour races in the 1500m in Eugene in 4:01.54 and in the 800m in Irvine in 1:58.71 and finished second to her training partner Jemma Reekie in the 800m in Walnut in 1:58.46.
Laura Muir: "When I broke the British record in London 2016, it was amazing. I remember running that last couple of 100 metres, and I could hear the crowd. The support was fantastic"
Muir will face 2014 world indoor silver medallist Axumawi Embaye from Ethiopia, 2018 European 5000m silver medallist Elish McColgan and Adelle Tracey from Great Britain (winner in the 800m in Eugene), Rababe Arafi from Morocco (PB 3:58.84 in Rabat 2019), Winnie Nanyondo from Uganda (fourth at the World Championships in Doha 2019).
Men's 200 metres:
US Kenny Bednarek will be aiming to dip under the 20 seconds barrier this year for the third time after clocking 19.94 in Walnut and 19.93 in Ostrava into a headwind of -0.6 m/s. Bednarek, who set his PB with 19.80 in 2020, will line up against four of the top six finishers from the 2019 World Championships final in Doha, including André De Grasse from Canada and Alex Quinonez from Ecuador, who won the silver and bronze medal behind Noah Lyles in the Qatari capital, 2014 European champion Adam Gemili from Great Britain and Aaron Brown, who finished fourth and sixth respectively. De Grasse won the Olympic silver medal in Rio de Janeiro 2016 behind Usain Bolt and two bronze medals in the 100m and the 4x100. Quinonez set the national record with 19.87 in Lausanne in 2019.
Women's 100m hurdles:
Cindy Sember will line up against her sister Tiffany Porter in an all-British 100m hurdles clash. Sember won the European Indoor silver medal in the 60m hurdles in Torun in 7.91. Sember missed Porter's British record by just 0.02 in 12.53 in Walnut. The field also features Jamaica's Megan Tapper (PB 12.61), and this year's European Indoor finalists Luca Kozak from Hungary and Luminosa Bogliolo. Kozak beat Bogliolo by 0.03 in 12.81 in Savona last week.
Women's triple jump:
Reigning Commonwealth Games champion Kimberly Williams from Jamaica will face her compatriot Shanieka Ricketts, who won the Diamond League final in Zurich and the world silver medal in in Doha in 2019, and Keturah Orji, who improved the US record to 14.92m in Chula Vista this year. Williams took the win with 14.62m in Walnut beating Orji on 9th May. The line-up also features reigning European gold medallist Paraskevi Papachristou from Greece, 2021 European Indoor gold medallist Patricia Mamona from Portugal and 2011 world outdoor champion Olga Saladukha from the Ukraine.
Men's long jump:
Reigning world outdoor champion Tajay Gayle from Jamaica is the stand-out name in the men's long jump. The Jamaican jumper won the world title in Doha with his 8.69m PB and set his seasonal best of 8.27m in Miramar last April.
Gayle will face Sweden's Thobias Montler and Finland's Kristian Pulli, who won the silver and bronze medal at the European Indoor Championships in Torun 2021, 2013 European Under 23 champion Eusebio Caceres from Spain, 2018 Commonwealth Games silver medallist Henry Frayne from Australia and 2017 European Under 23 silver medallist Filippo Randazzo from Italy, who won in Savona with 8.05m.
Women's 400 metres:
The top name is Jamaica's Shericka Jacksson, bronze medallist at the 2015 World Championships in Beijing and at the Olympic Games in Rio de Janeiro 2016. Jackson set a seasonal best of 22.62 in the 200m. She will take on her compatriot Stephanie Ann McPherson, who won the world bronze medal in Moscow 2013, Dutch 400m sprinters Lieke Klaver and Lisanne De Witte, who won the European Indoor gold medal in the 4x400 relay, US Kendall Ellis, world champion with the 4x400 relay in Doha 2019, Kaylin Whitney (world under 20 champion in the 200m in Eugene 2014), Laiviai Nielsen and Emily Diamond, world silver medallist with the 4x400 relay in London 2017.
Women's shot put:
The Gateshead line-up will reunite the entire podium of this year's European Indoor Championships final in Torun. European gold medallist Auriol Dongmo from Portugal will renew her battle against Fanny Roos from Sweden (silver) and Christina Schwanitz from Germany. The best American specialists are 2019 world silver medallist Danniell Thomas Dodd from Jamaica, two-time US indoor champion Chase Ealey and Maggie Ewen, who finished fourth at the 2019 World Championships in Doha.
Men's javelin throw:
Reigning world champion Anderson Peters from Grenada will clash against 2012 Olympic champion Keshorn Walcott from Trinidad and Tobago. Peters finished second with 83.39m behind Johannes Vetter in Ostrava last Wednesday. The top European javelin specialists in the field are Marcin Krukowski from Poland (fourth at the European Championships in Berlin 2018), Kim Amb (eighth at the World Championships in Doha 2019)m, Jakub Vadlejch from Czech Republic (two-time Diamond League champion in Zurich in 2016 and 2017 and world silver medallist in London with 89.73m).
Men's 3000m steeplechase:
The 3000m steeplechase line-up features the three fastest specialists on the 2020 world seasonal list: two-time world medallist Soufian El Bakkali from Morocco (8:08.04), 2017 world under 18 champion Leonard Bett from Kenya (8:08.78) and Djilali Bedrani (8:13:43).
Men's 5000 metres:
Kenya's Nicholas Kimeli holds the fastest time among the entrants with his 12:51.78 set in Monte-Carlo last year. The top rivals are Jacob Krop and Michael Katir from Kenya, Adel Mechaal and Mohamed Katir from Spain and Andrew Butchart from Great Britain.
Women's 400 metres hurdles:
Sara Slott Petersen from Denmark (Olympic silver medallist in Rio de Janeiro 2016) will take on Jamaica's Janieve Russell (Commonwealth Games champion in Gold Coast 2018 and fifth placer at the 2015 World Championships in Beijing 2015).
-->