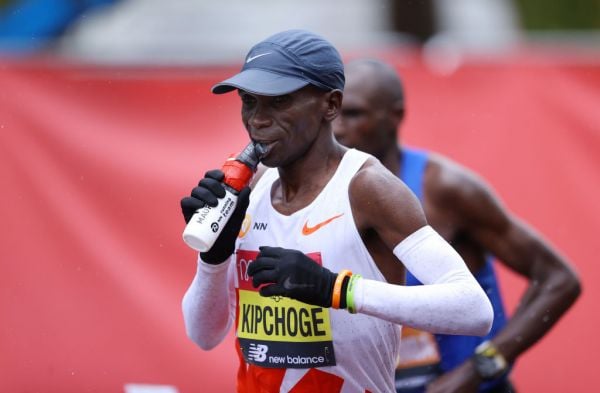 Reigning Olympic champion and world record holder Eliud Kipchoge returned to winning ways by claiming the victory in 2:04:30 at the NN Mission Marathon around a looped course on Twente Airport in Enschede.
The 36-year-old Kenyan runner made his come-back six months after suffering the second defeat in 12 appearances over the marathon distance in his career. Kipchoge finished eighth in London losing a marathon for the first time since his second place in Berlin in 2013.
Kipchoge beat his compatriot Jonathan Korir, who finished runner-up in 2:06:40 ahead of Eritrea's Goitom Kifle (2:08:07) and 2012 Olympic champion Stephan Kiprotich, who finished fourth in 2:04:30.
A leading group reached the 5 km in 43:46, just outside 2:03 pace. Kipchoge ran alongside pacemakers Philemon Kacheran and Jonathan Korir at halfway. They went through the 21 km mark in 1:01:43. Each 5 km split was covered in just outside 14:50.
Kipchoge and the pacemakers went through the 30 km mark in 1:28:10 with a lead of more than minutes over the chasing group, who was still on course for an Olympic qualification time. Kipchoge broke away with 1:35 on the clock.
Kipchoge maintained his sub-three-minute kilometer pace and crossed the finish line in 2:04:30.
Eliud Kipchoge: "I have accomplished my mission. I really thank the race promoters, who managed to organize this race in just ten days. It was a bit windy, but the conditions were really good. I had no complaints. This race was a real test before the Olympic Games in Tokyo. It's good to have a marathon a few months before the Olympics to test my fitness".
German top runner Katharina Steinruck won the women's race in 2:25:59 ahead of Sara Moreira (2:26:42), German runners Babea Schoneborn (2:27:03) and Laura Hottenrott (2:28:02).
The leading group reached the 10 km in 34:39 and the halfway mark in 1:12:58. Gladys Chesir from Kenya, Hanna Lindholm from Sweden, and German runners Katharina Steinruck and Laura Hottenrott went to the front at halfway. Chesir was the next to drop back. Lindholm started to fade after halfway. Steinruck and Hottenrott remained at the front.
Steinruck broke away from Hottenrott with seven kilometers to go and crossed the finish line in 2:25:59. The German runner has moved up to sixth in the national all-time list, just three places behind her mother Katrin Dorre Heinig, who won the bronze medal at the 1988 Olympic Games in Seoul.
The race was originally due to take place in Hamburg on 11 April, but local Covid-19 restrictions meant that it could not be held in the German city.
-->